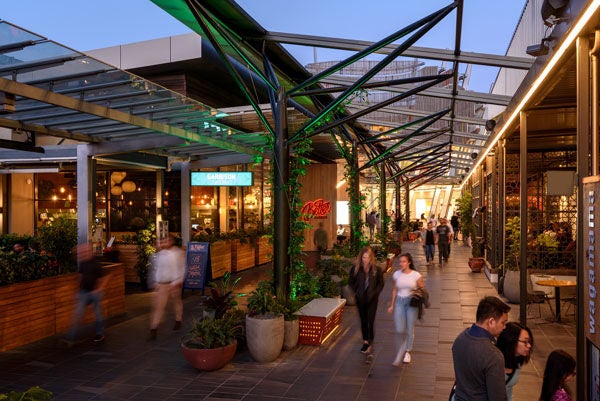 Busier CBDs thanks to office workers returning to their desks and cruise ships being back in port, along with an uptick in migration and overseas visitors numbers, are some of the drivers bolstering the retail leasing sector according to Chris Beasleigh, Bayleys' national director retail.
"Activity is up, enquiry is up and we're doing plenty of retail leasing deals which is good news for the sector, and with retail vacancy levels sub-5-percent in the key cities, retail is far from dead.
"Economic headwinds and inflationary pressures are definitely affecting consumer spending, but people still shop and segments of the market like food and beauty are particularly active."
There's a lot of interest from Asia-based business operators looking to secure retail footprint here, says Beasleigh.
"They're well-capitalised and looking to bring their skills from overseas.
"They have established business models, branding and design ideas meaning they can hit the ground running once they get a physical space."
The wellness and beauty segment of the retail leasing market is very active, with nail bars popping up in neighbourhood shopping centres, convenience retail strips and large format precincts like Ormiston, Sylvia Park and Pinehill in Auckland where there is high foot traffic, a large population catchment and ample carparking.
"Nail bars have a relatively low cost-of-entry and having nails done is perceived as an affordable treat – like buying a cup of coffee.
"So although household budgets are being squeezed on big ticket items, nail bars are doing well and with face-to-face business back in favour after pandemic isolation and remote working practices, we're expecting to see the number of personal grooming businesses escalate."
Following what Hospitality New Zealand has described as "some of the toughest trading periods in living memory", the hospitality sector is rebounding with food operators often looking at existing premises with partial kitchen fitouts in place to minimise initial outlays.
"There's been a flurry of new restaurants and cafes opening, and despite the cost of entry into the sector being fairly high – food is coming back, ethnic eateries are flourishing and suburban precincts are doing very well.
"This is typified by Milford on Auckland's North Shore where a cluster of eateries has opened recently with a wide variety of cuisine on offer like Khu Khu with vegan and Thai-inspired food (also in Ponsonby), Tokki offering modern Korean, and Bunty's gourmet burger joint.
"In Willis Street in Wellington, a former food court is being revitalised with soon-to-open Holey Moley minigolf and Archie Brothers bowling and arcade games, along with established food operators like Duck Island ice cream and Nam Nam Vietnamese street food."
With Costco now trading from its only New Zealand store in West Auckland, Ikea commencing work on its Sylvia Park flagship store, and brands like JD Sports, Chemist Warehouse, Krispy Kreme, and Kmart scoping more sites, international brands are seeing opportunities around the country.
"People still want to shop in person so retail operators need to give consumers a real reason to come into a bricks and mortar store," says Beasleigh.
"Sometimes price is the main drawcard, hence the success of bargain large format stores and the fashion outlet store business model.
"Construction has started on Auckland Airport's new $200 million outlet centre, Mānawa Bay within the airport's commercial precinct which will raise the bar once more on this retail category."