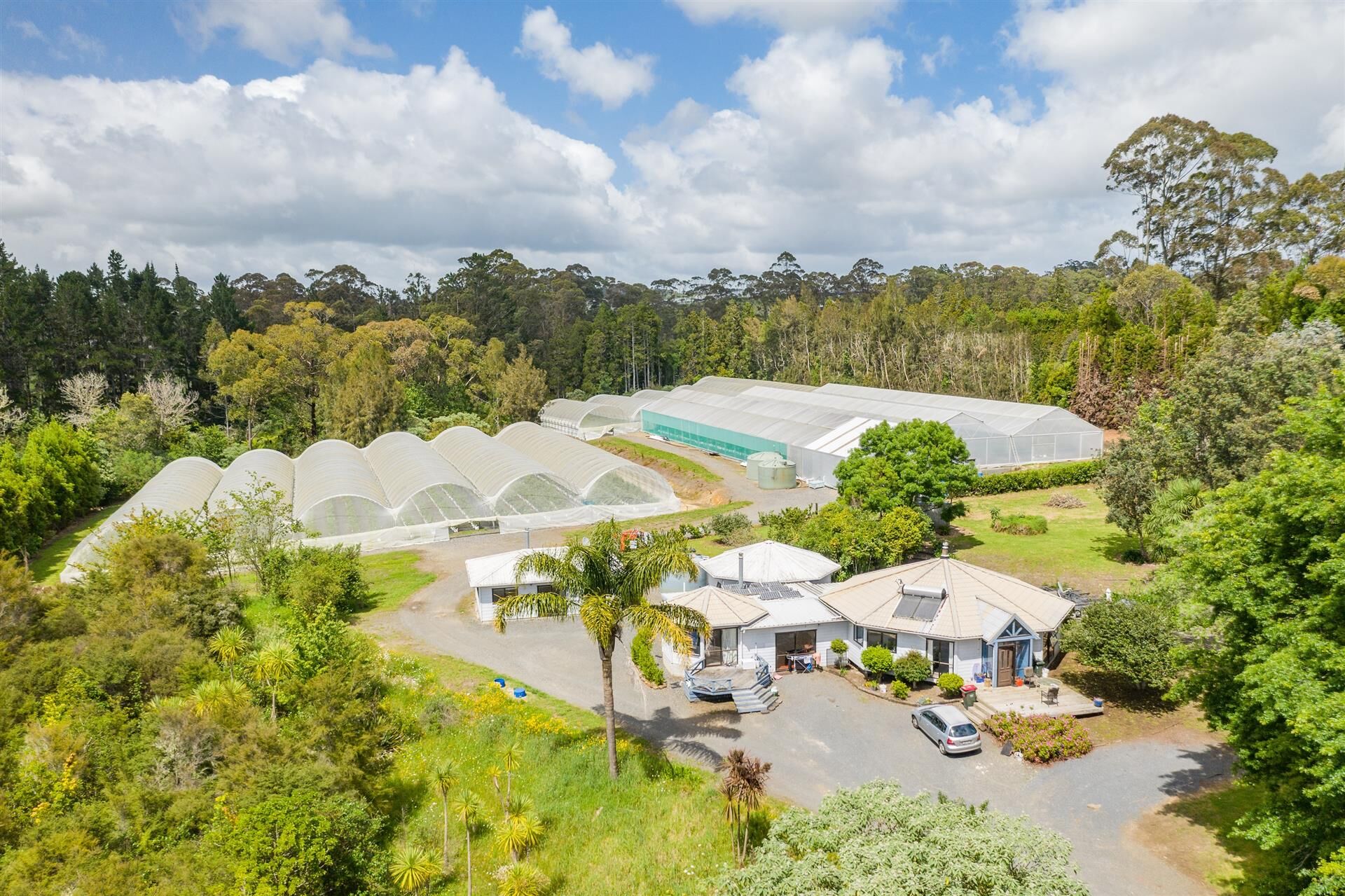 The orchard at Kerikeri in Northland is an intensive growing venture – sustaining some 6,653 plants within 1.1-hectares of framed and enclosed tunnel and greenhouse structures. The orchard's blueberry crop consists of multiple varieties – including Sky Blue, Centra Blue, Velluto, Sunset Blue, O'neals, Eureka and First Blush.
Harvesting of fruit at the Kerikeri orchard is spread over early, mid, and late season varieties - spreading the risk and harvest window over six months. This practice also results in a higher average price per kilogramme and per hectare when compared to the industry average.
In the 2020/2021 season the orchard produced 15,597 kilogrammes of fruit, up from the previous season of 6,458 kilogrammes. Production is forecast to increase over the next two seasons by which time the orchard will be in full production.
The growing structures on the 3.9-hectare property are all strategically surrounded by tall mature cryptomeria japonica trees which act as protective wind breaks.
The freehold land, blueberry growing business, orchard infrastructure, residential dwellings, and chattels located at 71 Valencia Lane are now all being marketed for sale by negotiation through Bayleys Whangarei. Salesperson Vinni Bhula said the highly productive horticultural business's 2020/2021 crop yield placed it among the top five growing operations in New Zealand.
"Automated irrigation/fertigation, misting and venting systems – combined with growing the latest blueberry varietals – ensures there is a high pack-out harvest percentage and low waste," he said.
"This controlled growing environment ensures higher than industry average production levels.
"The orchard's hydroponic drip to waste irrigation/fertigation system allows exactly the right amount of water and nutrients to be delivered to the plants daily, while automated venting and misting within the greenhouses keeps the plants cool and in a productive state during the hotter summer months.
"All fruit is transported to a packhouse in Whangarei, where all fruit is graded and packed for local and export markets through Turners & Growers and BerryCo."
During the berry harvesting season which runs from September to March, the orchard employs up to 10 staff. Year-round activities such as pruning, and spraying are undertaken by the hands-on manager – with the option to have a transition period should you wish to be a hand-on owner operator.
Blueberry plants typically require 25-50mm of water per week for maximum ripening during the growing season. The Valencia Lane property's water supply is accessed through the Kerikeri Irrigation Scheme, with additional water collected off dwelling premises roofs. Kerikeri has an annual rainfall of approximately 1500mm.
The orchard's commercial infrastructure comprises some 4,000-square metres of auto-venting Harford greenhouses with roll-up side walls and an overhead misting system, along with more than 7000-square metres of Quiedan tunnel houses with bird netting covering row ends. Both structure types have weed matting and automated irrigation/fertigation systems in place.
Accommodation infrastructure on the property comprises a single-storey four-bedroom/three-bathroom dwelling suitable as an owner/manager's residence, and a smaller supplementary two-bedroom dwelling.
Additional buildings include a concrete-floored fertigation shed with mixing tanks and irrigation control system, a separate concrete floored dry goods and picked fruit storage shed, and a 56-square metre concrete floored shed suitable for machinery or equipment storage or which could potentially be developed into a coolstore room.
The business is also being sold with the full inventory of orchard crop management equipment – such as the irrigation and fertigation system, tools, pruners, picking containers, airblast sprayer, and netting.
Blueberries New Zealand chairwoman Liz Te Amo said the country's production of blueberries would ramp up significantly in the next few years as the industry worked to ensure consumer demand kept pace with supply.
"There's multiple varieties in the ground now, and that really reflects how the international markets are going and growing. There has been a massive upswing in consumption of blueberries – particularly with Covid-19 as people are looking for the healthiest fruit and vegetables available," she said.