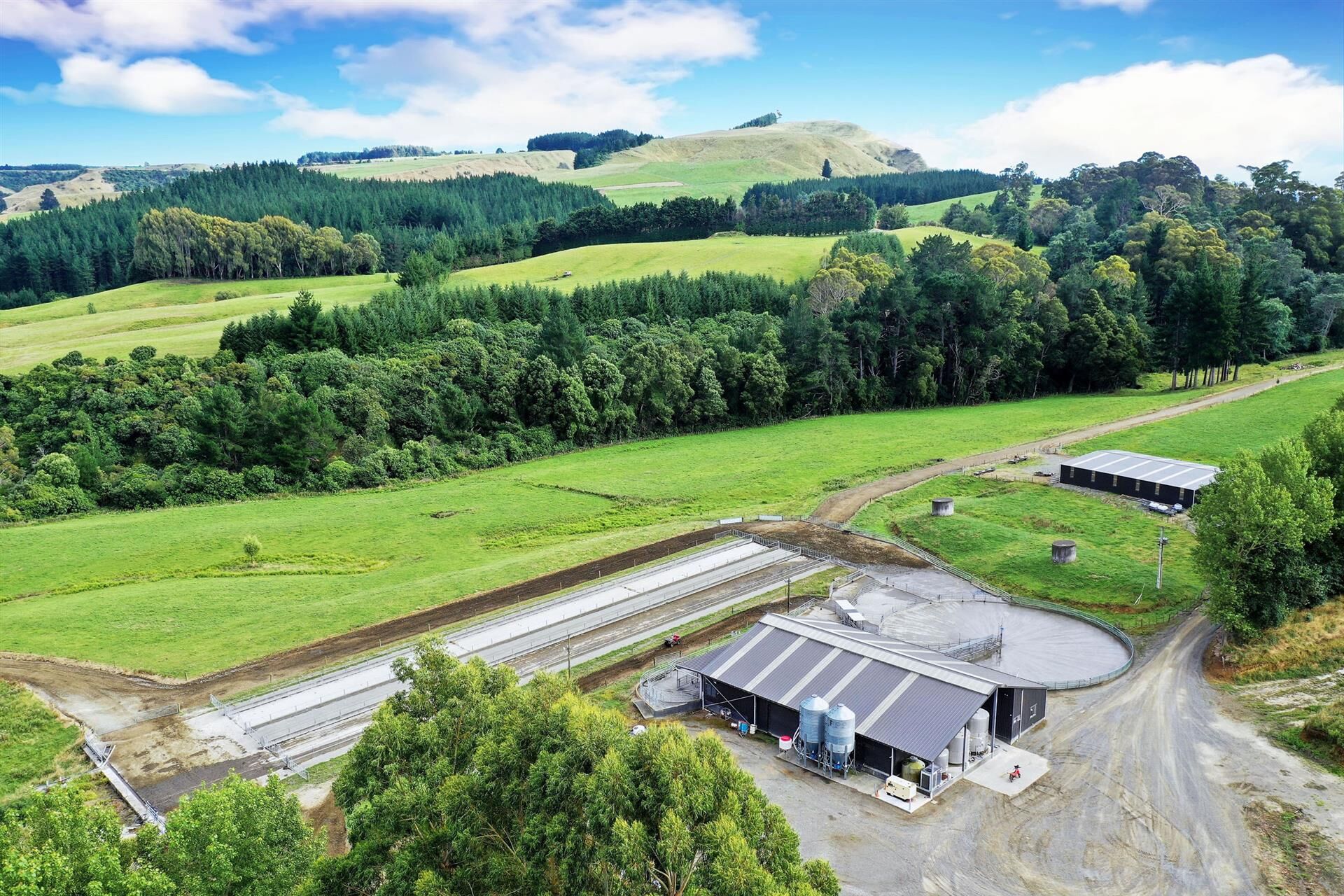 With Hawke's Bay's land values around half of some other districts, the returns from this property would likely be stronger than anywhere else.
Raumati Dairy some 41-kilometres north-west of Napier is a 458-hectare property milking a herd of between 730 – 750 cows, but with consent from Hawke's Bay Regional Council to stock up to 1000 cows through to 2028. It ticks all the environmental boxes too with riparian areas fenced off. A 60 bail rotary, 600 cow feed pad and all the bells and whistles make this a must view.
Over the past three seasons, Raumati Dairy has been operating a once-a-day milking programme to produce up to 252,230 kilogrammes of milk solids annually. When operating under a twice-a-day milking programme, the fam produced up to 300,474 kilogrammes of milk solids annually.
The property consists of 319 hectares of easy contour ryegrass and clover paddocks, 25 hectares of medium contour land, 37.7 hectares of medium to steep hill country, and 77.3 hectares of steep country comprised of gullies and gorges.
Combined, the property has an effective milking area of 330 hectares of sandy loam-based soil. Raumati Dairy is subdivided into 108 free-draining paddocks – with some 23 kilometres of fencing erected since 2005, much of it along the 10.6 kilometres of gravelled stock movement lanes.
Now the freehold property at 3629 Puketiritiri Road in Patoka is being marketed for sale by auction at 2pm on March 29 through Bayleys Napier. Salespeople Tony Rasmussen and Gavin Franklin said Raumati Dairy was located at between 260 – 450 square metres above sea level, and had a recorded annual rainfall of approximately 1,700mm.
"The farm is currently operating under a low-input model – milking just once a day, and milking a herd size substantially below its capacity. Both of these aspects are opportunities for substantially increasing production at Raumati Dairy," Mr Rasmussen said.
He said the property operated an extensive pasture renewal fertilisation programme through annual application of calcium, magnesium, potassium, sodium and sulphur nutrients in addition to the effluent spread.
"Water for the Raumati Dairy is drawn from two springs on a neighbouring farm through a consented easement arrangement allowing for extraction of 865 cubic metres daily. Water is stored in a trio of 30,000 litre tanks before being gravity-fed to eight additional 30,000 litre tanks servicing both the dairy shed and paddocks," Mr Rasmussen said.
Farm building infrastructure on the Patoka property consists of:
• A 60-bale rotary milking shed built in 2008 with in-shed feeding system and herd monitoring technology, the shed also consists of an electrical room, office, and staff room
• A large 12 bay calf-rearing shed with indoor and outdoor pens, two fully-enclosed lock-up bays, and a pair of lockable workshops.
• A 600-cow feed pad with spot lighting
• A herringbone vet race with cattle crush, pens and load out facility
• An effluent treatment pond consented to take in excrement from a herd of up to 1000 cows with a pumping plant spreading byproduct through some 3.1 kilometres of lines across 60-hectares
• A two-bay implement shed and three hay-storage sheds and
• A trio of palm kernel/fertiliser bins built on a concrete pad with the capacity to hold up to 15 tonnes each.
Meanwhile, accommodation on the property consists of:
• A four-bedroom/two-bathroom character homestead constructed in the 1930s and upgraded in 2006 and
• A pair of comfortable three-bedroom staff cottages.
Mr Franklin said the farm had operated a comprehensive feed cropping and pasture management programme since 2013 - with some 60-hectares of farmland cultivating a mix of chicory, kale, turnips and fodder beet, yielding up to 30 tonnes of feed per hectare.
He said the Patoka region in which Raumati Dairy was located was renowned for its plentiful rainfall.