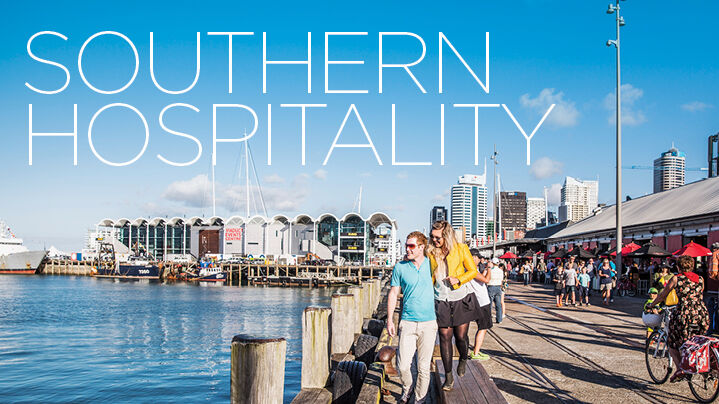 Billed as one of the world's fastest growing industries and a major contributor to New Zealand's economic prosperity, Auckland's travel and tourism industry has become a major catalyst for growth and development across the City of Sails.
An $8.3 billion business in Auckland alone, both domestic and international tourism to the city has experienced extraordinary growth in the last decade.
With estimates picking up to four million international tourist arrivals in Auckland by 2023, new opportunities for employment, infrastructure and development exist which are influencing the emergence of new suburbs and areas set to benefit from intensification.
Employment
Responsible for one in five job opportunities across the world, the growing tourism market brings with it a swathe of new career opportunities which have a significant bearing on our living choices.
"The tourism sector is becoming cornerstone to the economy – creating jobs, driving exports and generating prosperity for our cities and regions," says Auckland Tourism, Events and Economic Development (ATEED).
However, as visitation to Aotearoa grows, tourism-related employment has fluctuated, prompting industry-bodies to work together in order to attract the new talent necessary to keep up with demand.
One such initiative is the Government-backed nation-wide programme 'Go with Tourism', aimed at attracting workers of all ages and skillsets to careers in the tourism sector.
"The digital 'Go with Tourism' platform connects employees with businesses and organisations currently offering employment opportunities and committed to living wage remuneration."
By directing focus towards tourism career opportunities, certain locations such as Wynyard Quarter in downtown Auckland, which is positioned to serve as an important backdrop to the 36th Americas Cup in 2021, could emerge as high-employment areas, attracting a new wave of residents wanting a home in close proximity to work.
With upscale apartment projects 132 Halsey and 30 Madden set to add more than 300 residential units to the area as well as attracting significant food, beverage and retail operators, Wynyard Quarter is reaping the rewards of visitation.
Further commercial and office developments such as the recently announced $140 million Orams Marine Village are predicted to draw a further 25,000 workers to the area by 2030, making it one of the country's most significant precincts for tourists, residents and employees alike.
Infrastructure
Billed as Auckland's most vulnerable area in ATEED's 'Destination AKL 2025' report, roading and transport infrastructure has been a category identified as requiring significant investment from both the private and public sectors.
"Tourism operators, residents and visitors surveyed in this report all agreed that the best strategy for making the region a more attractive tourist destination is to improve our public transport."
Initiatives such as the $60 million bus and rail interchange in the south Auckland suburb of Puhinui and the Botany Rapid Transit project are set to significantly improve airport connectivity to the city's southern and eastern suburbs. While the City Rail Link and light rail projects are transforming transport links from Auckland's west through to the city centre.
"These transport projects help to spread the flow of visitors throughout the region by improving connectivity in and around the city, with effective public transport links."
Spin-off benefits extend to further employment; boosting trade, skills and the potential to attract international investment by way of capital to fund infrastructure projects.
Two areas set to benefit from significant planned infrastructure are the south Auckland suburbs of Manukau and Wiri.
"Given our reliance on air travel to transport international visitors, the Manukau and Wiri town centres have become important hubs which guests will utilise for transport, accommodation and entertainment given their close proximity to Auckland International Airport."
Involving major investment by the Auckland Council and local Government, the Transform Manukau project will see more than 600 hectares of land developed for both residential and commercial use including healthcare, schooling, education and transport extending to rail, cycle and bus ways.
"Road and rail projects are necessary to offer a connected tourist experience, but they also demonstrate a multiplier effect, making areas like Manukau and Wiri more accessible for a new wave of residents while boosting the local economy through job creation."
Liveability
In its survey findings from the 'Destination AKL 2025' report, ATEED sought information from Auckland's residents and its visitors which highlighted a fundamental difference in the way each group spends their time.
While residents preferred to visit sites out of the city centre like Waiheke Island (19 percent) and the Waitakere Ranges (11 percent); international visitors cited indoor sites such as the Sky Tower (14 percent) and Shopping Malls (12 percent) as their location of choice.
Despite their differences, both groups gave 'eating out' a place in their top five favourite experiences.
"Thanks to a diverse ethnic population, Auckland benefits from a spectrum of restaurant and dining experiences which continues to attract attention on the global stage and as an off-shoot of a vibrant restaurant landscape, visitors and residents embrace our many cultural festivals including the Chinese Lantern Festival, Pasifika Festival and Diwali."
Exceeding $1 billion in consumer spending this year alone, Auckland's hospitality sector has paved the way for the creation of neighbourhood dining precincts like those seen in Orakei, Kingsland and Botany Downs.
The off-shoot of which is a growing desire to live and/or create businesses in these communities which boast, quality housing, amenities and a beating heart, just minutes from the front door.
"Auckland's diversity is a key strength which in turn attracts a diverse range of visitors, encouraging the development of broader food and retail offerings as well as increasing economic opportunities."
These economic opportunities extend to the modern phenomenon known as 'the sharing economy'.
Encompassing ride sharing, food-sharing and home-sharing applications like Ola, Uber Eats and Airbnb, more Kiwis can get a slice of the dual income pie, thanks to an increase in demand which is spurred in-part by the growing number of visitors to our city.
Welcoming some 2.7 billion international visitors to our city in the year to May 2019, Auckland's tourism sector has experienced incredible expansion over the last decade, with plenty more to come.
This expansion is poised to develop hand-in-hand with our residential property market, which is well-positioned to deliver positive effects courtesy of increasing employment opportunities, rewarding developments and infrastructure which add capital value and growing liveability encouraged by economic opportunities and a diverse cultural backdrop.