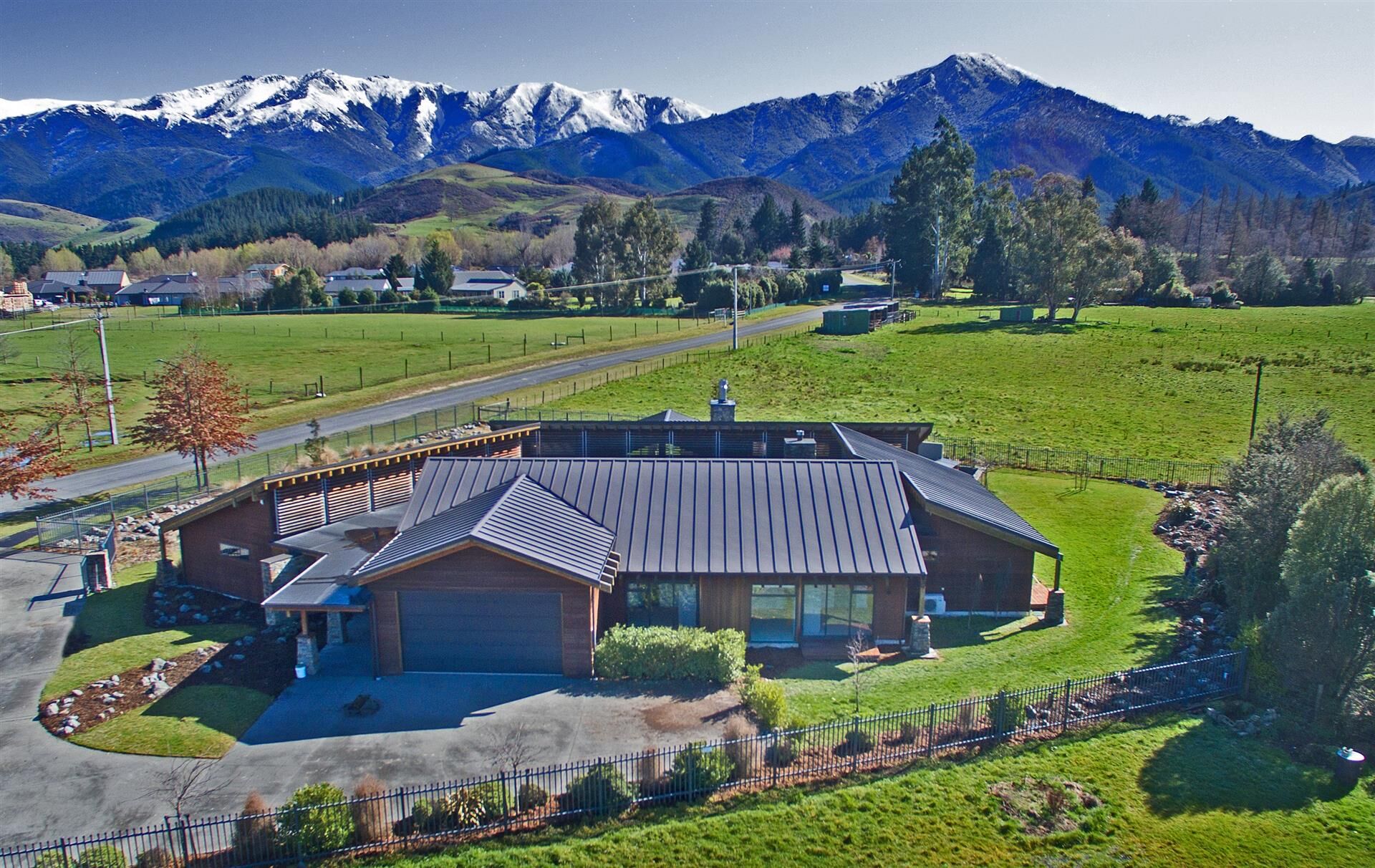 A purpose-built holiday retreat in the South Island's thermal capital of Hanmer Springs has been placed on the market for sale, offering a new owner flexible options for use.
The property at 115 Rippingale Road in the heart of the North Canterbury tourist village is offered for sale by Bayleys Hanmer Springs with a deadline closing 2pm Thursday 15 October 2020.
"Vacant since completion, the property provides an opportunity for a new owner to utilise the extensive site as an accommodation business or corporate retreat catering to tourists visiting the world-class Hanmer Springs hot pools," says Bayleys Hanmer Springs salesperson Kathryn Duncan who is marketing the property with Robyn Ferguson.
The fully-fenced 2,744sqm (more or less) site encompasses a large modern dwelling, outdoor swimming pool with indoor locker/changing rooms, spa pool and central courtyard on landscaped grounds.
Kathryn says, "schist and cedar details across the property fit seamlessly into the alpine environment and throughout the 552sqm (more or less) dwelling."
There are nine bedrooms each with a heat-pump and ensuite bathroom plus a family-sized tenth bathroom with bathtub.
"The property also features a fully-appointed sensory room that uses light and sound technology to aid in relaxation," Kathryn explains.
Built to high specifications, the kitchen is equipped with European appliances and serves as an excellent central meeting point between two large living rooms that open onto the decks via French doors, and the separate dining room.
Ducted central heating throughout the living areas provide exceptional temperature control for Hanmer's crisp, cool winters, while three fireplaces in the large living room, courtyard, and outdoor deck create additional ambience for alfresco evenings.
Car parking has been carefully planned, evidenced by an oversized internally accessible double garage and extra height doors, plus off-street space on the paved drive-way.
With a north-eastern aspect, the property retains all-day sun while maximising breath-taking views from its preferable position near local attractions; the Hanmer Forest Park, St James Conservation Area, and Conical Hill.
The sheer size of the property, Robyn says, lends it to use as a boutique accommodation facility, or conversion as a spa, or wellness retreat.
"Further possible use by a charitable organisation as respite care; a specialised aged-care facility, a bed and breakfast; or corporate retreat offer a wealth of options for the new owner."
"Family groups may also realise the value of the property's large size and plum position neighbouring the Hanmer Springs Golf Club, nearby cycle trails and retail/hospitality hub, by forming a private syndicate to purchase," Robyn adds.
The property is within walking distance of the local town centre which has a vibrant array of boutique shops, cafes and restaurants, and the town's major attraction – the Hanmer Springs Thermal Pools and Spa Resort.
"115 Rippingale Road is also superbly located to take advantage of access to the popular St James Cycle Trail, a 64-kilometre cycle loop traversing nearby mountain peaks, alpine meadows, and lush green forest," Kathryn says.
"For adventure tourists undertaking some of the area's more physically demanding attractions including cycling, mountain biking, hiking, skiing, white water rafting, and horse trekking, the Thermal Pools and Spa Resort are a popular place to soothe sore muscles."
"The recently upgraded hot springs have attracted thousands of visitors to our picturesque alpine village, with domestic tourism continuing throughout New Zealand (excluding Auckland's) move to alert Level Two restrictions," Kathryn adds.
Following its reopening after first shutting due to COVID-19 restrictions on March 22, the Hanmer Springs Thermal Pools and Spa Resort saw full bookings for Queens Birthday weekend 2020, illustrating the attraction's popularity has not diminished despite border restrictions.
"Located 135 kilometres from Christchurch and 130 kilometres from Kaikoura, Hanmer Springs is a popular getaway for local visitors, and the region benefits from a strong, year-round domestic tourist catchment."
Furthermore, Kathryn says should the new owner wish to utilise the property as an accommodation business they will likely have the support of the Hurunui District Council, who through their promotional board, Hurunui Tourism, intend to launch a $250,000 advertising campaign, focused on attracting domestic visitors to the region.
The annual tourism spend in the Hurunui District for the year to June 2020 was $136 million.
Caption: Boasting nine-bedrooms on expansive landscaped grounds, the property at 115 Rippingale Road, Hanmer Springs presents a flexible accommodation opportunity.