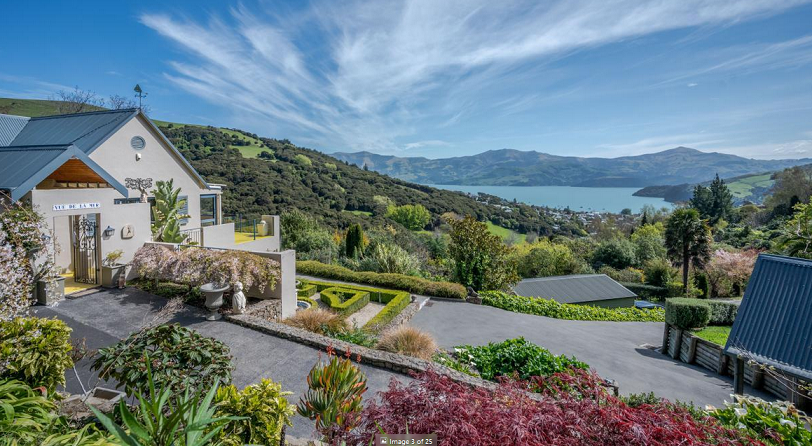 And included in the offering is the Australian-based vendor's little-used 2005 Bentley Continental GT V12 car – the famous motor vehicle marque driven by the likes of movies stars Arnold Schwarzenegger and Sylvester Stallone, or sports starts David Beckham and Kobe Byrant.
The immaculately presented three-bedroom/three-living room high-end resort-themed dwelling overlooking Akaroa Harbour just out of Christchurch was purchased by the European-born finance sector executive in 2006. He fell in love with the home's sensational views over the harbour, in addition to the home's bush-clad privacy, and proximity to Akaroa township just a short walk away.
Bathed in all-day sun, the light-filled 235-square metre house comprises two living areas, a separate dining area, and multiple sunrooms – all framing the incredible sea views and surrounding bush landscape below.
Spread over some 15,230-square metres to replicate a Balinese resort, the hillside single-level residence features expansive grounds with winding manicured pathways leading to groves of citrus fruits and walnut trees. The property also comes complete with a heated swimming pool flanked by a retractable aluminium roof and extensive deck area for sun bathing, a separate spa pool, and a privately located Swedish sauna.
The Mediterranean-designed dwelling at 10 Purple Peak Road in Akaroa is now being marketed for sale by auction on 30th March through Bayleys Akaroa. Salesperson Chris Mangels acknowledged that while the home has technically been available to purchase for more than a decade through various agents and agencies, only now was its international owner serious about selling the residence.
"He has had years of service out of the home, sometimes coming over for a few weeks a year, sometimes coming over for four or five months over summer. Yes, it was for sale, but only at a price point the vendor knew he couldn't refuse… and he didn't really care if there weren't any offers," said Mangels.
"However, the number of visits and length of time spent there by the owner and his family have dwindled over the past few years as the owner and his wife have spent more time with their children in Sydney. Now he's at a phase of 'you know what, it's time to seriously sell up once and for all'," said Mangels.
"The home has been fastidiously maintained over the past 17 years – always kept ready by a local team of landscapers and housekeepers should its owner decide at the last minute to fly over to Akaroa from Sydney for a long weekend break. It has never been let out as an Air B & B or anything like that – simply because the owner didn't need to."
All three of the home's spacious and simply laid out bedrooms are double-sized – with the master bedroom featuring a walk-in wardrobe and ensuite. The second bathroom sits between the other two bedrooms. Meanwhile, the dwelling's communal living and dining areas – including a covered deck and an alfresco socialising space look out over picturesque Akaroa Harbour.
In addition to the smooth-rolling but big-engined Bentley parked in the garage, the security alarmed Akaroa residence is being sold fully furnished - including everything from giant flatscreen TVs, underfloor heating, all beds and chests of drawers, through to a fitted European sound system in most rooms, boutique vineyard of grape vines, and original artworks.
Reflecting the owner's commitment to environmental sustainability, the property also has its own water supply and a solar heating system, as well as a log burner centrally located in the heart of the home. Off the driveway, the Purple Peak Road stunner abode has double garaging for the Bentley and another car, plus a carport.
"It's the most highly spec'd house you'll ever find in Akaroa. It's like the Hollywood Hills in Banks Peninsula," said Mangels.
"Not only is the house being sold with everything a new owner could want to walk straight in and begin a new life, but with the Bentley included, they also have everything they need to drive out… in real style."
Click here for more information on the listing.