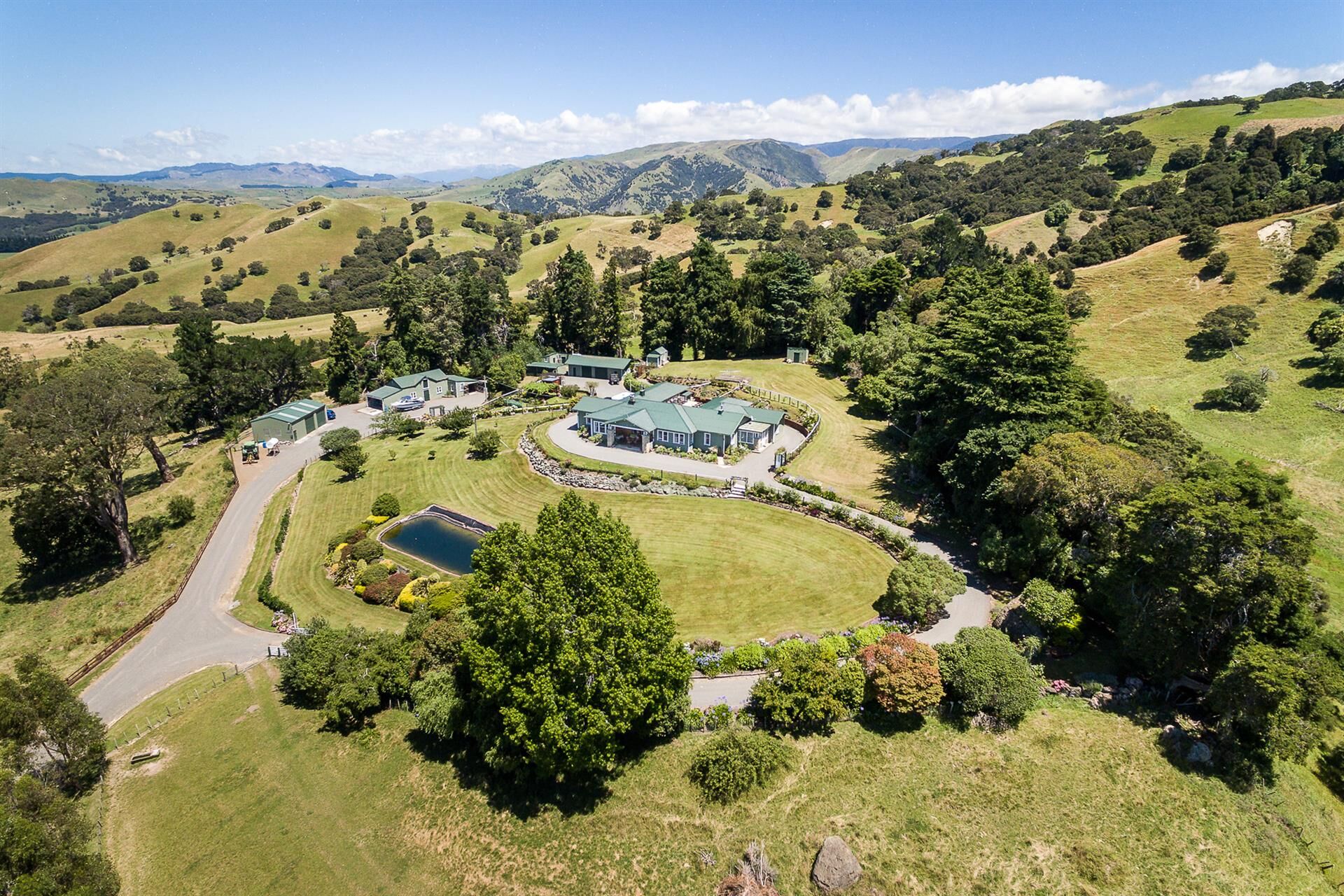 The historic property known as Kohatunui in the settlement of Whana Whana some 48 kilometres west of Hastings in Hawke's Bay was built in 1921 by New Zealand army officer Eric Beamish who served in the Hawke's Bay Mounted Rifles division in World War I.
Posted to Gallipoli, New Zealand Army war records list that lieutenant Eric Beamish was shot in the chest in August 1915 during the battle for Table Top Mountain. He was one of six New Zealanders wounded during the gun-fight that day. The bullet lodged in lieutenant Beamish's chest – just millimetres from his heart – so close in fact, that the cartridge remained there for the duration of his life.
After recovering at an English troop hospital but still remaining in the army, lieutenant Beamish was joined several months later by his wife Laila whom he had married in Hawke's Bay before sailing overseas into battle. Their son Dennis was born in 1916, followed by a daughter in 1918.
After overseeing the de-mob of imperial troops at the end of World War I, Eric Beamish – having by then attained the rank of major – and his family returned to New Zealand, where they purchased a substantial livestock farm block at Whana Whana and had the stately Kohatunui homestead built. Two further sons were born to Eric and Laila Beamish who enjoyed Whana Whana for the peace and solitude it offered compared to the booming canon and gun-fire of Gallipoli Peninsula.
Kohatunui – translating as big rock - is named after several huge rocks which border the property's impressive winding driveway. Eric Beamish deemed the Maori topographic reference to be far more appropriate than the previously-named Snake Gully station – which ironically, didn't have any snakes.
The historical book "The Ways of Whana Whana" written by Theo Herbert and published in 1995, notes that major Beamish's military background transcended into life at Kohatunui.
"Woe betide the cowboy with a lack of hygiene reflected in the dairy. Heaven protect the shepherd loose in his care of the stables and kennel areas. Lord have mercy on the shearing contractor whose gang left shed or quarters less than impeccably clean and tidy. He (Eric Beamish) worked like a galley slave himself… and he expected everyone else to do likewise. Kohatunui was a showplace," said the book.
Over the ensuing decade's Eric Beamish's children took on various positions within Kohatunui station – overseeing its vast sheep and beef grazing operations. Various portions of the farm were sold off. In later life, Eric Beamish retired to Havelock North to be closer to hospital amenities, although he continued to retain a managerial interest in his beloved Kohatunui. The pioneering farmer and war legend died in 1974.
Now, the grand-children of Eric and Laila Beamish are selling the stately Kohatunui six-bedroom colonial family homestead and 27-hectares of freehold land. The property at 701 Whana Whana Road is being marketed for sale by private treaty through Bayleys Havelock North, with offers closing on March 14.
Bayleys Havelock North salesperson Kris August said Kohatunui - with its meticulously manicured lawns, gardens and mature tree groves planted by Eric and Laila, along with array of modern farm buildings - remained as impressive now as when it was first built.
"The polished kauri, rimu, and matai floorboards, doorways, beams and window frames and surrounds are all original – testimony to the craftsmanship and detail with which they were first built," said Mr August.
"The enormous farmhouse-style kitchen still has the original solid cast-iron oven and hotplates recessed into a wall, and is serviced by a huge scullery which is about the same size as a kitchen you'd find in many modern homes.
"Befit of a large livestock station homestead from that post World War 1 pioneering era, Kohatunui also has a formal dining room, a library/office, snooker room with hunting memorabilia adorning the walls, a dressing room where Eric and his sons would change out of their farm clothing after a hard day in the paddocks, and a self-contained flat which was previously the servant's quarters."
The Kohatunui property also includes a substantial well-maintained four double-bedroom 'worker's cottage' equivalent in size to the average Kiwi home. Mr August said the residence could be utilised by any new owner as a gardener's residence, or for use as short-stay accommodation.
"Kohatunui not only offers a special link to a gracious bygone era of rural New Zealand, but is the ultimate 'lifestyle block' with lakes on the flats and forested hills around the boundaries offering a plethora of game-hunting activities," Mr August said.