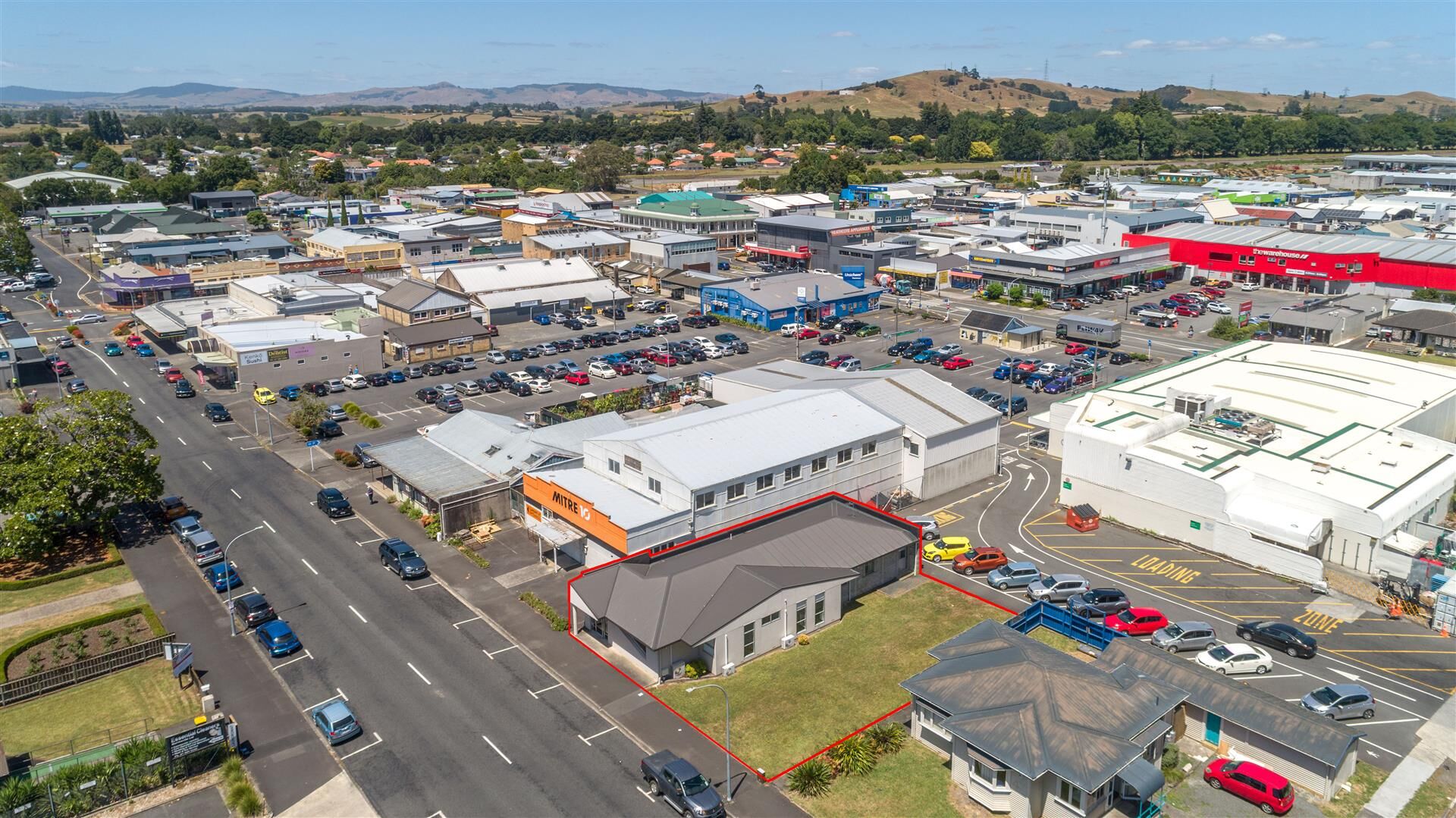 The single-storey commercially zoned property in the Waikato township of Morrinsville features a 216-square metre building sitting on some 498-square metres of flat land in two titles.
The front of the Moorhouse Street premises has been recently modernised internally to enhance its office format, which includes a reception area and separate offices serviced by a heat pump.
Meanwhile, the rear of the building is configured more along the lines of a practical workspace – with a substantial amount of shelving sitting on concrete and vinyl flooring. The area has previously been used as a wash down 'wet space' with appropriate draining already in place. A door to the rear portion of the building opens onto the carpark behind the neighbouring Countdown supermarket.
The rectangular-shaped freehold land and building at 45-47 Moorhouse Street in Morrinsville are now being marketed for sale at auction on March 10 through Bayleys Hamilton. Salesperson Josh Smith said that with a vacant tenancy, the property would appeal to both owner-operators looking for new premises in the township, or for investors looking to have the location tenanted or develop it further.
"The makeup of both this building and site, along with the substantial vacant land contained within one of the titles, opens the door to a wide permutation of future options for any new owner," Smith said.
"With dual access to both the front and rear portions of the building, it could be tenanted by two separate commercial entities with differing business focuses and operational requirements. The rear portion of the building for example would amply suit a pet-grooming business, or a home-based manufacturing type operation which has outgrown its residential roots and now needs more space.
"While there is vehicle parking on Moorhouse Street immediately outside the location, there is the opportunity to add further customer parking for the existing building by sealing the currently grassed area on the adjoining vacant plot.
"Alternatively, as the property is held over two titles, there is also the scope for a new owner to add value by constructing a new commercial premises on the currently vacant portion.
"It has also been mooted that subject to council consents, the site could be developed into an early childhood day care facility – with the grassed area enhanced to support what could be an enclosed and shade-covered playground area in conjunction with plenty of indoor play areas. All that shelving could be used for storage too."
Smith said Morrinsville was one of several satellite Waikato townships – ranking alongside Cambridge and Matamata – which were now attracting business activity out of the Hamilton metropolitan area with its higher property values.
The Moorhouse Street property being marketed for sale by Smith sits along the Anderson Street demarcation route which separates Morrinsville's residential suburbs from the town's commercial, retail, and light industry precinct.
Matamata Piako District Council is committed to maintaining the attraction and economic vibrancy of Morrinsville town centre as a retail and service company hub for the town's growing population.
In 2020 the council was granted $80,000 from the New Zealand Transport Agency (Waka Kotahi) for the development of safer shopping areas at two 'Business Bubble Zones' in nearby Thames Street – encompassing the construction of relocatable seated areas and planter boxes.
The Business Bubble Zones were initially planned to help temporarily create more room for people to stand or sit along Thames Street while COVID-19 restrictions were in place - but they also help create vibrant, interesting spaces in the CBD, which can help attract people to town, or get them to stay in town longer.
Deputy mayor, Neil Goodger said: "We (the council) want to create spaces that are more pedestrian friendly and encourage people to visit and stay longer in our central business district."
Smith said the council's town-wide pro-business sentiment bode well for any new commercial entities looking to set up trading in the Moorhouse premises.
Click here for more information on the listing.