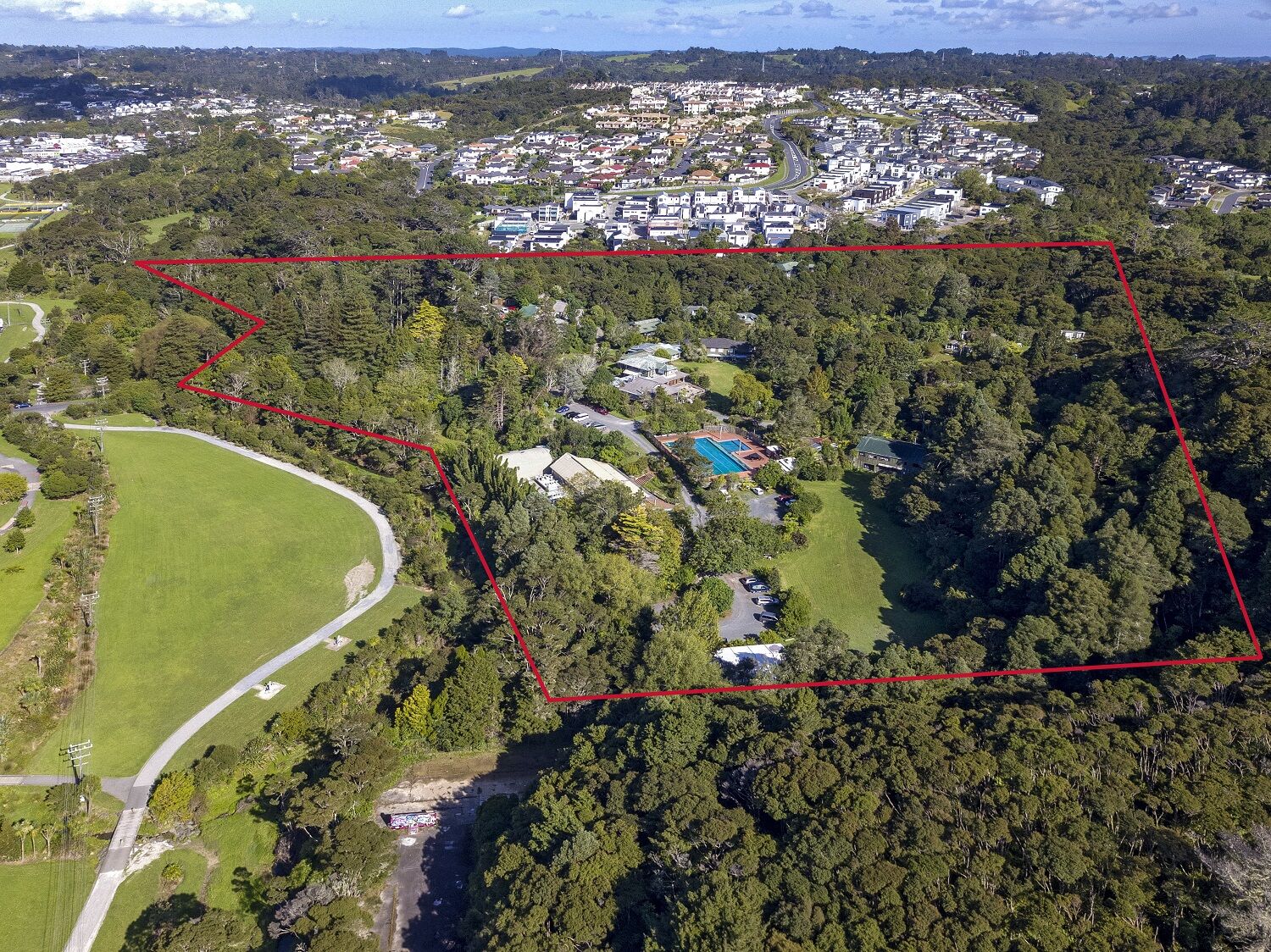 Comprising 7.62ha at 14 Mills Lane, the current campus and retreat centre occupies a private yet accessible setting, elevated above the periphery of one of the country's largest commercial retail precincts, and less than a kilometre from the Oteha Valley Road Northern Motorway interchange.
Bayleys North Shore Commercial associate director Michael Nees says the property is offered to the market at a time of demand for prime land sites, underpinning purchaser interests in large, well-located properties, particularly those able to generate a holding income.
"Current market dynamics are seeing multi-faceted assets with quality credentials receive competitive interest, with anecdotal evidence suggesting well-capitalised investors have applied a longer-term lens to their acquisitions with a view to development capacity through the cycle.
"Purchasers are looking to underutilised land sites for their blank canvas flexibility, while natural attributes fit with growing private investor interest in environmental, social and governance principles.
"Sustainability is now a key factor in property acquisition decision-making, and the Mills Lane premises provides a unique opportunity to achieve both environmental and social objectives while maximising development potential."
Mr Nees is marketing the Mills Lane property for sale with Bayleys colleagues Layne Harwood and Jayson Hayde.
Expressions of Interest are sought for the property, closing at 4:00 pm on Thursday, 18th May 2023.
Currently operating as Kāwai Purapura, the base of operations for several diverse businesses, the property features accommodation for 120 people, with significant improvements comprising more than 4,819sq m (more or less) of gross floor area across 60 unique structures.
Income is currently generated from residents' rent, casual accommodation, an on-site café and venue hire.
Bayleys Auckland Capital markets director Layne Harwood says the sheer scale and position of the property presents a swathe of potential use options for organisations with needs outside the traditional scope of commercial property.
"There is scope for the new purchaser to work with current business interests to unlock additional value from future works and the potential for long-term redevelopment.
"Redevelopment options include low-to-medium density housing, for instance, aged-care or student accommodation to support nearby education institutions.
"Strong locational attributes offer scope for future zoning, consistent with local and central government objectives, while a new purchaser may choose to apply a range of uses relevant to education, religious, community or health-focused organisations," he says.
The property is within walking distance of the Albany Bus Station, Westfield Albany Shopping Centre, supermarkets, bulk retail, and a range of hospitality outlets, providing attractive intensification fundamentals.
Bayleys North Shore Commercial general manager Jayson Hayde says in addition to immediate income and an opportunity for commercial occupation and intensification, purchasers with an eye to the future will appreciate the value of a large landholding on the edge of an urban area and its potential role in supporting Government objectives under the National Policy Statement on Urban Development (NPS-UD).
"Proposed changes as part of new Medium Density Residential Standards (MDRS) will require local councils to enable intensification in most residential areas, particularly those located proximate to key transit links, creating significant value uplift potential for a new owner.
"We expect the property will attract broad interest from a variety of private investors and organisations given its unique profile and position within one of the region's fastest-growing commercial investment hubs," he says.
The current owners, the Prema Charitable Trust, purchased the land and shifted its business interest in the Wellpark College of Natural Therapies from Grey Lynn in 2017.
Extolling the virtues of the gently undulating property, flanked by native bush and established fauna, Prema Charitable Trust Chairperson Phillip Cottingham says those associated with the organisation view the land as taonga – a treasured possession - and a jewel in the midst of surrounding urban development.
"Since purchasing the land, the trust has sought to deliver commercial activities in harmony with the environment and spirit of the land, creating a unique place in Aotearoa-New Zealand, paving the way for thousands of graduates to enter the natural health care profession.