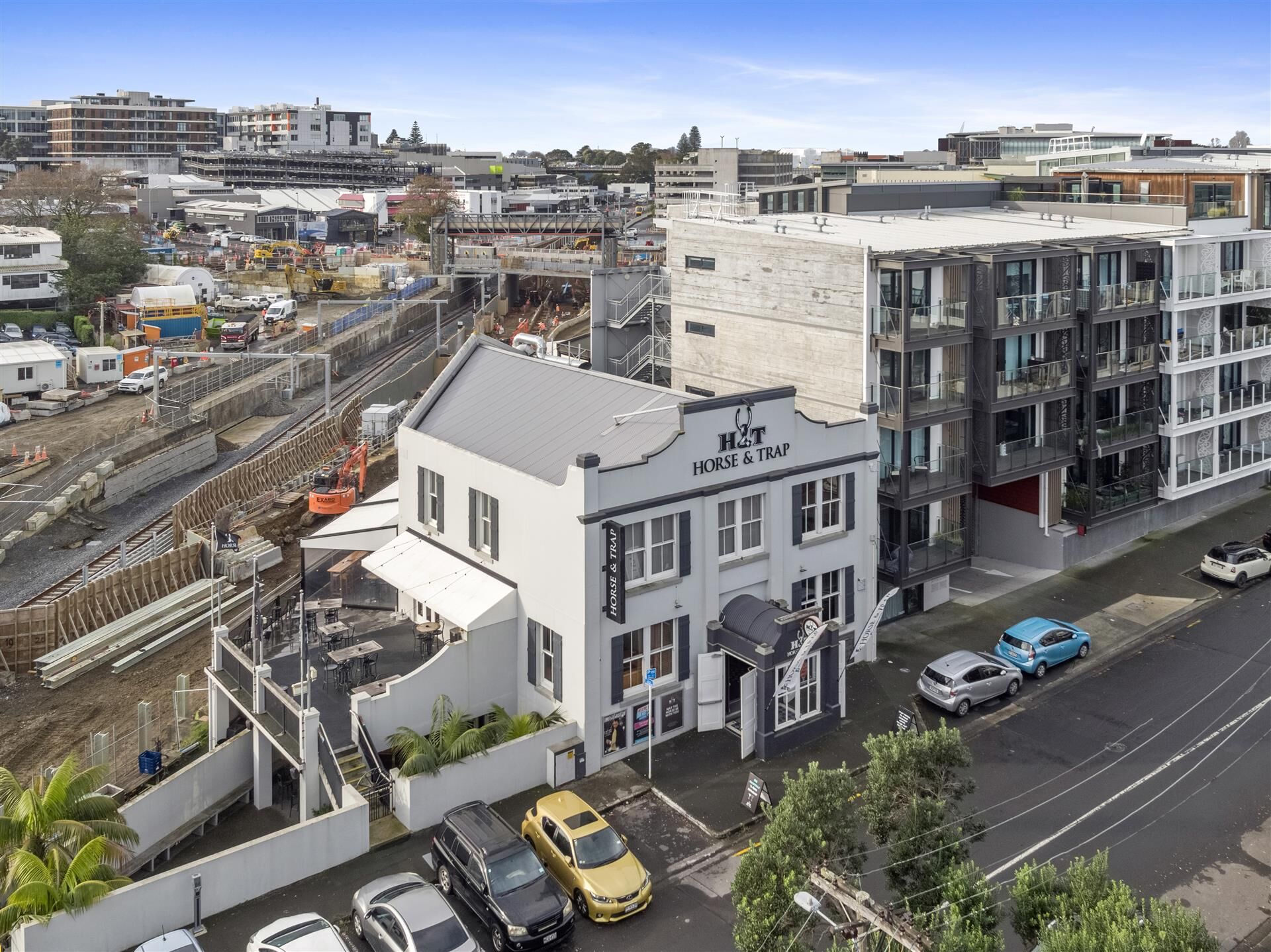 There is 938sqm of Business-Mixed Use land across the two titles at 1A and 3 Enfield Street, Mt Eden with the Horse and Trap bar, restaurant and function venue having a lease over the 844sqm character building and adjoining car parking area with 11 car parks.
The distinctive three-level building has been a Mt Eden fixture since 1914 when it was used as a coal merchant store for W & G Winstone.
New Zealand-owned food business Tasti Products occupied the property from 1935, before the building was extended and converted to its current hospitality use in 1991, originally opening as the North Island's first Monteith's Bar.
The award-winning Horse and Trap was named Auckland's best traditional pub in recent years and famously hosted Shaun Wallace, otherwise known as The Dark Destroyer from British television quiz show, The Chase, as a surprise guest at its regular quiz night pre-pandemic.
The Horse and Trap has over seven years to run on its current 15-year lease which expires 31 March 2030, with additional exercisable rights to 2050.
The property returns an annual net income of $260,000 plus GST with three-yearly rent reviews to market and potential for rental growth.
The wider area is undergoing significant transformation with the City Rail Link (CRL) project progressing infrastructure for the new Maungawhau/Mt Eden station, and numerous new apartment and residential housing initiatives morphing the popular city fringe suburb away from its more-gritty industrial roots.
Damien Bullick and Alan Haydock from Bayleys Auckland Central are marketing the Enfield Street property for sale by tender closing 4pm, Tuesday 19th July, unless sold prior.
Having undergone a full refurbishment and seismic upgrade, Haydock says the iconic building presents a bottom-drawer investment opportunity with cashflow from a proven and established tenant, underpinned by the intrinsic value of more than 900sqm of well-positioned land.
"While in its existing guise the property performs exceptionally well with the Horse and Trap an enduring local watering hole, meeting place and entertainment venue, consideration should also be given to the future development potential which exists on this under-developed mixed-use site," he says.
"As evidenced by the multiple neighbouring intensive apartment developments, Mt Eden is evolving with higher density residential options popping up throughout the suburb."
"Once the CRL is operating – expected to be from 2024 – Mt Eden will become even better-connected with wider Auckland which will further cement its convenience, accessibility and popularity as a prime city fringe location."
The Enfield Street property is located just metres from the under-construction Maungawhau/Mt Eden station where the CRL will connect with the North Auckland/Western line.
The character building has been seismically-strengthened to at least 67 percent of new building standard and has been substantially refurbished internally and externally.
The property offers three levels of bar and restaurant facilities with each level having a distinct use.
On level one is the commercial kitchen along with a secondary bar and restaurant area used for private functions with access to a private courtyard, along with direct access to the car park.
The main bar and dining area on level two are accessed through the front door off Enfield Street and this area includes a number of seating options, a full bar and amenities, and a large north-facing deck.
An additional bar and dining area boasting original character features and predominantly used for private functions is on the upper level, along with a generous-sized staff office.
The property is around a five-minutes drive from the CBD, a short walk from Symonds Street, in the Auckland Boys' Grammar zone, and is close to the popular Mount Eden retail precinct.
Bullick said Mount Eden is one of Auckland's most sought-after residential suburbs with a strong sense of community which gives weight to the subject property's existing local hospitality operation, but also supports future residential development potential.
Click here for more information on the listing.