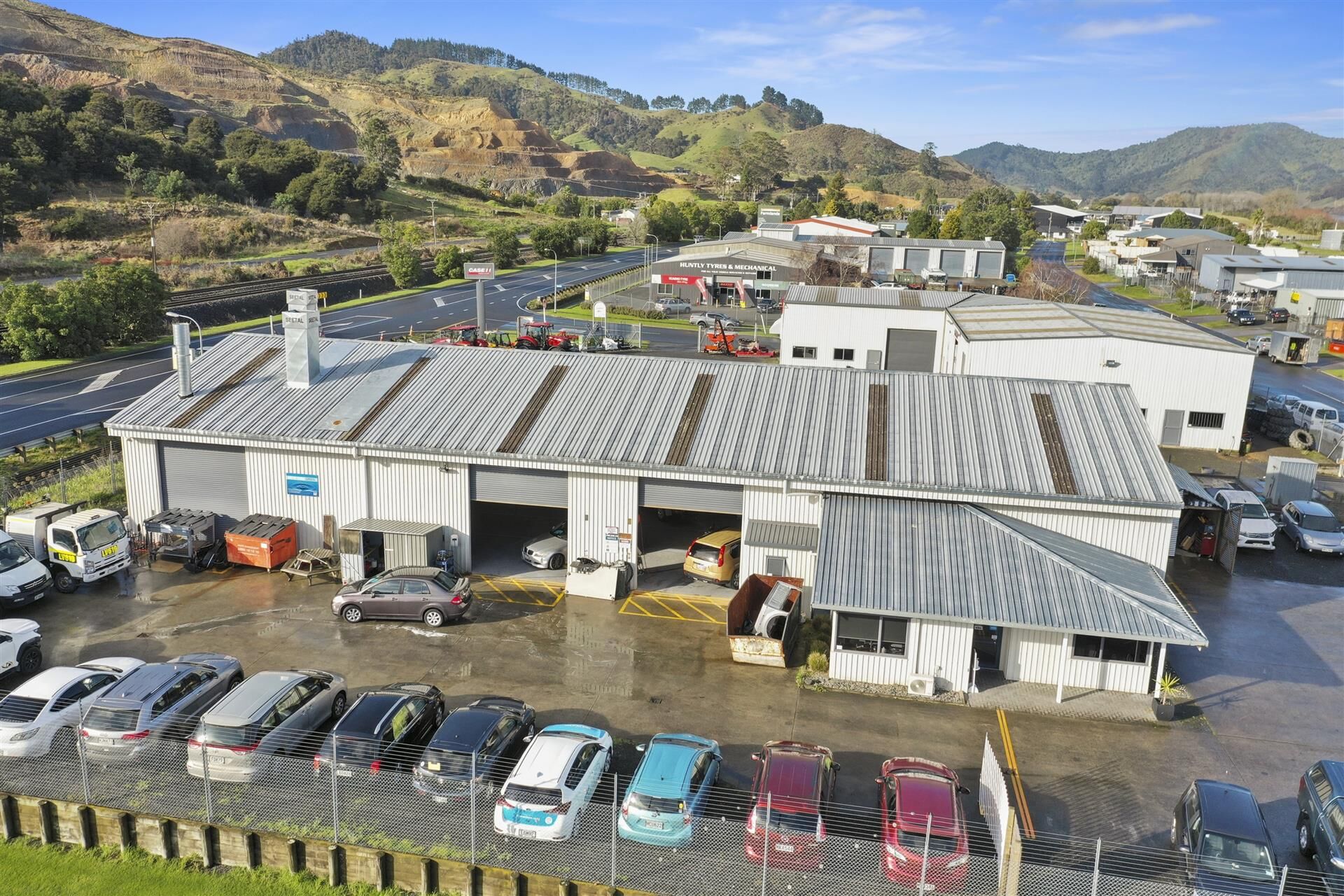 The 1,946-square metre property in the North Waikato township of Huntly comprises a 580-square metre industrial building tenanted by locally run and well-known vehicle paint and panel repairs business Collision Connect.
Collision Connect offers a range of vehicle remediation services – including collision bodywork repairs and panel beating, car painting, rust repairs, and lease vehicle rectification. The company employs some 14 staff – making it one of the biggest such enterprises of its type in the province.
The rectangular-shaped freehold land and building at 41 George Drive in Huntly are now being marketed for sale by auction on 21st July through Bayleys Hamilton. Salespeople Alex ten Hove and Luke ten Hove said the surrounding rural hinterland and its various small townships provided a steady stream of business for Collision Connect.
"The building layout and surrounding yard space were specifically designed and built for a panel beating operation. The current tenant has also invested heavily in further personalising the premises for their services to make them as efficient as possible benchmarked against industry standards," said Alex ten Hove.
"Constructed in the 1990s, the modern steel portal building totally sustains Collision Connect's needs - featuring high stud clear span concrete-floored warehousing and factory workshop space, storage racking, and a sealed drive-in spray-painting chamber.
"The building has three separate roller door vehicle entry/exit points to ensure that multiple vehicles can be efficiently processed simultaneously on the main workshop floor."
"Adjacent to the workshop floor, the air-conditioned administrative office space includes staff amenities," said Alex ten Hove.
"Meanwhile, the expansive external space is utilised for vehicle storage to ensure a smooth flow of vehicles coming into the workshop or being made ready for customer collection on the completion of work."
"An inner-perimeter yard has parking for up to 14 customer vehicles, while the outer yard facing onto George Drive has additional parking for 12 employee vehicles. Wired fencing runs around the entire perimeter of the address to ensure a high degree of security for vehicles being repaired."
Collision Connect is on a current lease at 41 George Drive running through to 2023, with a further five-year right of renewal. Rent reviews for the property are scheduled for 2023 and 2026. The Huntly site is designated for light industrial use under the Waikato District Council plan.
"Huntly is arguably the foremost industrial hub for regional North Waikato – with the ability to efficiently service the towns and settlements of Mercer, Ngaruawahia, Te Kauwhata, and Northern Hamilton within easy driving distance – and access to State Highway One just a few kilometres to the south at the Taupiri junction," said Luke ten Hove.
The Huntly Community Plan 2015 – 2025 compiled by the Huntly Community Board has a dedicated focus on creating long-term economic growth in the town – promoting an ethos of "local jobs for local people" by reinforcing the importance of industrial and light industrial zoned land in the town to facilitate and attract manufacturing industries. Embracing that stance, many staff working at Collision Connect live in and around Huntly.
"These initiatives are designed to further cement Huntly's relevance as an industrial and light industrial hub for the North Waikato," said Luke ten Hove.
"Strategic job-focused forward planning like this underpins the value of existing industrial sites in Huntly, such as 41 George Drive, as the region's population continues to grow."
Click here for more information on the listing.