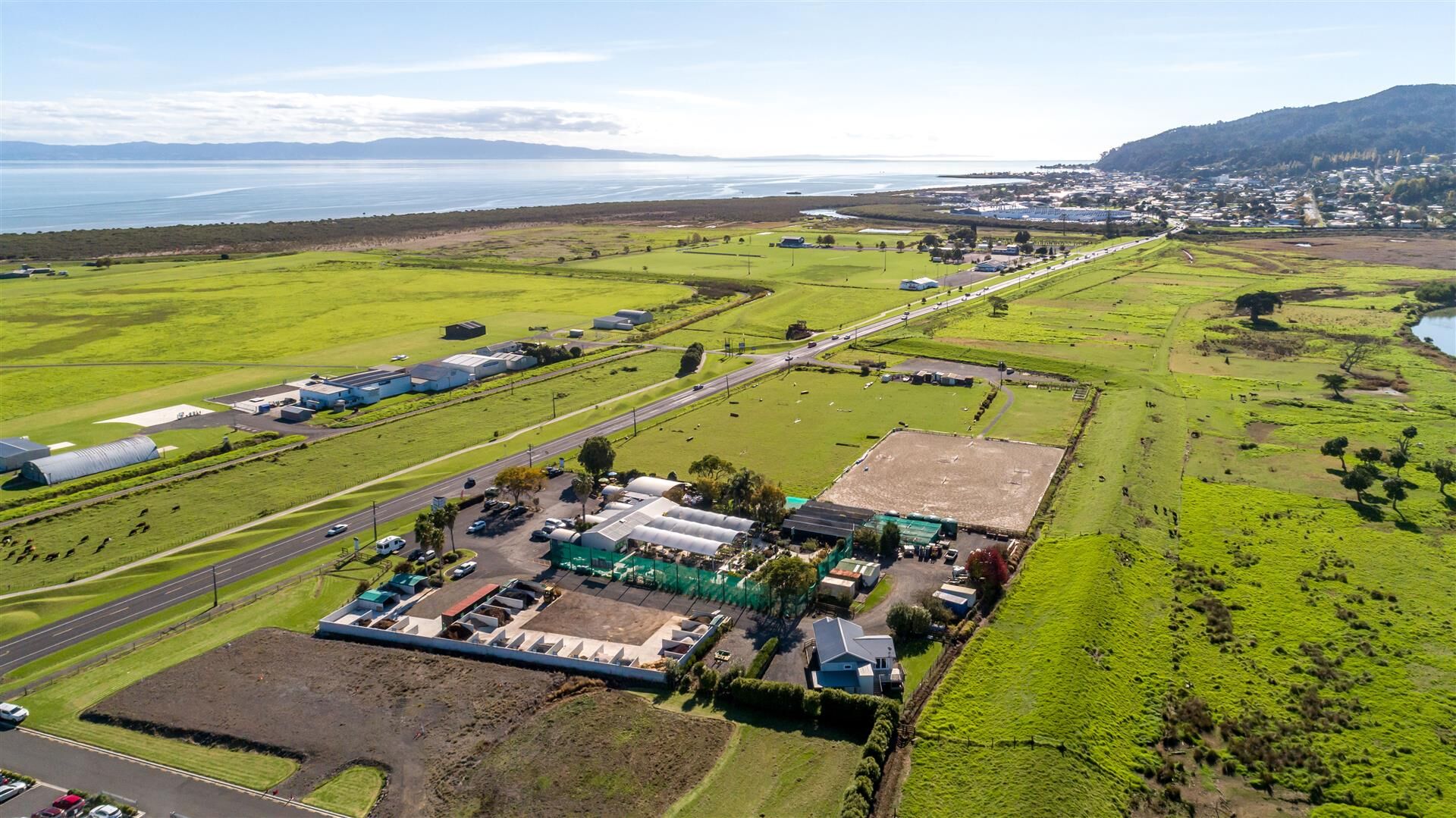 The property on the southern outskirts of Thames at the base of the Coromandel Peninsula is home to the well-patronised Aeroview Garden Centre and Taste Bud Café businesses.
Situated opposite Thames airport with a substantial unobstructed street frontage, the property comprises some 10,673 square metres of flat land zoned rural 1A under the Thames Coromandel District Council plan.
The family-run Aeroview Garden Centre has been retailing trees, palms, shrubs, and flowers, along with a full selection of pots, soil mixes, fertilisers, seeds, and gardening equipment, from the location since 2006. Aeroview Garden Centre occupies the majority of the site - with its various retail, outdoor nurseries, and landscaping supplies storage components.
Operating separately from Aeroview Garden Centre in a totally complementary capacity, the property at Ngati Maru Highway also sustains the modern licensed Taste Bud Café.
In addition to the two commercial operations, the property also features a recently refreshed three-bedroom residential home which is currently vacant. Situated away from the commercial activities in a quiet corner of the property, the dwelling – which has heat pumps installed in the lounge and master bedroom, along with insulated ceilings and floors – has the potential to be let for between current market rates of between $550 - $600 per week.
Building infrastructure on site encompasses a large high stud open-plan warehousing style retail space showcasing Aeroview's vast array of seeds, fertilisers, domestic-use garden sprays, ornaments, garden tools, and equipment for sale. The building also contains two offices and staff kitchen and bathroom facilities.
The largely sealed outside yard at the back of the retail premises features a trio of covered shade and shelter canopies showcasing Aeroview's extensive variety of seedlings, young shrubs, flowers, trees, and plants. Potting and propagation sheds, glasshouses, and four large water storage tanks are situated at the rear of the yard – allowing Aeroview Garden Centre to operate a vertically-integrated retail business.
Adjacent is a substantial separate outdoor yard space with more than 20 concrete bays containing mulch, sand, soil, compost, and stones, as well as pellet storage of gardening products.
Meanwhile, Taste Bud Café is housed in a standalone single-storey barn-like hospitality premises with a substantial sun-drenched outdoor wooden deck area looking over a peaceful garden environment. The two businesses on site share 34 car parks and a pair of disabled-access customer bathrooms accessed off the deck.
Taste Bud operates a commercial-grade kitchen and food preparation area, with a full suite of cooking and food storage equipment – serving both dine-in and takeaway food.
The freehold land and buildings at 380-382 Ngati Maru Highway in Thames - also known as the Pacific Coast Highway - are now being marketed for sale at auction on July 21 through Bayleys Waikato. Salesperson Josh Smith said the property offered a true split-risk investment opportunity with commercial tenants in two separate and non-competing economic sectors, and the property's well-maintained residential component.
"Clientele for both these well-patronised business tenants come from across the Hauraki Plains – as far away as Ngatea and Kerepehi to the south-west, Tapu to the north, and Pauanui to the east," said Smith.
"As a specialist plant and garden supplies centre, Aeroview's staff have always remained very focused on their product ranges – in effect becoming specialists rather than generalists. That has always been appreciated by the business's clientele.
"And of course, after their retailing experience, many of those shoppers then remain on the premises to avail themselves of the food and beverage offerings at the Taste Bud Café."
Aeroview Garden Centre is on a current five-year lease at 380-382 Ngati Maru Highway generating annual rental revenue of $42,000 plus GST and operating expenses with two further three-year rights of renewal.
Meanwhile, Taste Bud Café is on a current three-year lease at the property generating annual rental revenue of $23,100 plus GST and operating expenses with three further three-year rights of renewal.
Smith said there was also the potential for land banking the site for future development - subject to council consent - into a large retail development, such as a supermarket or light industrial warehousing hub.
"The Ngati Maru Highway address straddles the residential portion of Thames and the area's current big box and light industrial precinct at Kopu just a few kilometres from the central business district," he said.
"Any future development of the 10,673-square metre site would take advantage of the property's strategic location on the urban outskirts of Thames township, and its high-profile positioning alongside one of the busiest roads in the Coromandel Peninsula."
Click here for more information on the listing.