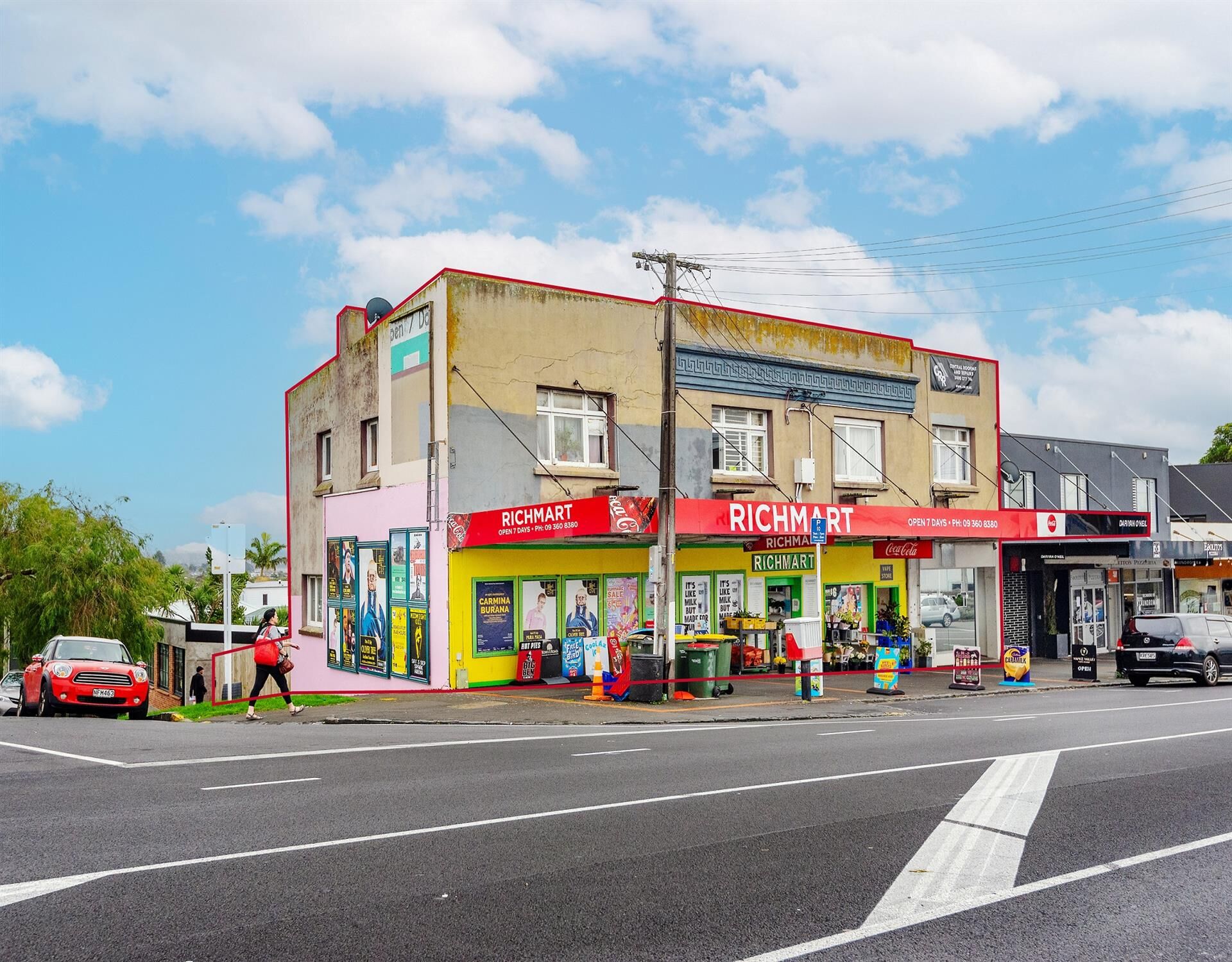 The property in the Auckland suburb of Ponsonby comprises a 425-square metre two-storey retail and residential building sitting on some 368 square metres of freehold land zoned Business – Neighbourhood Centre under the Auckland Unitary Plan (operative in part).
Sitting on the corner of Richmond Road and Jessel Road, the building's ground floor contains the Richmart superette, alongside the Dariyan O'Neil barber shop, with four separate residential units on the upper level. It's Business – Neighbourhood Centre Zone classification allows for corner stores or small shopping strips located in residential neighbourhoods – providing residents and passers-by with frequent retail needs and allows for buildings up to three storeys high, with residential use on the upper floors provided that the development is in keeping with the surrounding residential environment.
As a traditional Kiwi neighbourhood dairy operating seven days a week, Richmart serves the immediate neighbourhood with standard household grocery items ranging from milk and bread, through to tinned comestibles, fizzy drinks, and of course ice creams.
The immediate surrounding area predominantly comprises a mix of character residential dwellings and chic low-rise apartment blocks – with Richmond Road being a main arterial route for the locale connecting Ponsonby with Grey Lynn and Arch Hill.
After being retained by the current owners for the past 20 years, the land and building at 158-164 Richmond Road in Ponsonby are now being marketed for sale by Deadline Private Treaty through Bayleys Auckland Central and Bayleys South Auckland, with offers closing on August 23 unless sold prior. Salespeople Tony Chaudhary, Amy Weng, and Damien Bullick said the property offered a split-risk investment opportunity across both the commercial and residential sectors.
"Richmart Dairy is a landmark in this area – with its architectural style harking back to the 1930s when Ponsonby was a far different suburb than it is now. With six separate income streams, the premises delivers a diverse tenancy mix in a prime location," said Chaudhary.
"The property is located just a short walk from Ponsonby Road – renowned for its vibrant hospitality and retail scenes.
"The high visibility of the property is evidenced by the leasing of one exterior wall to a billboard advertising company which displays event and concert posters."
Combined, the commercial and residential tenancies within the Richmond Road building generate annual net rental of $135,023, and comprise:
• Convenience superette retailer Richmart on a lease running through to 2024
• Men's' hair stylist Dariyan O'Neill on a lease running through to 2023 with two further two-year rights of renewal
• A billboard wall space leased to Phantom Billstickers on a month-to-month basis
• A two-bedroom flat on a lease running through to 2024
• A two-bedroom residence leased through to 2023 with two further two-year rights of renewal
• A two-bedroom apartment leased through to 2023 and;
• A two-bedroom unit on a periodic lease.
Customer parking for the superette and barber shop is situated immediately outside the building on both Richmond and Jessel roads, while off-street tenant parking for four vehicles is situated at the rear of the building. 158-164 Richmond Road sits within a block of shops which also contains a pizzeria, laundromat, bakery, and the well-known Ripe Deli Cafe.
Weng said the property's strategic proximity to Ponsonby meant the residential units within the building were always highly sought after. Two of the four flats were tenanted by the operators of Richmart superette and the Dariyan O'Neill hair salon. Meanwhile, the other two units had indicative rental returns of between $375-$460 a week.
"Richmond Road is well serviced by public transport – being directly on the bus route running directly down Queen Street and into Britomart," she said.
"Opportunities such as this seldom come to the market. There is the opportunity to increase rental returns from the property as the various tenancy terms come up for renewal. Alternatively, there is the long-term potential to redevelop the site.
"The retail operations within the block compliment each other in a truly suburban environment."
Click here for more information on the listing.