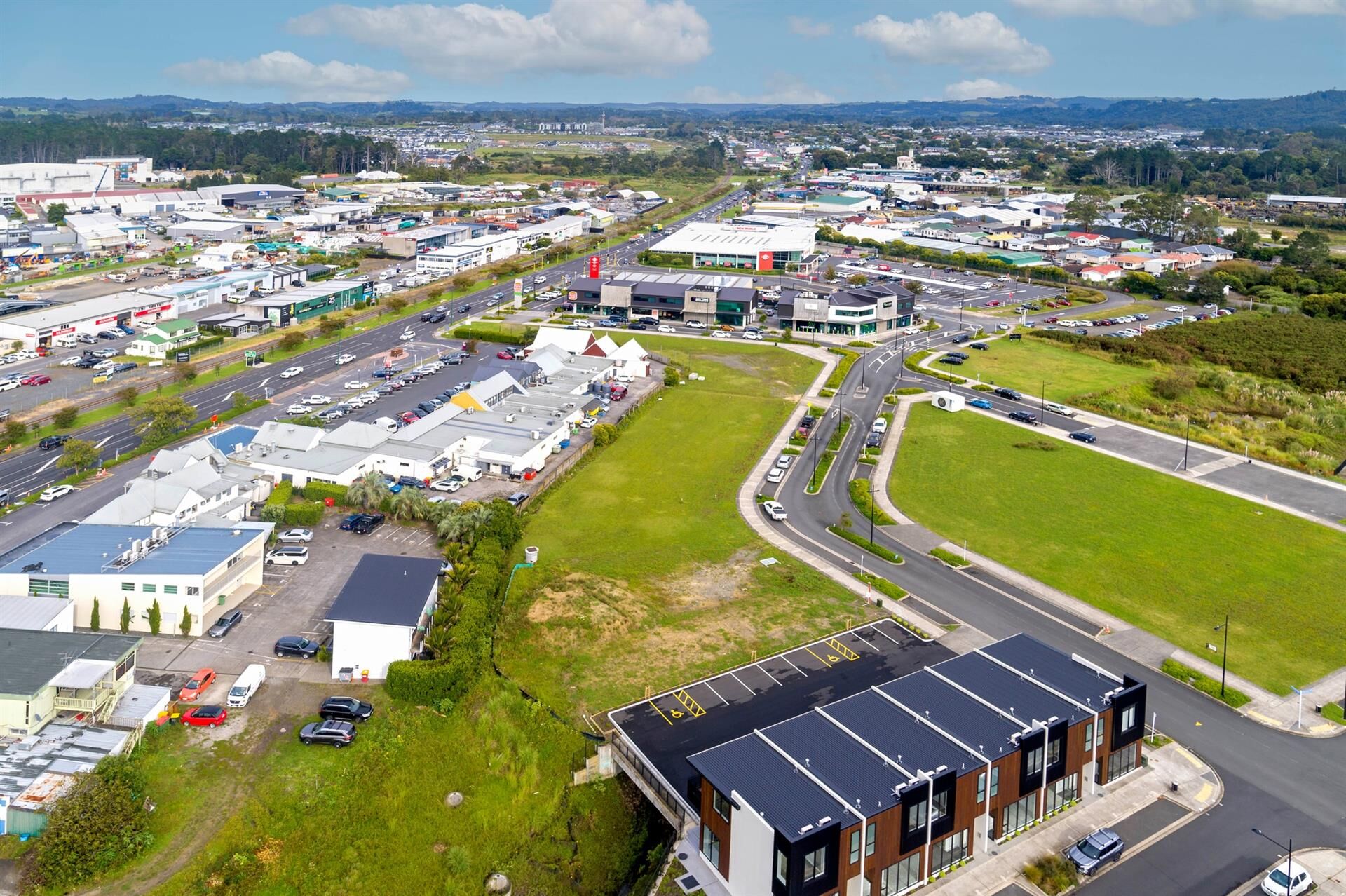 A bare land site primed for development northwest of Auckland offers ready connections to services attractive to developers and end users.
Spanning 4,082sq m (more or less) of freehold land in Business – Town Centre zone at 22 Papatupu Way, Lot 7 is serviced for drainage, power, water and fibre broadband.
Bayleys Development Land Sales associate director Wesley Gerber says the mixture of high-density mixed-use zoning provisions and ready connections to services presents an attractive opportunity for developers and end users, particularly as existing connections streamline the development process for interested parties.
"The new owner may choose to develop the property immediately, with a view to maximum utilisation, or hold the site long-term and benefit from its strong investment potential.
"Both options present upside potential due to the current scarcity of available development land across Auckland's northwest region, particularly in metropolitan and residential areas.
"Lot 7 forms part of a master-planned mixed-use development precinct which is set to service the broader Kumeū region, currently experiencing a period of rapid commercial and residential expansion.
"The potential enabled by the site's preferable zoning has been successfully captured by developers across the region who have created successful multi-unit residential developments in combination with commercial activities.
"Business – Town Centre zoning is generally applied to areas positioned for growth and intensification, with provisions typically enabling buildings of between four and eight storeys, although there are exemptions for special height limits.
"Overlays within these centres naturally lend themselves to a high level of intensification, including offices or residential dwellings at upper levels," he says.
Mr Gerber is marketing the property for sale with vacant possession with Bayleys colleagues Matt Mimmack and Mark Preston.
Featured in Bayleys' latest Total Property portfolio, the property will be sold by deadline closing at 4:00 pm on Thursday, 13th April 2023 (unless sold prior).
Gaining excellent street frontage and high visibility to Papatupu Way, the property is located behind Kumeū's main arterial road in a recently completed subdivision with a mixture of modern commercial and residential development.
Bayleys North Shore director of Commercial & Industrial Matt Mimmack says the level site features a slightly irregular shaped section on its southern boundary, which lends itself for use as vehicle car parking and the possibility of access via Honowai Street subject to appropriate consent approvals.
"The northwest corridor is one of Auckland's strongest growth nodes and continues to benefit from significant infrastructural upgrades and future development planning provisions.
"The improved motorway network, expanding public transport options, upgraded pedestrian areas and cycleways across Huapai-Kumeū have been a game-changer driving local economic activity, attracting diverse commercial and residential occupants.
Kumeū is an area constantly evolving in popularity, just 25 kilometres northwest of the CBD.
Reputed for its scenic beauty and rural charm, the once predominantly horticultural area has become a hive of mixed-use activity serviced by a central village hub, increasingly surrounded by new developments featuring landscaped streets and green spaces.
"Auckland's northwest corridor is experiencing a $1 billion transformation, encompassing housing, trade, retail, public amenities, new infrastructural project delivery and upgrades to existing services which underpins a significant upside value proposition here.
"High intensification provisions under the Town Centre zoning reflect the Auckland Council's confidence and vision for Kumeū to evolve, offering a high level of amenity within the consolidated village centre precinct to a new residential catchment.
"We expect to see new developments continue to attract attention across the region as rising rental rates and the flight to quality sees commercial operators increasingly seeking purpose-designed, modern and well-located premises.
"An established-and-building residential catchment will further support occupier interest as local communities continue to pandemic trend of shopping and supporting local, driving local prosperity and increasing the area's attractiveness as a location for work, life and leisure," he says.