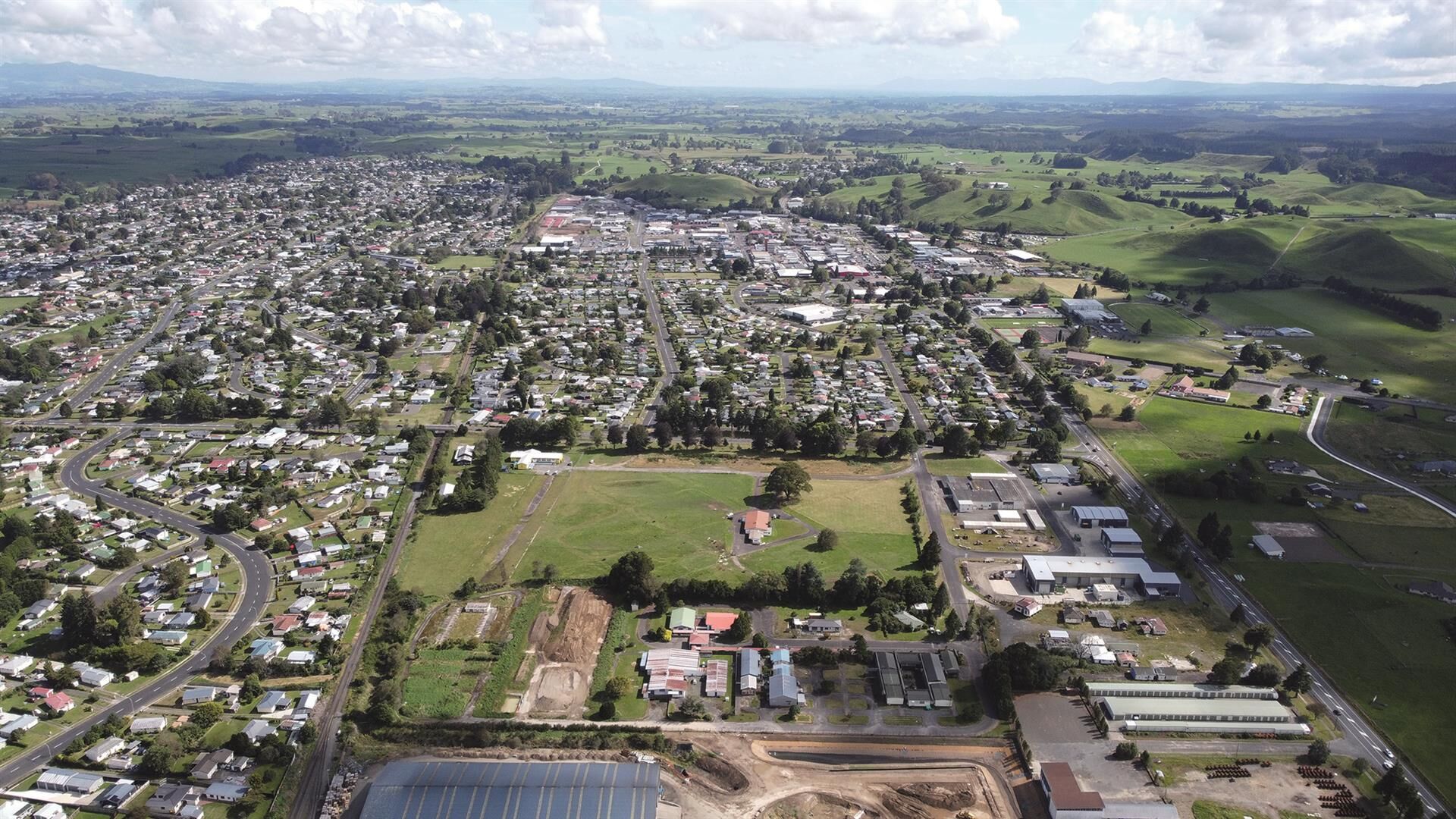 In the South Waikato town of Tokoroa, creating opportunity for owner-occupiers and developers to leverage locational and operational efficiencies.
The strategically located land just off State Highway 1 will open up industrial capability on the southern edge of the country's golden triangle economic zone in an identified growth cell.
Agents from Bayleys said the lots range in size from 1,696sqm to around two hectares, and are priced in the $200-$250 plus GST per square metre range.
Paul Bowden, Head of Economic Development at South Waikato District Council (SWDC) said the new business park will have intermodal capability with direct rail freight access to the Ports of Tauranga and Ports of Auckland, which he predicts will attract processing and manufacturing businesses to the region.
"Aside from the value these industrial lots present when compared with other facilities in the North Island, our central location between Taupo and Hamilton on State Highway 1 makes the movement of goods throughout the North Island quick and efficient," said Bowden.
"Increasing numbers of international and New Zealand companies are looking at Tokoroa to establish new operations or to expand existing operations, especially those in the business of exporting finished goods.
"SWDC, alongside the South Waikato Investment Fund Trust (SWIFT), works with investors wishing to establish or relocate an enterprise to the district, aiming to optimise the consenting experience and with zoning and a district plan that is business friendly."
Lots 1-13 within the Maraetai Road Intermodal Business Park, which in addition to rail connection have excellent roading access to State Highways 1 and 32 at the Southern end of Tokoroa, are for sale by negotiation via Ryan and Brendon Bradley, Bayleys Tauranga.
Benefitting from location, a skilled industrial workforce and streamlined transport logistics, Tokoroa is emerging as a viable and cost-effective option in the industrial market, according to Ryan Bradley.
"Eyes are now turning to the South Waikato as the industrial land market elsewhere in the country is completely squeezed.
"There has been no new supply of land with scale for sale in Tokoroa in the last 15 years which amplifies the appeal of the land in Maraetai Road.
"In other key centres within the golden triangle, industrial land prices have skyrocketed with land in Hamilton fetching double the per square metre rate of the Tokoroa land, and in Tauranga's Tauriko precinct, around three times the per square metre value of the Tokoroa lots.
"Future availability of land sites with scale at other points of the golden triangle are realistically several years away so proactive occupiers and developers are urged to move quickly to get the ball rolling in Tokoroa."
The 13 flat lots will have all usual services provided to the boundary, have been specifically designed with a range of sizes to suit small to medium and large-scale industry requirements, and title is expected in Q4 2024.
Bradley said SWDC is a collaborative, pro-business council and there will be benefits to buyers in purchasing from a one-stop shop vendor.
"SWDC recognises the economic and community benefits that unlocking these industrial land lots will bring to Tokoroa in terms of employment and population growth, so we'd expect consenting and other development requirements to be handled efficiently."
Bowden said the South Waikato district is increasingly being seen as an attractive option for those seeking to escape the cost of living and busyness of larger urban centres.
"Realising the dream of owning a home is achievable here, as is a more balanced lifestyle.
"With superfast broadband and a significant number of new housing developments happening, a move to Tokoroa can benefit a company's workforce and business bottom line."
The Maraetai Road Intermodal Business Park is situated next to the Kinleith branch rail line, and the sites benefit from a direct road into the recently developed Tokoroa road/rail terminal that includes a rail siding hard stand, local road connection, bulk storage area and a container loading/unloading facility.
Evidence of growth and innovation in the district is demonstrated by the new $14m South Waikato Trades Training Centre in Tokoroa, and development of a new state-of-the-art dairy processing plant by global food business Olam Food Ingredients (OFI) on an 11.8ha site near to the Maraetai Road Intermodal Business Park.