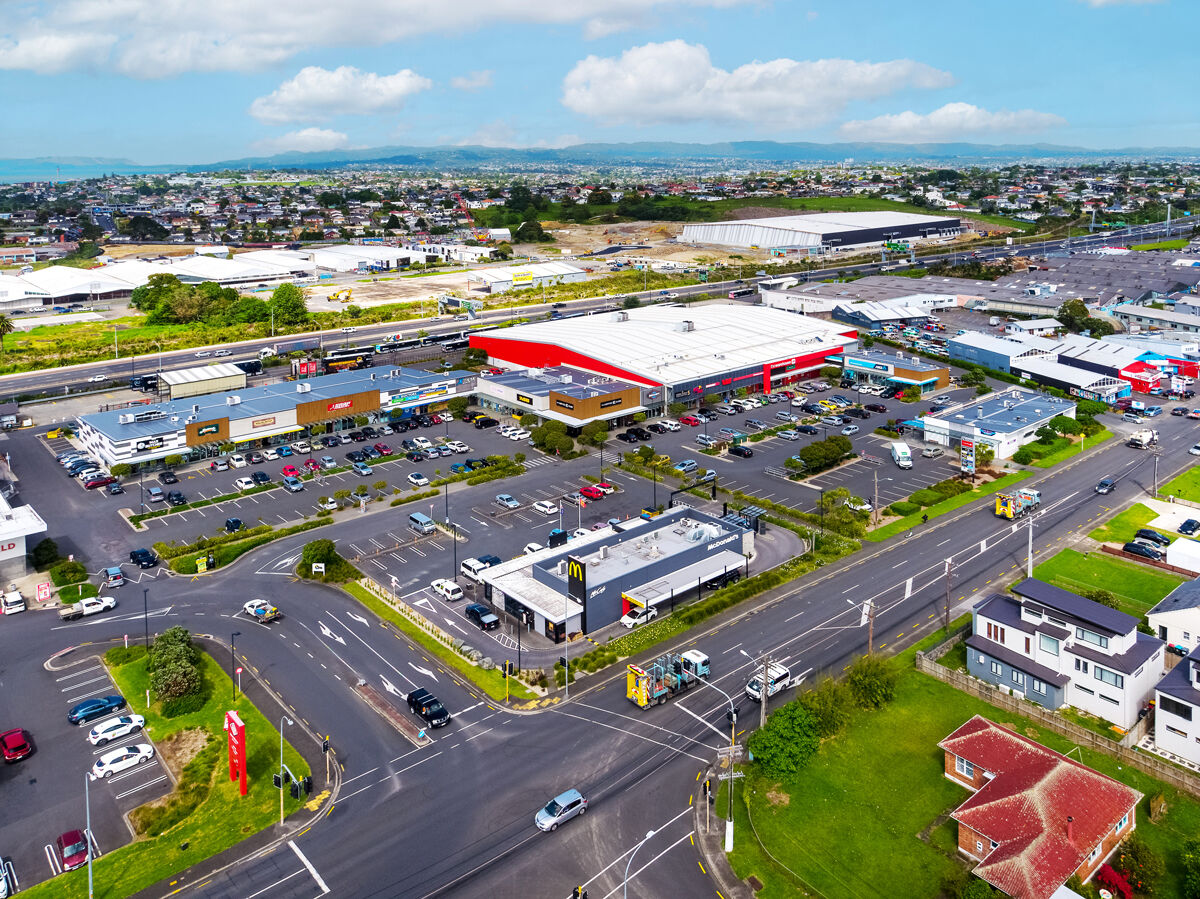 The opening of State Highway 20 connecting Point Chevalier and Manukau via the Waterview Tunnel in 2017 has significantly reduced travel times between southern suburbs and the Auckland CBD by up to 15 minutes and has thrust Mt Roskill into the limelight as one of Auckland's most transformative suburbs.
Zoned General Business, the fully leased centre at 22 Stoddard Road has 8,412 sqm of gross lettable area and 335 car parks, is anchored by NZX-listed The Warehouse Group, and bolstered by well-known national occupiers and local businesses.
Constructed in 2013, around 80 percent of the centre's circa-$2.75 million annual net income is from national and chain tenants. The centre offers investors genuine rental growth with 65 percent of the income linked to CPI and/or fixed rent reviews.
In addition to The Warehouse Group, which has a final lease expiry of 2040 if all renewals are exercised, the centre is home to Unichem Stoddard Road Community Pharmacy, Snap Fitness gym, ANZ, Westpac and ASB banks; Dollar Outlet, Subway, St Pierre's Sushi, Burger Fuel and The Coffee Club, along with other food and beverage operators, and service providers.
The centre has been put on the market by its listed property investment entity owners Asset Plus, in a move signalled late last year.
The Stoddard Road neighbourhood shopping centre is for sale by an International Expressions of Interest campaign closing Thursday, 23rd March and is being marketed by Mike Houlker and Sunil Bhana of Bayleys, in conjunction with Blair Peterken and Peter Herdson of Colliers.
The centre has strong visual profile to Stoddard Road, easy access onto Auckland's motorway network via State Highway20, impressive carpark ratios, and leverages off both foot and vehicular traffic from the adjacent New World supermarket and McDonalds fast food outlet.
"This is a modern, busy and well-managed neighbourhood shopping centre with minimal short-term maintenance and CAPEX requirements with a diverse mix of 20 occupiers to service all requirements of the growing residential catchment," said Bhana.
"Large format retail and neighbourhood shopping centres performed well throughout the pandemic and that continues today given the convenience factor, ease of access, on-site parking and being a 'one-stop' local destination for a wide range of goods and services.
"Our leasing teams are noting strong demand from large format retail occupiers for well-located space with good foot traffic, where supporting occupiers can also benefit from the higher footfall."
In its current guise, Peterken said the centre provides a welcome return on investment, with opportunity for upside via built-in rental growth mechanisms, and pipeline demand from occupiers giving confidence when vacancy occurs.
"The zoning provides for a 16.5 metre height limit so there's potential for vertical expansion or re-optimisation of the tenancy layout over time, however, beyond the existing neighbourhood shopping centre use, the underlying value of this big chunk of well-zoned land in an evolving suburb will trigger interest from astute buyers," he explained.
With land values in the wider region having escalated and sites with scale being increasingly hard to find, Houlker notes that the subject property has compelling fundamentals.
"Given what Auckland land is worth, and with intrinsic population growth off the back of proposed housing and infrastructural projects, the centre provides investors with immediate scale and exposure to a captive customer catchment along with future potential in a suburb where sizeable land availability is constrained."
Mt Roskill has been identified by the central government as a growth area and this further enhances the value of the neighbourhood shopping centre.
"The centre is located just 8 kilometres from Auckland's CBD, and with intended significant urban renewal, residential intensification and infrastructural projects planned in the immediate area, the asset is well-positioned to benefit," said Herdson.
The planned infrastructural projects are underpinned by a major Kāinga Ora-Homes and Communities development with around 10,000 new, high-quality, healthy homes scheduled to be rolled out over the next 10 to 15 years.
Meanwhile, the proposed Auckland Light Rail Project will potentially provide another key connectivity link for Mt Roskill.
Data shows that there is a population of 220,000 within 10 minutes' drive of the Stoddard Road neighbourhood shopping centre, extending to 802,000 within 20 minutes' drive, providing an estimate $7.5 billion to $26.2 billion of purchasing power within the catchment.
Click here for more information on the listing.