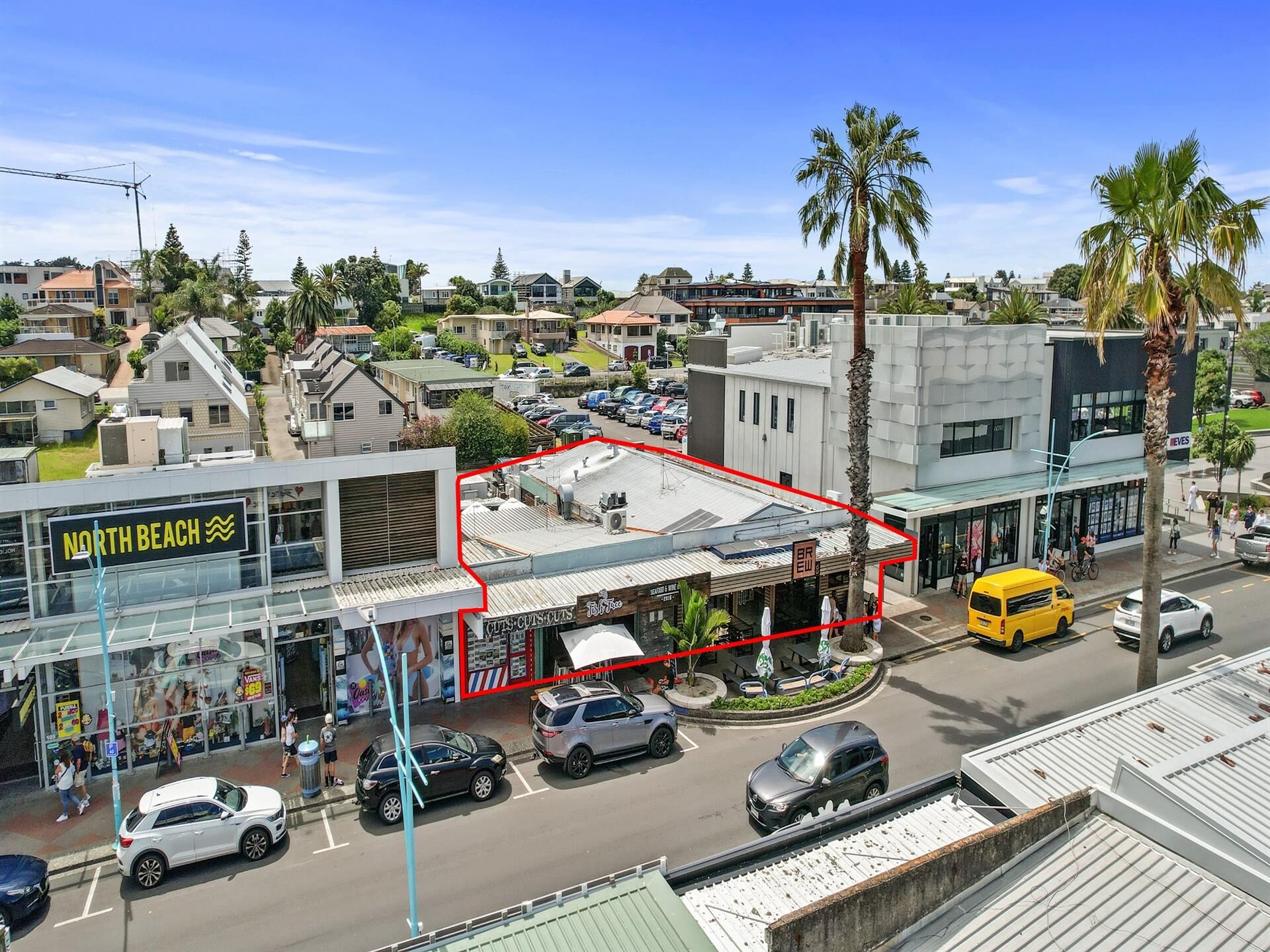 The freehold 710sqm site at 107-111 Maunganui Road benefits from a wide street frontage to Maunganui Road, a pedestrian access way to the southern boundary, and a service lane at the rear of the property known as Shadelands Lane.
The property's out-of-town owner is looking to free up some capital for other projects, hence an investor or a developer with an eye to the future is being sought.
Home to one of "the Mount's" busiest bars, Brew Co, along with Fish Face eatery and a newly-leased art gallery (formerly a barber's shop), the property has a weighted average lease term of 3.8 years from the end of March this year.
The Commercial-zoned property in its current guise has around 388.8-sqm of lettable area across the three buildings and returns an annual net rental of $185,930 plus GST and outgoings, with annual fixed rental growth built in.
The rectangular-shaped and near-level site, boasts 20-metres of street frontage to both Maunganui Road and Shadelands Lane to the rear, with the pedestrian accessway linking the two.
Marketed by Christy Arundel, Rory Brown and Jim McKinlay of Bayleys Tauranga, the property will be sold by deadline private treaty, closing 4pm Thursday 9th March (unless sold prior).
The Mount Maunganui commercial area has shown sustained rental growth over the past decades and while the subject property is currently under-rented against latest market valuations, agents said this presents upside for a new owner at rent review time, or could ultimately allow potential for a better and higher use to be realised.
"Tenant demand for space along the Maunganui Road strip always outstrips available supply," said Arundel.
"However, the strong holding income would also provide a buffer for proactive developers looking to capitalise on the enduring popularity of the town and optimise the value of the site.
"The current income streams are shored up through until 2027 meaning there's a decent return on investment while a new owner formulates plans for redevelopment and gets consents underway.
"The property is flanked by modern buildings that have been developed upwards for commercial and residential occupation, so it's clear to see what can be done in this area to take advantage of the zoning."
Brown said the property would appeal to a range of buyers including retiring farmers looking to diversify an investment profile, those with past sentimental connection to the Mount, and experienced developers looking to leverage off the wider Bay of Plenty's status as one of the fastest growing regions in New Zealand.
"Often buyers come out of the woodwork with memories of holidays spent at the Mount and a desire to own a piece of the property pie, while savvy developers will recognise the intrinsic value of a decent-sized site with aging buildings that could make way for a modern development to maximise the prime position."
The Brew Co tenancy features an industrial-style open-plan bar and dining area plus outdoor seating with fitout owned by the tenant.
Neighbouring Fish Face is a seafood-focused eatery occupying open-plan space with a brick, aluminium and glass façade to Maunganui Road and an outdoor courtyard to the rear.
The newly-leased art gallery (formerly barber's shop) is a long narrow retail tenancy with a glass and timber façade to Maunganui Road.