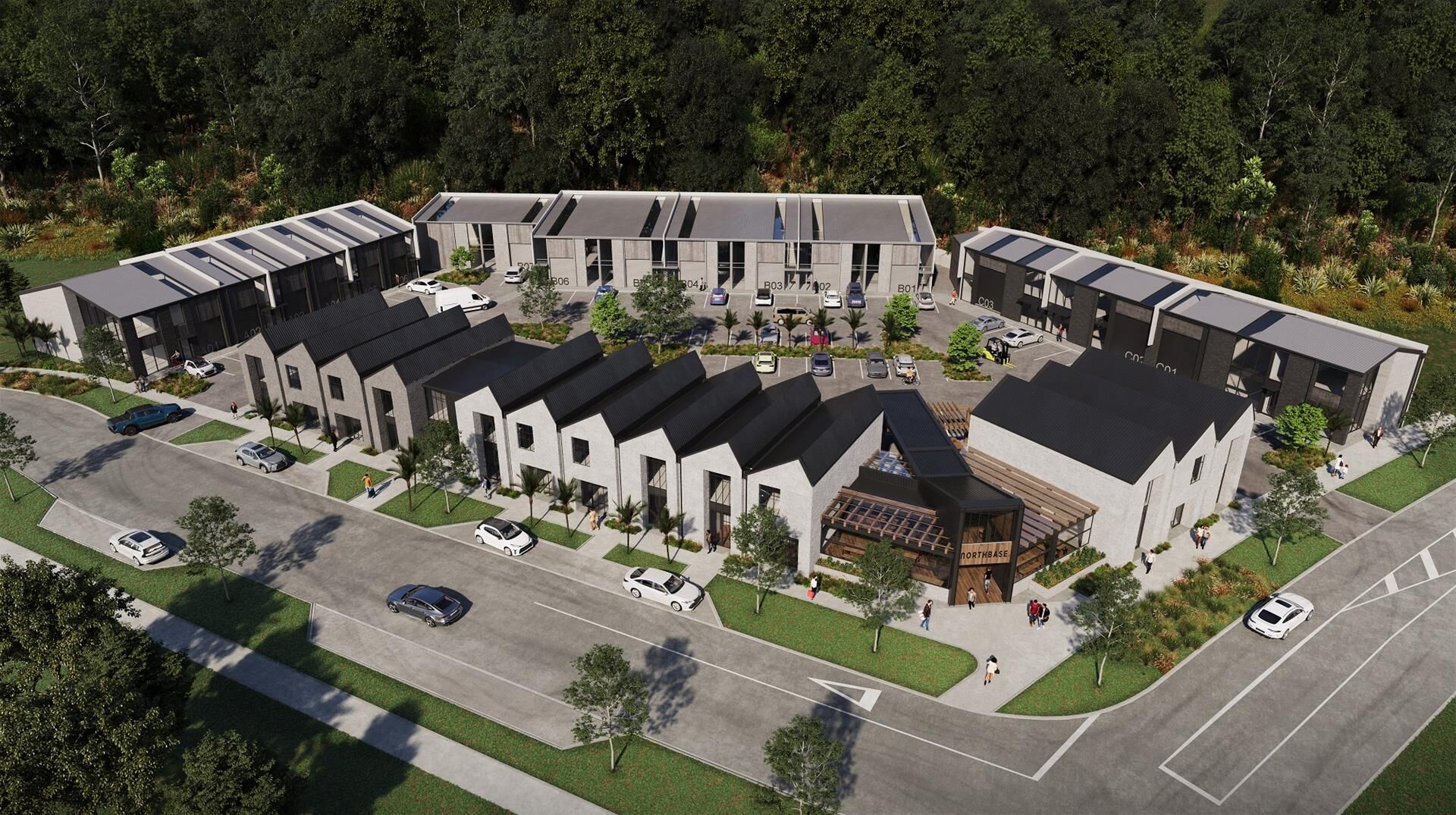 Northbase - artist's impression
Northbase is a high-quality, master-planned development that will cater to light-industrial and commercial-service owners and occupiers.
It will be the first purpose-built commercial facility of its kind in one of New Zealand's fastest-growing towns, Mangawhai, just north of the Auckland boundary.
On offer are 29 architecturally designed units across two levels in a range of flexible size options. The premises are available for sale or lease now with titles expected in early 2023 and building completion estimated for late 2024.
The freehold strata-titled units at Northbase, located on Lots 2 and 3, 83 Molesworth Drive, Mangawhai, are being marketed for sale or lease by negotiation by Bayleys Silverdale commercial and industrial brokers Ben Clare, Alex Perigo and Rene Geertshuis and Bayleys Warkworth commercial and industrial broker Henry Napier.
Clare said 16 light-industrial warehouses of some 116.8sqm to 219.6sqm and 13 commercial-services units of approximately 50sqm to 400sqm were available for uses such as light manufacturing, storage, accessory offices and a range of trade retail activities.
"The two-storey light-industrial units feature a minimalistic and modern high stud, offering warehousing, light-manufacturing and storage options to underserviced local businesses as well as new entrants attracted to Mangawhai's growing market," Clare said.
Each light-industrial unit features a six-metre stud height, reinforced concrete floor system, structural steel framing and access via a motorised roller door. The units are separated by precast concrete inter-tenancy walls.
Perigo said the commercial premises would be constructed with modern long-run steel roofing, a curtain wall system with aluminium frames and glass panels, insulated walls and ceilings and open-glazed entry.
"The premises are designed with the flexibility to be formatted to meet specific occupier requirements.
"All units will be fitted with toilet and kitchenette facilities. Each light-industrial unit will come with at least one dedicated car park, while occupiers of commercial-service units will have the use of ample common parking within the development," Perigo said.
Security cameras will be installed at the entrance and exit of the complex to monitor common areas.
As the premises are not leasehold, there is no ground rent to pay. Body corporate levies, rates and utility charges are payable by the occupier of each tenancy.
The Northbase complex is being developed by SAM Property, Collabor8 Property Group and Gibson O'Connor Construction, sharing a combined experience of over 70 years in commercial property and a track record of successful design-build projects across New Zealand.
Napier said Northbase had been designed to complement the look and feel of Mangawhai's coastal setting, with a neutral colour scheme and contemporary, high-quality finishes.
"With beach, boating, and surfing attractions, world-class golf courses, and boutique vineyards, Mangawhai is ever popular as a holiday destination. It's also an increasingly sought-after area for families to move into and for businesses to set up shop," said Napier.
Geertshuis said the development's position on the town's main thoroughfare, Molesworth Drive, placed it beside Mangawhai Central – a 130-hectare master-planned development including a Main Street retail centre, a six-hectare industrial park and a retirement village.
"Major tenants include a New World supermarket, Bunnings Warehouse, a Mobil service station and Bayleys Real Estate office.
"A residential element will introduce numerous new homes that will accommodate population growth and add significantly to the immediate catchment supporting business occupiers at Northbase," Geertshuis said.
Commercial property in Mangawhai is tightly held and Northbase represents an opportunity to purchase the first industrial units to break ground in the Northland town.
A further big boost will come with quicker connections to central Auckland when the Puhoi-to-Warkworth extension of the four-lane Northern Motorway opens later this year– the first stage of a project that will eventually extend north to Wellsford.