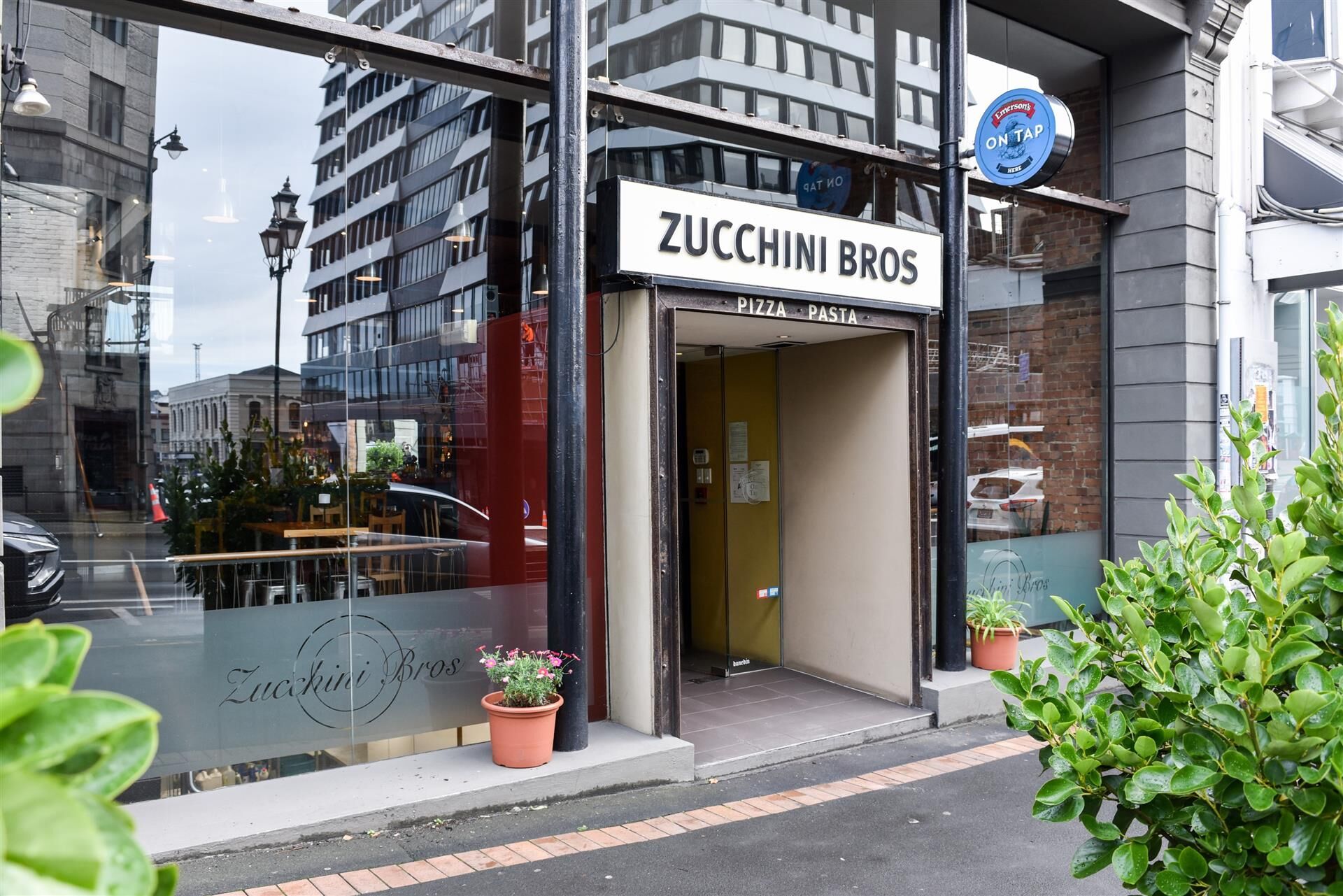 The chic and contemporary Zucchini Bros eatery in Princes Street started off as a suburban Roslyn dining destination in the city before moving into the central business district nine years ago - where it has traded prosperously ever since, despite the tough past two and a half years operating under challenging COVID conditions.
With the capacity to serve 100 customers seated at any one time, the restaurant serves up both dine-in and takeaway meals between 5pm until 9pm, Tuesday to Saturday, with a delivery option running from 5pm to 8.30pm. Its menu features a global array of ingredients in its starter dishes, traditional and gourmet pizzas, pasta meals, salads, and classic Italian desserts. The business has maintained an A-grade food hygiene rating throughout its 28-years in operation.
Situated in the restored historic Bing Harris Building with a street-level entrance leading down into the restaurant floor, the eatery's décor is modern industrial – featuring a mix of red brick and natural stone walls, a polished concrete floor, steel stairwell, and exposed steel beams and support pillars.
Located opposite the old chief post office, Zucchini Bros occupies some 331-square metres of space – comprising 223-square metres of dining and bar area, and 108-square metres of kitchen workspace. The business is on a six-year lease at the Princes Street location, with two further six-year rights of renewal – giving any new business owner certainty of occupation well into the future.
The Zucchini Bros business and associated chattels and business tools at 286 Princes Street in Dunedin are now being marketed for sale by negotiation through Bayleys Dunedin. Salespeople Robin Hyndman and Muir Gold said the fully licensed business employed permanent chefs in the ergonomically designed kitchen, and part-time and casual staff in both the kitchen and front-of-house areas – including kitchenhands, dishwashers, delivery drivers, and wait staff.
"The restaurant is located within what is known as Dunedin's Exchange Precinct – which has a solid catchment area comprising weekday clientele from local businesses, alongside tourists staying at many of the nearby hotels, and bringing in suburban Dunedin diners of all demographics," said Hyndman.
"Very rarely, anywhere in New Zealand, does a hospitality operation sustain the same owners for nearly three decades. That is a testament not only to the pleasure which Zucchini Bros has bought its owners and patrons over the decades but is also evidence of a strong trading brand and a good business model.
"Any new owner can look at continuing on the quality reputation which Zucchini Bros has spent so long earning and maintaining or can of course look at expanding and diversifying the food and beverage offering. There is also the potential for opening the venue for lunch service, as well as Sunday or Monday evening trading."
Gold said Zucchini Bros had always purposely positioned itself as a "value for money" dining destination along the lines of a neighbourhood eatery - with a high percentage of turnover coming through loyal repeat visit clientele.
"The venue's layout over two levels enables various guest number configurations to be accommodated simultaneously. The rear of the dining room for example is ideal for large groups such as birthdays, sporting, and community groups, and for corporate functions," he said.
"The ground floor dining area is 94-square metres and contains the reception, the bar and a pizza-making station. There is then a mezzanine area of 33-square metres with an adjoining indoor/outdoor area of 15-square metres which is highly sought after in the summer months, while to the rear of the ground floor is a dining area/function room of 81-square metres.
"On a busy weekend night, Zucchini Bros regularly turns tables during service – with the guest count often exceeding 200 customers."
Click here for more information on the listing.