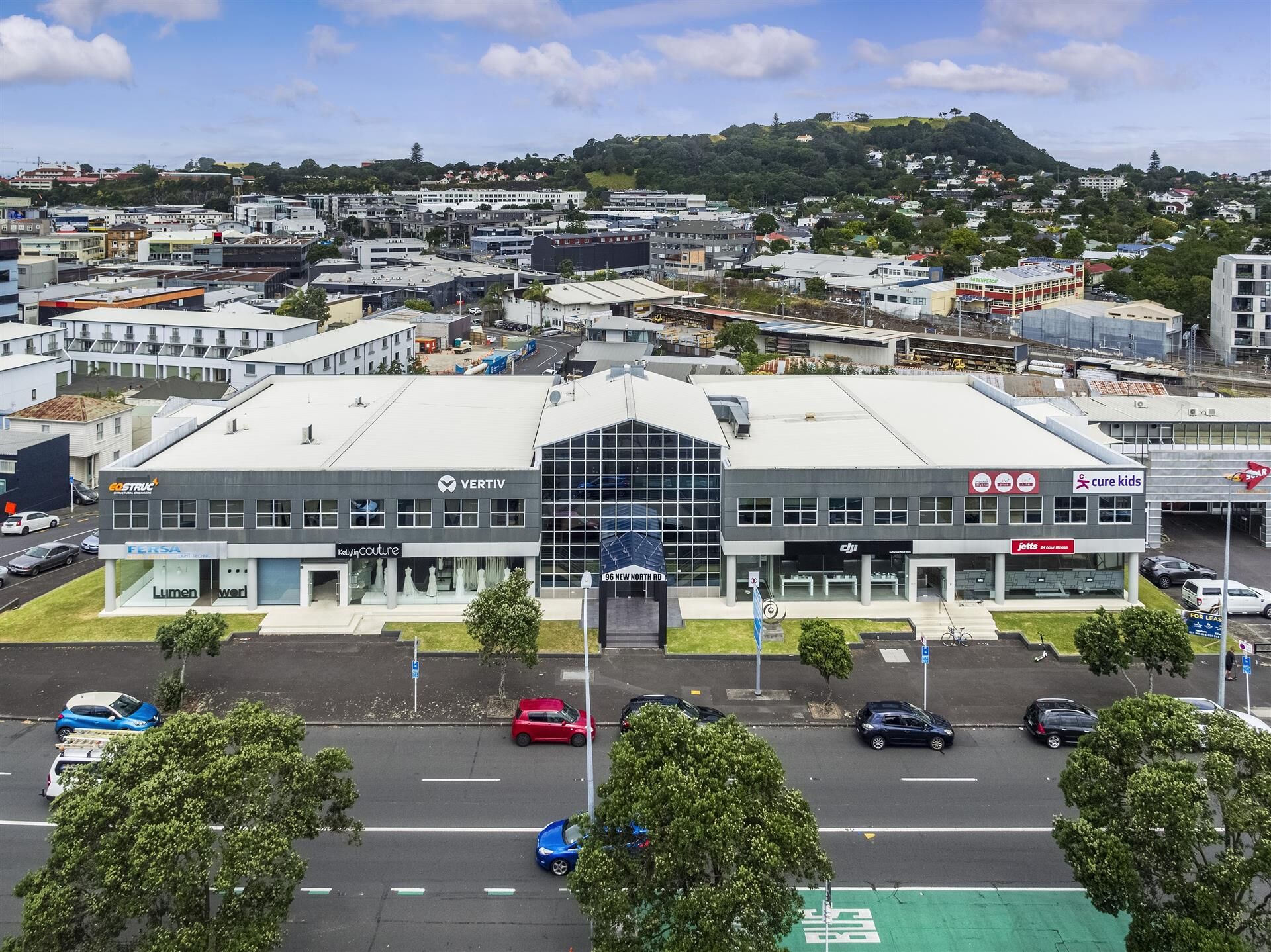 The offering comprises 3067 sq m of land at 78-96 New North Rd, Eden Terrace, on the corner with Ruru Rd, a 3,264 sq m low-rise building with extensive road frontage and parking for 70 vehicles at the rear of the site.
The fully leased property is currently producing annual rental income of $858,515 plus GST.
"This would be one of the biggest and best add value opportunities on the doorstep of the CBD that we have taken to the market in the last few years," says Alan Haydock, manager of Bayleys Auckland City & Fringe term who is marketing the property with colleagues Damien Bullick and Ken Hu.
"It is a superbly located, high profile but under-utilised site which would be ideal for future residential or mixed use development. There would be potential to put extra floors on top of the existing building and also add further buildings on the car parking area.
'In the meantime, the attractive existing building, which as an A grade seismic assessment, and its associated car parking is generating a substantial and diversified cashflow with a great spread of risk across 13 tenants."
One of the trophy listings in Bayleys' second Total Property portfolio for 2019, the property is for sale by tender, closing 4pm April 2, unless sold prior.
Constructed in the 1980s, the building has a mix of ground floor retail/showroom and commercial accommodation, first floor offices plus basement space. It comprises two annexes connected by a central core and main entranceway with a large tiled foyer and a lift. Two of the ground floor tenancies are also accessed from this area.
There are a total of four ground floor tenants, the largest of which is a 450 sq m Jetts 24-hour fitness centre. "Full advantage has been taken of their excellent exposure to busy New North Rd with extensive glazing extending the length of the building's main road frontage," says Bullick.
"These tenancies provide attractive high stud spaces and are mostly open plan. The four office tenancies located on the level above are also well-lit and high stud and comprise a mix of open plan and office areas with elevated views."
The basement level provides a mix of workroom, storage and commercial accommodation. The largest 280 sq m tenancy, occupied by EQ Struc Limited, has a glazed entry fronting Ruru Street with polished concrete floors and double stud height with exposed services.
The parking at the rear comprises 40 enclosed parks with roller door access form Ruru St and a further 30 open air parks on top of this structure.
The property's leases have expiries ranging from later this year though to 2023, with various rights of renewal. Six of the leases also have fixed yearly rental increases of 1.75 to 3.0 per cent.
"This is a very well presented commercial property which will appeal to both investors and future developers," says Bullick.
Haydock says the property is located in a popular and thriving city fringe location which is particularly sought after because of its convenient access to the CBD.
"This access will be further enhanced with the opening of the nearby City Rail Link (CRL) station. This will be part an enlarged and redeveloped Mount Eden Station which will service both the existing Western line and new CRL Mount Eden to Karangahape Rd line. It will take only three minutes to get from Mt Eden station to Karangahape Station and three minutes from there to Aotea Station and another three minutes to Britomart.
"The station will look completely different from the present platforms which are accessed via a footbridge from Mt Eden Road. The main access for the CRL city bound platforms will be at Ruru Street, approximately 75 metres from 78-96 New North Rd.
"This sort of proximity to a major train station and the fact the property is within the Auckland Grammar School Zone along with its corner location, which enhances natural light, makes it ideally suited to residential development longer term."
The Mixed Use zone provides for residential activity as well as predominantly smaller scale commercial activity. "Intensive development up to four levels (16 m) is typically allowed under this zoning," says Haydock. "This property has an additional height overlay of 21m although this is reduced over parts of the site due to the Mt Eden Volcanic viewshaft restriction."