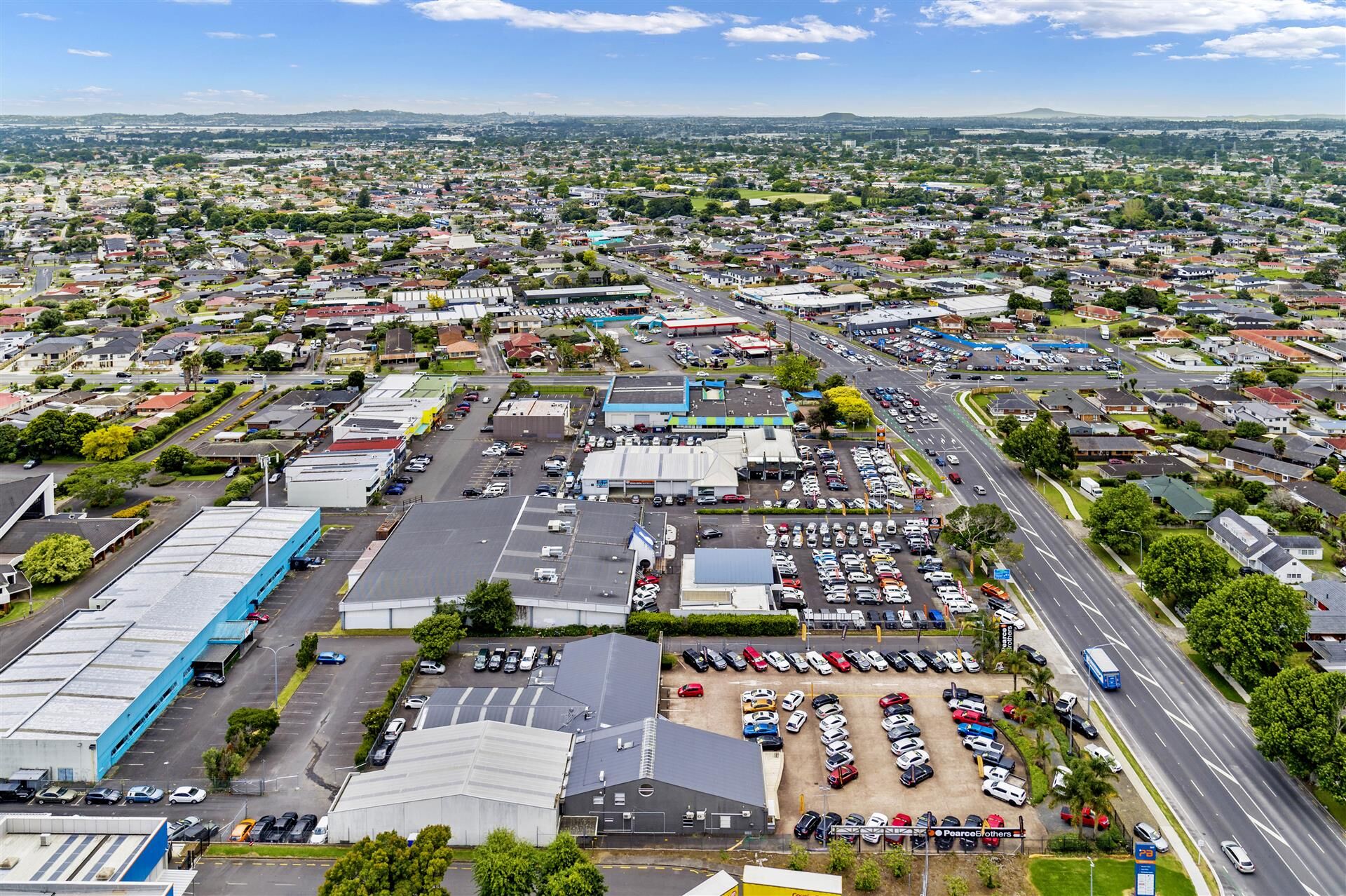 High exposure to passing traffic and a key position on two critical arterial routes drives investor interest in a substantial land parcel located in the geographic centre of Auckland.
Featuring 11,577sqm (more or less) across three freehold titles, the properties at 567 and 573 Great South Road, and 12J Puhinui Road present a substantial opportunity to capitalise on high growth in the Manukau City Centre.
Bayleys City & Fringe salesperson, Mike Adams, says the land parcel is a rare opportunity in a highly sought-after precinct, which is likely to appeal to various purchasers, including investors, developers, future owner-occupiers and special interest groups.
"Superbly located in the Manukau Industrial precinct – the geographic centre of Auckland – this region is the gateway to the south, being well-serviced by motorway connections and Auckland's International Airport.
"The properties themselves are positioned on a busy portion of Great South Road which sees very heavy traffic flow – in excess of 50,000 vehicles daily – and benefits from proximity to the intersection with Cavendish Drive.
"Cavendish Drive is another critical arterial route which provides direct access to the Southern Motorway links north and south, and to State Highway 20. Puhinui Road connects the Auckland International Airport and Auckland's western suburbs.
"These location fundamentals give this landholding a unique pedigree which will appeal to a range of purchasers with an understanding of the intrinsic land value and potential value uplift.
"Additionally, Auckland's southern corridor continues to advance, thanks to significant local investment, including transport and infrastructure works that will provide the Manukau City Centre with streamlined travel options and a share of more than $2.1b in funding under the Government's New Zealand Upgrade Programme."
Adams is marketing the properties together for sale with Bayleys colleagues Karl Price and Jean-Paul Smit.
The premises are offered for sale by tender closing at 4:00 pm on Thursday, 9th March 2023 (unless sold prior).
Comprising three separate titles, each zoned Business – Light Industrial, the improvements are occupied by three tenants, generating a combined annual net rent of $650,917 plus GST and outgoings.
The specifications for each site is as follows:
• 567 Great South Road: A 4,090sqm (more or less) site which features more than 50m of frontage to Great South Road. Improvements include a two-level office/showroom with an attached workspace at the rear, occupied by an automotive tenant and subleased to another.
• 573 Great South Road: A 6,397sqm (more or less) site with 51m of street frontage, office accommodation and a service area for the car yard tenant. The rear of the property is a large-format ten-pin bowling centre.
• 12J Puhinui Road: Four future development units with a total floor area of 1,364sqm (more or less) plus shared common areas. The site is currently utilised as car parking for the bowling alley and features dual access from Great South Road.
Bayleys salespeople Karl Price and Jean-Paul Smit say national used car dealer Enterprise Motor Group has three separate leases for the Great South Road properties, each featuring final expiry in October 2027.
The Newmarket Ten-pin Bowling centre occupies a portion of 573 Great South Road and the site at 12J Puhinui Road with a four-year lease to June 2025.
"These arrangements provide immediate income for the new owner, while preferable lease terms allow time for planning and development works should the new owner have an eye to the future."
They say that as Auckland expands its traditional urban boundaries, more businesses are looking to satellite centres such as the Manukau central precinct for value and a well-connected alternative to CBD accommodation.
"Improved transit routes and more flexible working arrangements, in addition to urban sprawl, means businesses no longer need to operate within traditional areas exclusively," Price says.
"It makes sense to turn their attention south – a constantly evolving region serviced by strengthening infrastructure and logistical options in all directions. This offers the benefit of less congestion and more efficient travel, plus comparatively affordable opportunities which could see a new owner establish a primary work base or satellite operation in the years to come.
"These factors continue to attract investment, and we are seeing a steady stream of new projects that point to regional confidence. This includes upgrades to Transpower's South Auckland network, Manukau as a focus area for urban renewal and government agency Panuku Development Auckland, in addition to $300 million of planned upgrades to Auckland Airport's Transport Hub," he says.
Click here for more information on the listing.