Eight out nine properties offered in Auckland were sold at or shortly after auction, nine out of 10 sold under the hammer in Wellington and a further eight sales were recorded at auctions in Hamilton, Napier and New Plymouth – at a total value of close to $30 million.
"2019 has been another strong year for the commercial and industrial property market with demand continuing to outstrip supply and this has been reflected in our high auction clearance rates," said Ryan Johnson, Bayleys' national director commercial and industrial. "A lot of the demand is being driven by investors chasing income yields in a very low interest rate environment. While property yields have followed interest rates down, they still retain an attractive margin over other investments such as bonds and bank deposits.
"The supply side of the equation continues to be constrained by a lack of appealing investment alternatives for property owners even though it is widely recognised that values are close to the top of the cycle. However, we are seeing more investors taking profits and reinvesting in add value opportunities that offer more capital upside potential."
Bayleys' Auckland commercial director Lloyd Budd said there was strong bidding on all of the properties that sold under the hammer at the Auckland auction, with most fetching well above their reserve price.
"This continues a pattern this year where vendors who have presented and marketed their properties well, and set realistic reserves, have achieved outcomes through the auction process that have exceeded their expectations."
The auctions of two of the Auckland properties were brought forward a week after their vendors received offers they were happy to accept. Those offer prices then became the declared reserves and both properties attracted multiple further bids that pushed their final sale price up significantly.
A 298 sq m vacant industrial unit at 657K Great South Rd, Pernrose eventually sold after 39 bids for $1.295 million, $195,000 above the declared reserve. The warehouse, office and storage unit marketed by Greg Hall and William Gubb came with six car parks.
Hall says the 18 per cent premium over reserve achieved at the auction reflected the scarcity of supply of small units in the sought after Penrose industrial precinct and the strong demand for them, particularly from owner occupiers.
"Owner occupier demand remains a very strong component of the market and for a well located property, it sometimes means we are able to get more for a vacant offering than for one that is tenanted."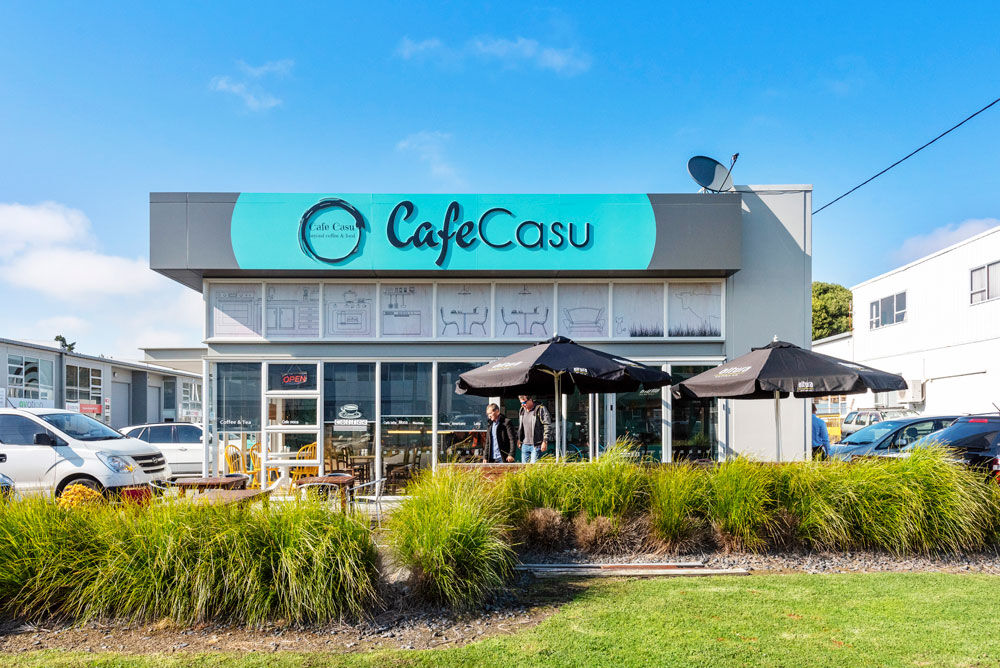 The other auction that was bought forward involved a café at 89 Ellice Rd in the Wairau Valley (pictured above) marketed by Richard Moors and Ranjan Unka of Bayleys North Shore Commercial. The 121 sq m road front unit came with 13 on-site carparks and a new five-year lease to a café that was established in 2008.
Bidding started from the declared reserve of $1,070,000 and a long sequence of mostly $5000 increases took the final sale price through to $1.225 million, representing a 4.9% yield on its net annual rental income of $60,000.
The nine sales at the Wellington auction took the number of properties sold by auction over the past 12 months by Bayleys Capital Commercial to 56 out of 58 offerings.
The largest sale in its latest auction was $4.15 million for an industrial complex in Lower Hutt. First time on the market since the building was constructed in 2007, the 2177 sq m building on a 2,607 sq m site at 9-13 Wareham Place, Seaview (pictured below) is currently occupied by two tenants on three-year leases. It was sold by Andrew Smith and Paul Cudby at a 6.32per cent yield.
The lowest yield of the auctions of 4.48 per cent was achieved on a 4927m² underutilised industrial site on State Highway 1 at 20 Lincoln St, Frankton in Hamilton marketed by Andrew Shaw. The property which also has a 560 sq m building and is leased to national tenant Hirepool sold for $2.525 million.
Other properties to sell at the auctions around the North Island were:
**Auckland: **
**Unit C, 235 Bush Road, Albany: **92sqm road-front, first floor office unit plus four parking spaces sold for $460,000 at a 6.5% yield with new four-year lease to information technology business Citcom Ltd. (Jane McKee, Nicky Joyce, Bayleys North Shore)
**Unit 6, 2 Triangle Road, Massey: **315sqm unit split in to two tenancies in a modern retail complex, sold for $1,530,000 at a 5.95% yield. Long-standing occupants are Domino's Pizza with current 10-year lease commenced 2011; and Triangle Laundromat which last year exercised the first of three-year rights of renewal. (Oscar Kuang, James Chan, Bayleys Auckland; Tony Chaudhary, Bayleys South Auckland)
**33 Wolverton Street, Avondale: **756sqm high-stud warehouse, showroom and office building, on a 1,025sqm site, sold with vacant possession for $1,800,000. Most recently used as bathroom and kitchen factory shop with nine car parks on its street frontage and a fenced yard at rear. (Terry Kim, Bayleys North Shore; Mark Preston, Bayleys Auckland)
**Unit 3, 115 Felton Mathew Avenue, St Johns: **293sqm shop in modern retail complex, with new eight-year lease to The Fresh Market, sold for $1,681,000 at a 5.17% yield. (Amy Weng, Nelson Raines, Bayleys South Auckland; Oscar Kuang, Bayleys Auckland)
**Unit D, 691 Manukau Road, Royal Oak: **91sqm hair salon at entrance to the Royal Oak Mall sold for $550,000 at a 7.33% yield. Occupied by Rodney Wayne salon for the past 22 years with a current lease to March 2022. (Matt Lee, James Chan, Bayleys Auckland)
**268 Great South Road, Takanini: **1,068sqm car yard site with 123sqm of buildings comprising a sales office and three-bay workshop sold with vacant possession for $1,075,000. (Piyush Kumar, Peter Migounoff, Tony Chaudhary, Bayleys South Auckland)
Coromandel/Waikato
**318-320 Pollen Street, Thames: *600sqm retail premises occupied by two tenants plus 291sqm fenced rear yard accessed via service lane on 951sqm site, sold for $1,060,000 at a 5.42% yield. Anchor tenant Plumbing World exercised first of three three-year rights of renewal in February last year.(Josh Smith, Jason King, Bayleys Hamilton; Belinda Sammons, Bayleys Whitianga)*
**11 Tui Terrace, Tairua: **298sqm ex-Tairua Paunanui Sports Fishing Club on 780sqm mixed housing urban zoned site sold vacant for $1,200,000. Two-storied building adjacent to public boat ramp with bar and kitchen facilities plus car parking offers future development potential as a commercial hospitality venue or residential dwelling. (Josh Smith, Bayleys Hamilton; Belinda Sammons, Bayleys Whitianga)
**1 Mueller Street, Waihi: **470sqm commercial premises on 1,012sqm corner site with multiple street frontages and seismic assessment of 75% of NBS, sold for $500,000 at an 8.32% yield. Three-year lease to Waihi mine operators Oceana Gold NZ from March 2019 with rights of renewal until 2026. (Josh Smith, Daniel Keane, Bayleys Hamilton)
**59 Whitaker Street, Te Aroha: **2,000sqm commercial premises on 5,116sqm site for $1,310,000 at a 6.87% yield. Occupied by chartered accountants Diprose Miller for 25 years with new six-year lease plus rights of renewal. (Josh Smith, David Cashmore, Bayleys Hamilton)
20 Lincoln Street, Hamilton: Underutilised 4,927sqm industrial site on State Highway One with 560sqm warehousing/office/storage premises sold for $2,525,000 at a 4.48% yield. Leased to national tenant Hirepool. (Andrew Shaw, Bayleys Hamilton)
**Lower North Island **
**256 Devon Street East, New Plymouth: **370sqm commercial premises with A-grade seismic assessment sold for $1,420,000 at a 5.99% yield. Leased to data centre Our Cloud for six years from February 2019 plus 2x6yrRoR (Iain Taylor, Alan Johnston, Bayleys Taranaki)
**16 Carlyle Street, Napier: **198sqm two-level mixed use premises on high profile 190sqm corner site with ground floor commercial premises and two-bedroom flat above sold with vacant possession for $750,000. Seismic assessment of 70% of NBS, located on busy intersection opposite Napier's main bus terminal and next to Countdown supermarket. (Mark Evans, Bayleys Napier)
**135-137 Frederick Street East, Mayfair, Hastings: **1,020sqm industrial premises on 2,023sqm Suburban Commercial-zoned site with four storage/workshop tenancies sold for $645,000 at a 5.74% yield. (Sam MacDonald, Bayleys Napier)
**9 Margaret Street, Lower Hutt: *880sqm two-level commercial premises on 699sqm corner site in Central Commercial zone with six-car parks sold for $1,780,000 at a 7.28% yield. Fully leased to five ground floor retail and upper level office tenants.(Christian Taylor, Richard Faisandier, Bayleys Wellington)*
**58 Victoria Street, Alicetown, Lower Hutt: **525sqm warehouse with seismic assessment of 70% of NBS and dual street frontage on 597sqm General Business-zoned site sold for $1,216,000 at a 5.58% yield. (Richard Faisandier, Ethan Hourigan, Bayleys Wellington)
**16 Marine Parade, Petone: **451sqm two-level industrial premises on 470sqm General Business-zoned site with five-car parks and three-tonne gantry crane sold for $1,130,000 at a 5.08% yield. Leased to Woods Glass NZ, expiring March 2020. . (Andrew Smith, Mark Sherlock, Bayleys Wellington)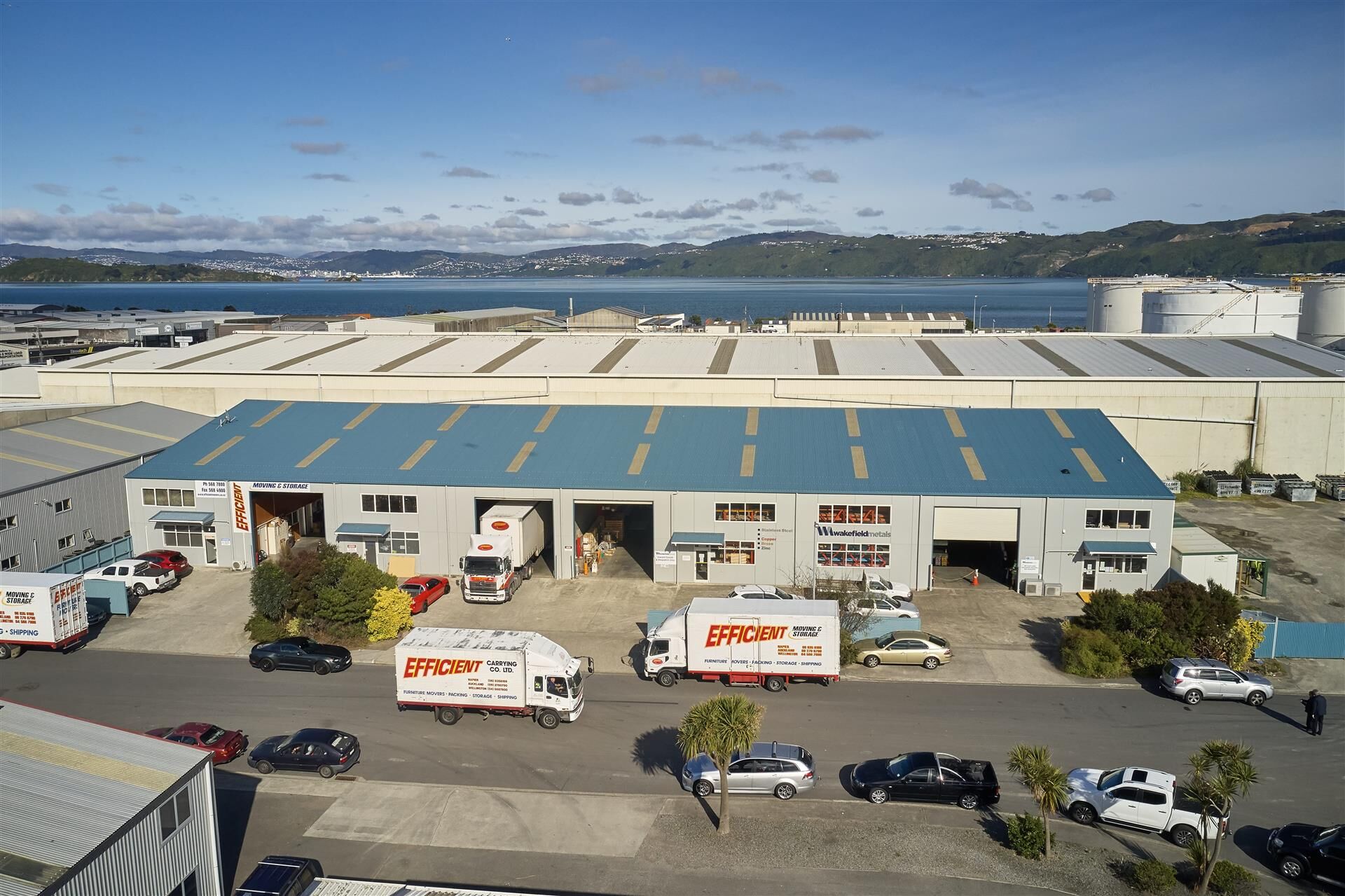 **9-13 Wareham Place, Seaview: **2,177sqm industrial premises built in 2007, currently occupied by two-tenants with capacity to accommodate four, on 2,607sqm site, sold for $4,150,000 at a 6.32% yield. Leased to December 2021 by metal manufacturer Wakefield Metals and logistics business Efficient Carrying Co. (Andrew Smith, Paul Cudby, Bayleys Wellington)
**Unit 5, 25 Centennial Highway, Ngauranga: **290sqm warehouse/office premises with seismic assessment of 70% of NBS plus three car parks, sold for $865,000 at a 4.76% yield. (Bhakti Mistry, Fraser Press, Bayleys Wellington)
276 Willis Street, Te Aro, Wellington: 1900s 158sqm two-level live/work premises on 122sqm mixed use site sold for $1,005,000 at a 3.96% yield. Meticulously restored and relocated as part of the inner-city bypass project with seismic assessment of 100% of NBS and new four-year lease to picture framer. (Grant Young, James Higgie, Bayleys Wellington)
Boat Shed 140, Evans Bay Parade, Hataitai: 56sqm boatshed with toilet/shower and kitchen, plus license to occupy through coastal permit, sold for $350,000. (Ethan Hourigan, Bayleys Wellington)
**Unit 12, 22 Bay Road, Kilbirnie: **80sqm retail unit comprising 60sqm ground floor and 20sqm mezzanine sold with vacant possession for $180,000. One of 27 units in the Kilbirnie Plaza with shared parking for 50 cars. (Baha Mabruk, Mark Walker, Bayleys Wellington)
**Unit A, 177 Rongotai Road, Rongotai: **250sqm industrial premises with drive-through access and four to six car parks sold for $855,000 at a 6.15% yield. Final expiry of current lease in May 2022. (Fraser Press, Baha Mabruk, Bayleys Wellington)
Bayleys is currently sourcing properties for its first Total Property portfolio for 2020 which closes off on January 24.