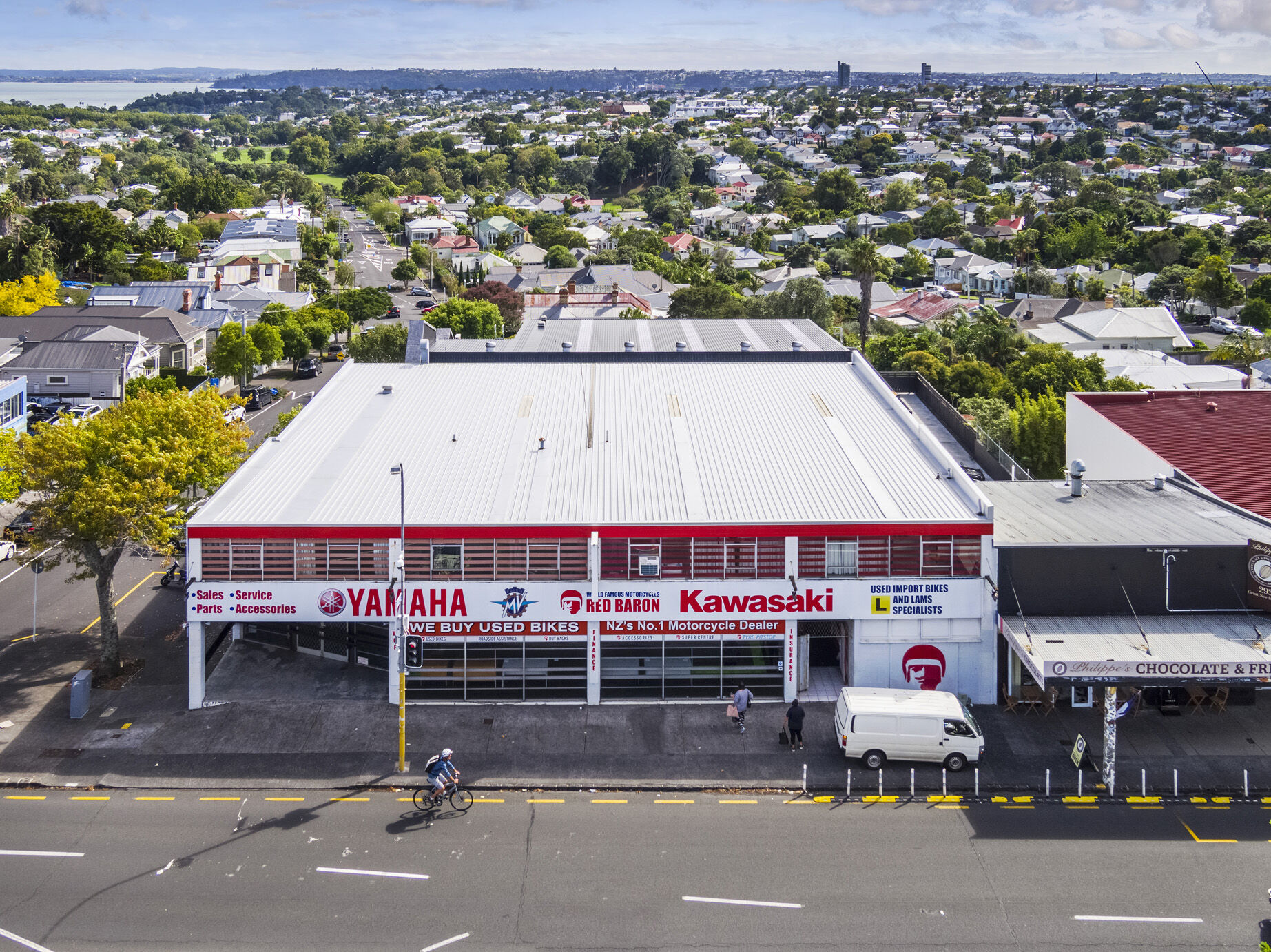 For 25-years, the property at 299 Great North Road in Grey Lynn was home to the Red Baron motorcycle business which had the franchise to sell and repair Yamaha and Kawasaki brand machines.
The Red Baron business closed earlier this year, and now the prominent two-storey premises sitting on 987-square metres of freehold land is on the market for sale. The site is zoned Business – Mixed Use – allowing for the construction of buildings up to 18 metres high, with tenancies which could include residential, offices, retail, or food and beverage occupancies.
The land and vacant buildings at 299 Great North Road are being marketed for sale by tender through Bayleys Auckland, with tenders closing at 4pm on May 16. Bayleys Auckland salespeople James Were, Nicolas Ching and Scott Kirk said the property had a raft of potential future-uses – ranging from continuing to operate purely as a retail site, through to complete redevelopment into an apartment block with street-level retailing entities.
Mr Kirk said the former Red Baron building was constructed in 1968 and had a current new build standards rating of 70 percent. He said the premises' basement featured 518 square metres of workshop area, while the ground floor contained 647-square metres of open-plan space, and 270-square metres of mezzanine offices and showroom amenities.
"With ample customer and staff parking at the rear of the site, accessed off Grosvenor Street, the building could be easily refurbished to continue its retail heritage. The retail appeal is enhanced by the considerable free-parking immediately outside the property," Mr Kirk said.
"The multiple flooring levels within the current structure mean that with some internal alterations, the building could be reconfigured into several separate tenancies.
"This portion of Great North Road running west from the intersection with Ponsonby Road has traditionally been a hub, and in fact still is a hub, for the automotive sales and services sector – showcasing new and used car yards, tyre fitters, engine and auto-electrical repairers, and paint and panel shops."
Mr Were said that from a redevelopment perspective, the 299 Great North Road site could replicate the emergence of numerous similar mixed-used addresses along this stretch of Great North Road overlooking Grey Lynn.
"The past decade has seen a major building stock modernisation programme along Great North Road - unveiling new retail premises ranging from several prestige car yards for marques such as Lamborghini, Audi, Volkswagen, Lexus, and Bentley, through to the opening of the nearby bulk retail Bunnings store," Mr Were said.
"Virtually all of the recently-constructed mixed-use sites on the western aspect of Great North Road feature either commercial office space or apartments on their upper levels – 100 percent delivering on the aims and purpose of the Auckland Unitary Plan for increasing land-use efficiency throughout the city.
"Of course, the most obvious of the precinct's new-build redevelopments is evident directly across the road from the old Red Baron workshops on the intersection of Bond Street, where The Aston apartment block is located," Mr Were said.
The modern Aston apartment complex features retail premises at street level and up to three levels of chic residential dwellings above. Indicatively, a
two-bedroom/two-bathroom/two car-park unit within The Aston is currently on the market with an asking price of $1.195million.
"From a residential development perspective, 299 Great North Road is relatively equi'-distant between the hospitality hubs of Ponsonby, K' Road, and Kingsland some 10 minutes' walk in either direction, while also being on a main arterial bus route into the CBD," said Mr Ching.
"With Grey Lynn village and its full range of retail amenities less than a kilometre away to the west, all the social infrastructure is in place to mark the various 'tick' boxes required to initiate and underpin demand for another mixed-use apartment development in the area."