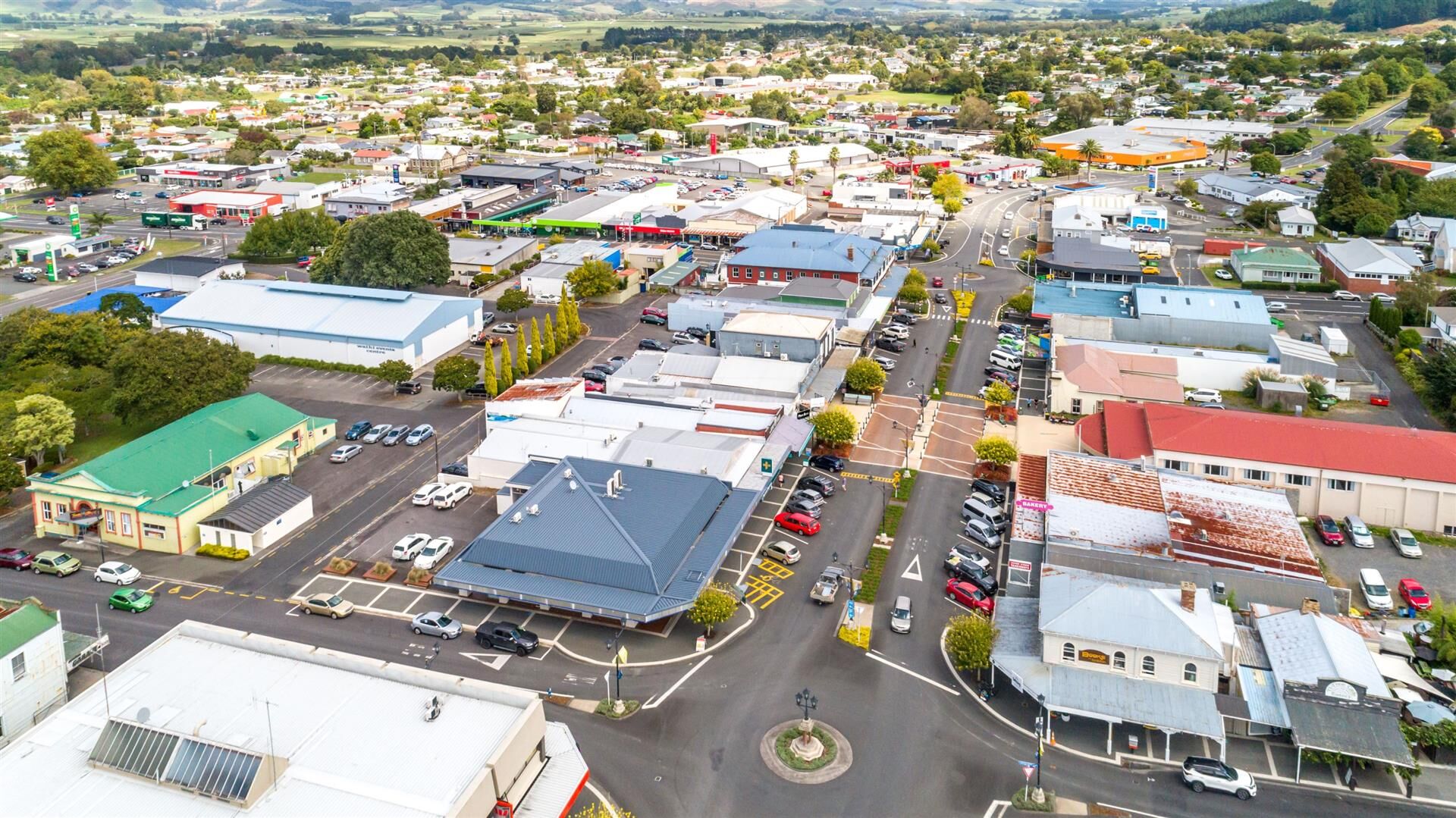 The 766-square metre apex site on the intersection of Seddon Street and Haszard Street sits on an intersection referred to by many locals for decades as 'bankers' corner' – with rival savings institutions Westpac and ANZ located on two of the remaining three intersection corners.
BNZ traded from the Seddon Street/Haszard Street site for more than 47 years – banking on the venue's high profile and visibility, underpinned by convenient customer parking directly outside the premises on either road frontage.
The freehold land and building at 68-72 Seddon Street in Waihi are now being marketed for sale at auction on April 26 through Bayleys Hamilton. Salesperson Josh Smith said the site would attract both owner-occupiers looking for a prime central town retail or professional services location, or for an investor looking to tenant or redevelop the space.
"With some fit-out from the BNZ remaining, a new owner could utilise the 446-square metre building in its current layout for a corporate office or professional space. With a largely open-plan entrance and reception area and smaller partitioned offices, the interior delivers ample public space coupled with private offices accessed via the internal corridor," said Smith.
"Its street profile is enhanced by full-height floor-to-ceiling wrap-around windows on both pedestrian frontages. Meanwhile, staff facilities within the building's current configuration include a large lunchroom with kitchenette, as well as bathrooms, and are located at the rear of the building.
"Alternativity a new owner could gut the interior - leaving a large open plan layout suitable for retail use.
"Under either of these retail-focussed avenues, the physical structure of the building would allow for substantial promotional signage to be installed on the fascia or parapet above the awning stretching over the footpath - in keeping with Waihi's heritage past displayed in multiple nearby Seddon Street buildings.
"The precedent for this opportunity is already there – with the previous tenant making maximum use of both the external wall and substantial window space to promote not only its brand, but also its product offerings."
Smith said BNZ's lease on the vacant property ran through until the end of July – ensuring pro-rata holding income of $75,000 plus GST and operational expenses.
Built in 1975 - with subsequent additions and completely re-roofed - the property has a new build standards rating of 90 percent, and occupies approximately 60 percent of the available land. The premises has off-street parking for nine vehicles at the rear of the building – accessed from a private service lane running off Haszard Street.
As Waihi's main retail spine, Seddon Street contains the full gamut of retail premises which sustain a typical New Zealand provincial town – such as pharmacies, clothing outlets, hair stylists and barbers, convenience food producers, and café premises, licensed bars, and homeware shops.
Hauraki District Council's operative plan for Waihi's central business district promotes the ongoing use of motor vehicles in the locale "as ready access contributes to the economic viability of town centres."
Smith said many of the town's residents – as well as those coming in from surrounding rural communities such as Waihi Beach, Athenree, and Whiritoa – were reliant on using private motor vehicles to access the central business district in the absence of convenient public transport service, and this fact had been recognised by businesses trading in the locale.
"The banks all understood this, which is why they were located immediately adjacent to an abundance of free parking around the Seddon Street/Haszard Street roundabout. This is a clear benefit which will be automatically transferred to any new tenant of the property," he said.
The building at 68-72 Seddon Street is defined under the council's architectural guideline as being 'contemporary' - designed to complement adjacent historic buildings. The council's plan says Waihi has a row of small shops along its main streetscape while "two or three separate businesses may be located in one building, thus creating an exciting pattern of business types, display windows, entry doors, and signage."
Smith said that under that paradigm, there was the potential to reconfigure 68-72 Seddon Street into several new retail premises – either with their own separate entrances or sharing a common entry point from the footpath.
Click here for more information on the listing.