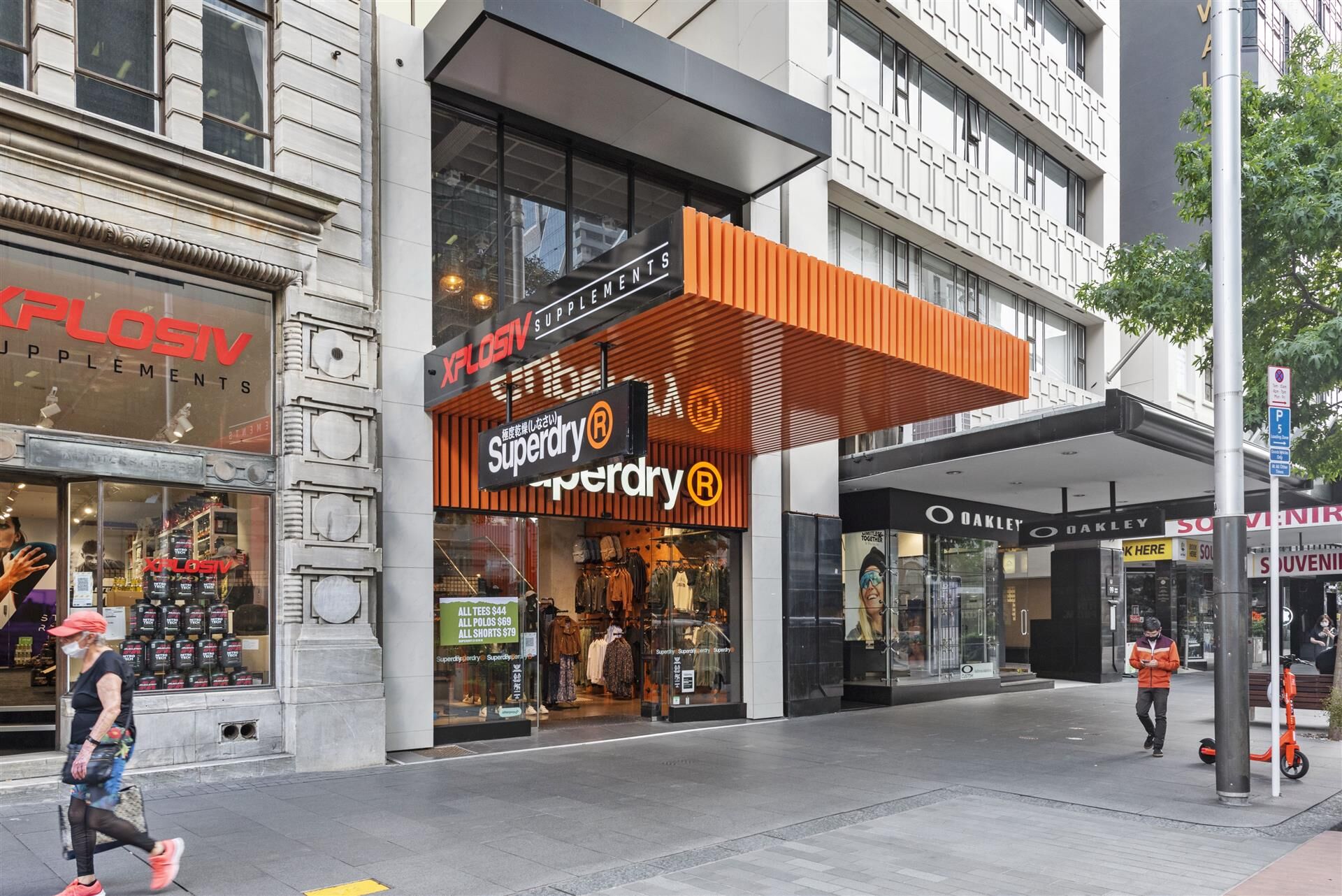 The more than 680-square metre unit for sale sits within the landmark Guardian Trust Building. Constructed during World War I for the New Zealand Insurance Company, the building's marble façade presents some of Auckland's most prestigious retail frontage to busy downtown Queen Street.
The retail premises for sale form part of a modern extension added to the building in the early 2000s. The three-level unit houses a flagship Superdry clothing store at street level, plus a basement safe deposit facility leased to New Zealand Vault and smaller storage tenancies. It generates total net rental income of approximately $553,226 plus outgoings and GST per annum.
Founded in 2003, London Stock Exchange-listed Superdry is an international retailer of clothing, footwear, and accessories combining vintage Americana styling with Japanese inspired graphics.
Superdry pays annual net rent of $480,800 for its 232-square metre Queen Street store. The current lease extends to 2025 with a further six-year right of renewal and incorporates fixed three percent annual rental growth. The company pays a further $18,000 per annum on a monthly lease for 80-square metres of storage space.
In a link to the building's past, a 210-square metre basement vault is leased to New Zealand Vault. This company is a continuation of the vault business first established by New Zealand Insurance. In operation since 1931, it offers high-security storage services for domestic and international clients and claims to have the most secure vaults in the country.
Its Queen Street tenancy generates annual net rental income of $33,501 plus outgoings and GST. The current lease runs through to 2023 with two further five-year rights of renewal. It incorporates two-yearly rent reviews pegged at CPI plus 1.5 percent.
The property at Unit 5, 101 Queen Street, Auckland, is being marketed for sale through Bayleys Auckland Central and Bayleys' specialist Asian Markets team. It will be sold by way of an international tender closing at 4pm NZ time, on Wednesday 18 May.
Salespeople James Chan and Oscar Kuang said the freehold unit-titled property offered some 682-square metres across three levels.
The property has an Initial Evaluation Procedure seismic rating of 67 percent of new building standard.
"The unit for sale consists of two retail floors, mezzanine storage and a large basement," said Chan.
"The property is well configured with fully glazed street-level shop frontage providing maximum exposure to some of the highest foot traffic in New Zealand.
"It sits within a landmark mixed-use building, which was refurbished in the 1960s, and again in the 1990s, and now offers a combination of retail units with apartments on upper floors," Chan said.
Built between 1914 and 1918, the Guardian Trust Building is Auckland's earliest remaining high-rise office block.
Considered an excellent early example of Chicago-styled stripped classical architecture, it was designed by William Gummer, one of the most influential architects in early 20th-century New Zealand.
Today the site forms part of the Business – City Centre zone under the Auckland Unitary Plan, with permitted activities ranging from office, retail and residential accommodation, to conference and entertainment facilities.
Kuang said the property's position a block from Commercial Bay and surrounded by some of Auckland's most prestigious office towers, hotels and a growing number of large apartment buildings, helped to ensure heavy foot traffic day and night.
"This stretch of downtown Queen Street is a premier destination for luxury shopping, with high-end international outlets including Louis Vuitton, Prada and Gucci, along with top local retail brands.
"The property for sale is a few minutes' walk from the Britomart Transport Centre, which will see a big leap in rail passengers when the City Rail Link opens in 2024. The Downtown Ferry Terminal and international cruise ship berths are also within a few hundred metres, and the site benefits from its proximity to the rich mix of CBD amenities," Kuang said.
Click here for more information on the listing.