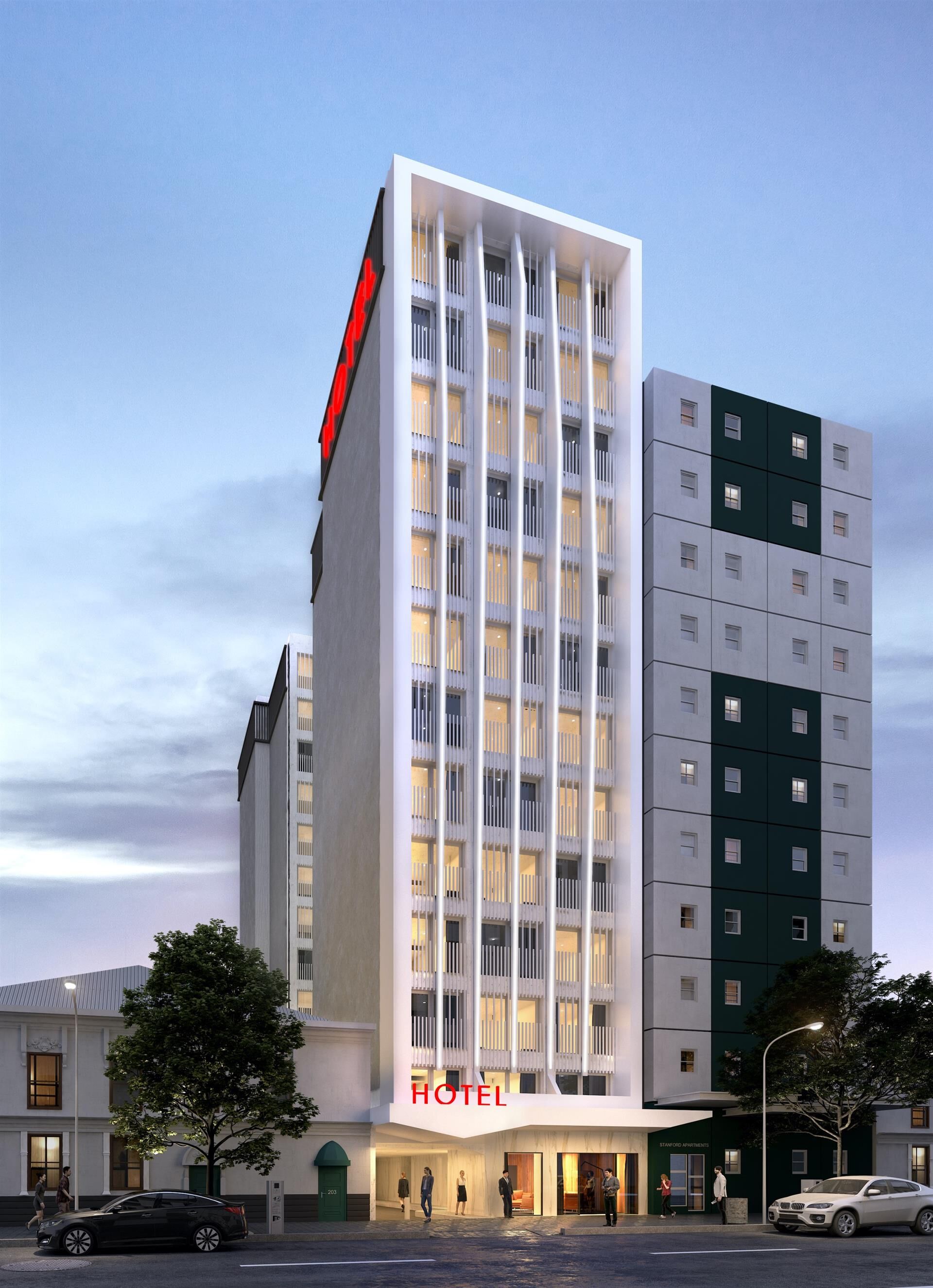 Artists Impression - 201 Hobson St, Auckland Central
A prime CBD development site with dual access is being offered to the market by mortgagee sale, creating an opportunity for an experienced developer to capitalise on the site's significant value uplift potential.
Initially offered by the first mortgagee back in 2020, just as the pandemic gripped the world, the 563sqm (more or less) freehold site on the western fringe of Auckland's Central Business District has received previous consent for high-rise residential/accommodation development.
Two consents have now lapsed, and the property is being marketed for sale once again by Bayleys Auckland City & Fringe salespeople Cameron Melhuish, Phil Haydock and James Were.
Melhuish says that a four-level office building, constructed circa 1930, was demolished in 2020 to make way for the proposed Eve Apartments complex, which did not proceed.
Plans for the Eve development prepared by award-winning architecture firm Paul Brown Architects included approved building consent for 60 residential apartments over 12 levels with basement car parking.
The one-and-two bedrooms residences ranged in size from 40-71 sqm.
A subsequent consent that has also now lapsed allowed the mixed-use development of 108 single-bedroom hotel units and ground-floor retail accommodation overseen by renowned architecture firm ArchOffice.
"It has been a testing time for smaller players in the development market, with the virtual standstill of the city during the most challenging months of the pandemic halting overseas travel, the international student market and commercial accommodation activities.
"In addition, major roadworks and infrastructural upgrades across the CBD have contributed to more complex leasing dynamics. Now these headwinds are starting to ease, the site presents an excellent opportunity for an experienced developer to come in at the ground floor and maximise the significant value uplift potential on offer," Cameron Melhuish says.
He is marketing the property for sale by mortgagee tender closing at 4:00 pm on Wednesday, 1st March 2023.
The site, zoned Business – City Centre, features a 50-metre height overlay, and is located in a high-profile position just east of Auckland's CBD, within walking distance to the city's main attractions, including the Sky Tower, Sky City, City Works Depot, Victoria Quarter, Viaduct Harbour, Wynyard Quarter and Britomart.
It features dual frontages to the main arterial through Auckland's CBD – Hobson Street – in addition to Nicholas Street on its western flank, which connects to another key transit route, Nelson Street.
Bayleys Auckland City & Fringe salesperson Phil Haydock says that while previous owners abandoned development plans, the site benefits from significant previous investment. So, there is an upside for a new owner to capitalise on previously completed pre-development works.
"Residential accommodation has been identified as the most efficient use for the compact site, further demonstrated by the Hobson Street locale being a proven hub for residential apartment living.
"The area is particularly popular with short-term accommodation providers and international students which have returned to New Zealand following borders reopening.
"In addition, car parking operators have expressed an interest in short-term occupancy, providing potential holding income for the new purchaser," he says.
In light of recent capacity constraints impacting the residential housing and construction sectors, the Government has committed to working with developers to provide housing as part of its Build-ready Development Pathway.
"The plans support eligible housing developments by underwriting the value of homes 'off the plans', reducing the risk for developers and their financiers where construction has yet to start," says James Were.
"This could be a viable option for an experienced developer to partner with the Government to produce more affordable housing in this central location.
"In addition, a new owner could explore the build-to-rent (BTR) housing models which are gaining traction in New Zealand," he says.
BTR refers to large residential, often multi-unit, high-density development explicitly designed for rent instead of sale.
Typically owned by institutional investors and managed by specialist operators, the BTR model is just emerging in New Zealand. However, the sector is slowly finding encouragement through clarity around tax treatments and access to foreign capital.
A prime example of this is major home builder NZ Living, which has partnered with KiwiSaver provider Simplicity to launch a significant programme of BTR housing in the central Auckland suburbs of Point England and Onehunga, with 159 apartment and townhouses expected for completion later this year.
Click here for more information on the listing.