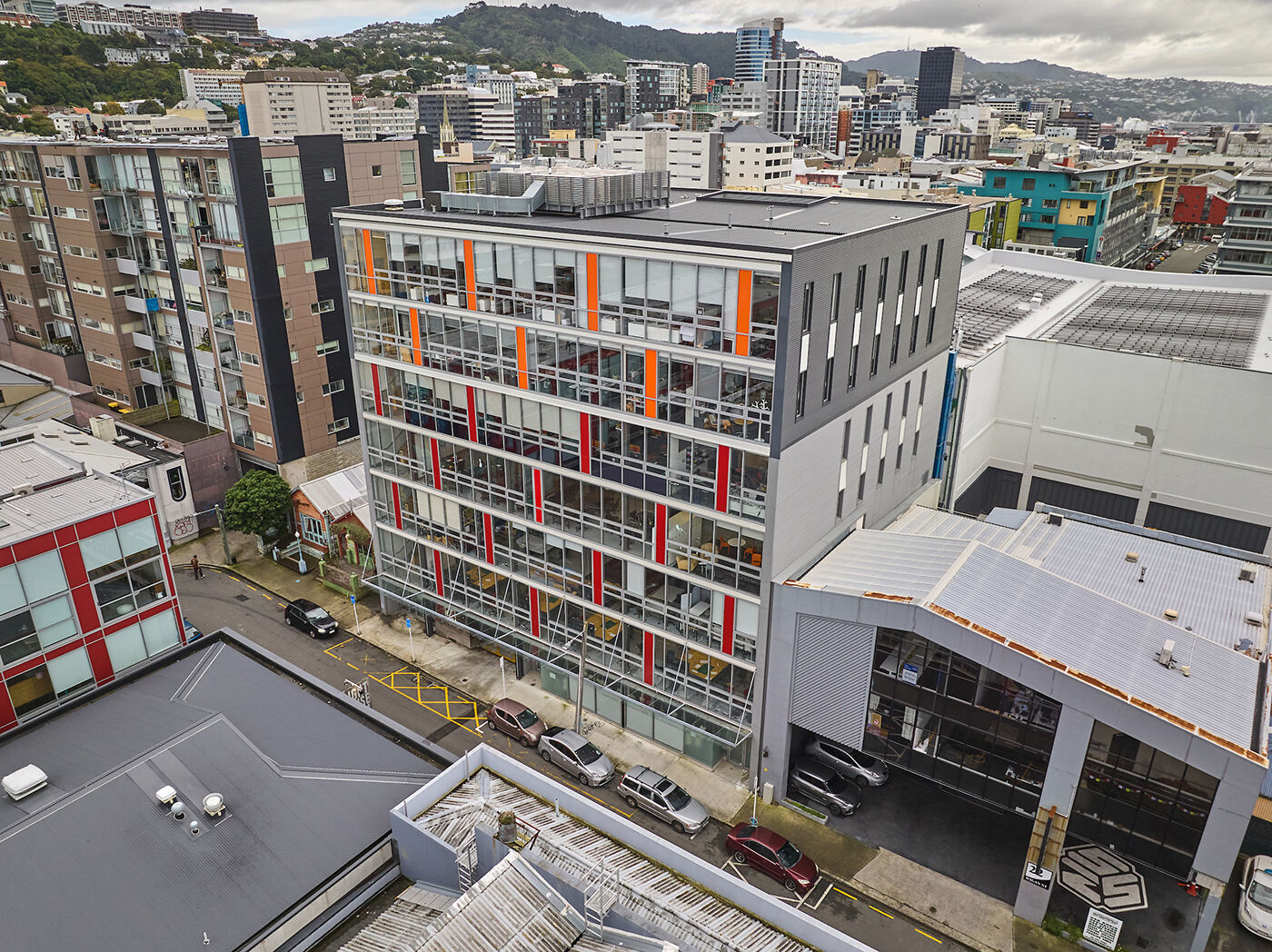 Purpose-built for VUW, the inner-city property at 24 Wigan Street, Te Aro comprises teaching facilities and offices for the Faculty of Architecture and Design Innovation and interconnects with the university's main school of architecture on Vivian Street via pedestrian bridges on multiple levels.
The property provides open-plan teaching space and some partitioned offices across the seven levels, plus two external car parks, and is an integral part of VUW's Cuba Quarter campus.
The freehold property on the northern side of Wigan Street, 100 metres west of its intersection with Taranaki Street, is zoned Central Area and has a total of 3,721sqm lettable building area on a 657sqm flat site.
The building has an assessed seismic rating of 85 percent of the new building standard, with strengthening work recently completed and it will be sold by tender closing 4pm, Wednesday 17th May through Mark Hourigan and Grant Young of Bayleys Wellington Commercial.
Hourigan said the property offers a straightforward investment opportunity for a passive private investor.
"It has all the hallmarks of a low-risk investment given the encouraging seismic assessment, a long-standing tenant with more than five years remaining on its existing term, and the net lease with built-in rental growth benchmarked to CPI.
"While it was purpose-built for VUW's teaching needs, the building would easily morph into functional and flexible office space or could potentially be converted to residential apartments or other accommodation should the university vacate at any time in the future."
The property's net annual income is expected to be $1,322,000 plus GST (based on projections incorporating a July 2023 CPI review), with VUW's current 12-year lease expiring in November 2028 and having three, four-year rights of renewal beyond that date.
The original five-level office building was completed in 2004, with a two-level addition built in 2016.
When newly built, the property received a NZIA Resene Local Award 2005 for Wellington-based architects Architecture Plus Limited.
The architectural firm described the façade of the building as "reflective of the colourful and varied character of Wigan Street", which today includes low to medium-rise commercial buildings providing office and residential accommodation, character cottages housing hospitality operators, and a boutique cinema.
"This is a really central location in the heart of Te Aro," said Hourigan.
"It's a vibrant and accessible part of the city with the retail and hospitality hub of Cuba Street just a short walk to the west and access to State Highway 1 via the Karo Drive onramp, 200 metres to the south.
"Property in the broader Cuba precinct is traditionally sought-after and popular with investors and given the credibility of the university tenant covenant and the credentials of this building, we'd expect robust interest."
VUW Faculty of Architecture and Design Innovation is one of the country's leading providers of innovative education in design and the built environment.