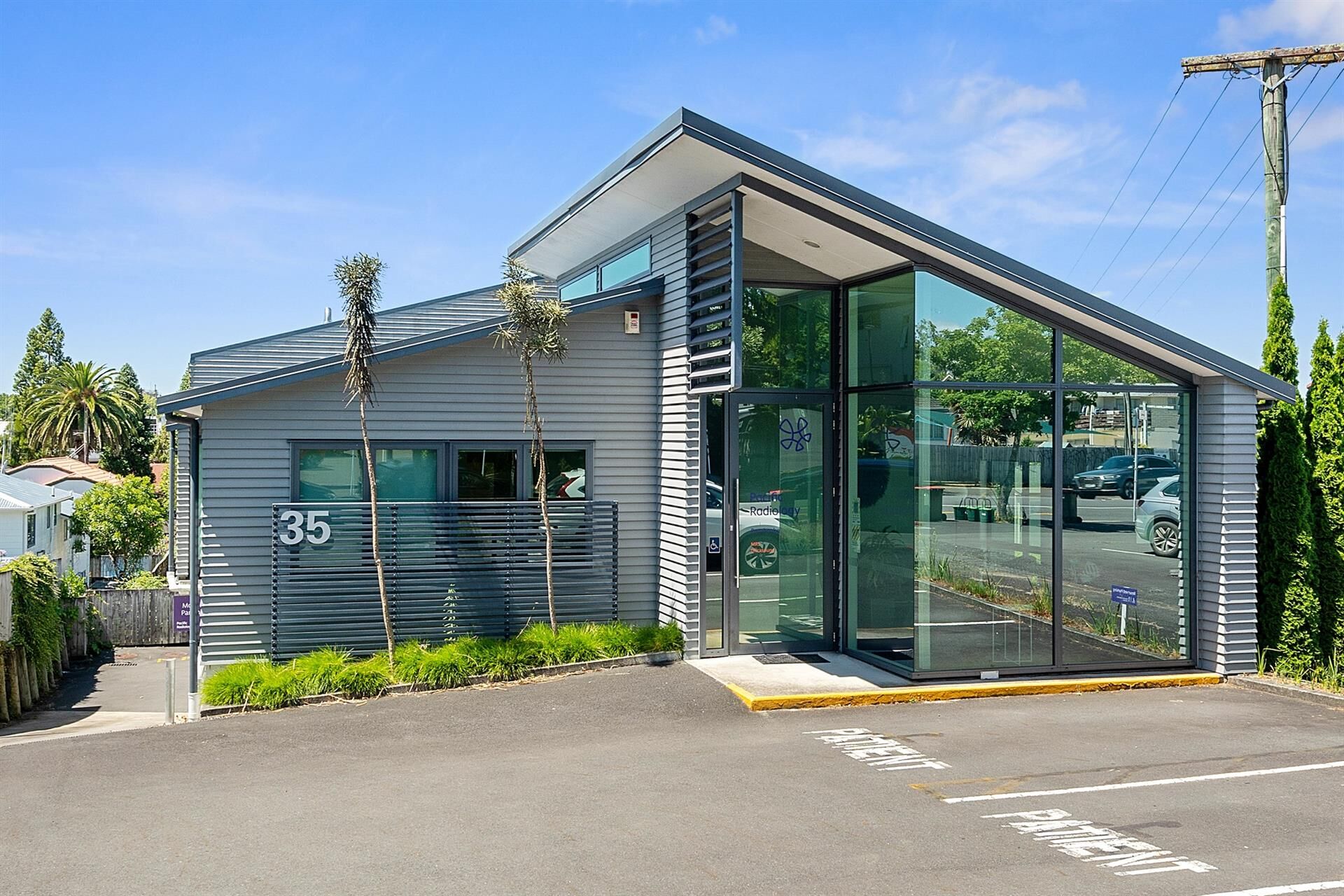 The premises at Pembroke Street in central Hamilton is home to the healthcare services clinic operated by Pacific Radiology. With more than 800 employees across 47 clinics nationwide, Pacific Radiology is New Zealand's leading private radiology services provider.
In addition to the Pembroke Street clinic, Pacific Radiology has Waikato venues in Hamilton West, Flagstaff, and the Southern Cross Healthcare Hospital campus. The company also has a clinic in Cambridge.
The modern designed Pembroke Street property is located in what is colloquially referred to as Hamilton's 'medical mile' – with a host of other healthcare entities trading in the vicinity, such as O'Meaghan Orthopaedics, Bloom Hearing, Waikato Podiatry, and Hamilton Orthodontics.
Its immediate neighbours on either side along Pembroke Street include Central Physiotherapy and Hamilton Lake Clinic to the left, and Hamilton Urology on the right.
Just a short walking distance to the south is the city's biggest health services provider, Waikato Hospital, with the privately-operated Braemar Hospital just a few hundred metres further on. Meanwhile, a short distance to the north of the Pacific Radiology clinic is the privately-run Southern Cross Healthcare Hospital with its purpose-built six-bed intensive care unit which contains the very latest intensive care equipment and technology.
Pacific Radiology is on a current six-year lease at the Pembroke Street property running through to 2026, generating annual net rental of $121,790 plus GST and operating expenses, with three further six-year rights of renewal.
The 208-square metre building sitting on some 630 square metres of rectangular-shaped freehold land at 35 Pembroke Street is now being marketed for sale by auction on March 17 through Bayleys Hamilton, unless it is sold prior. Salespeople Alex ten Hove and Luke ten Hove said the property ticked all the boxes for property investors – consisting of a modern and well-maintained building housing a prominent national tenant on a long lease term.
"Pacific Radiology has invested substantially in its Pembroke Street clinic – with more than $1.5million worth of state-of-the-art high tech' medical equipment installed, as is required in this sector of the health service," said Alex ten Hove.
"Surrounded by the city's biggest hospitals, multiple healthcare and medical service practices running parallel to Pacific Radiology have taken up residency along the Pembroke Street arterial 'spine' to offer the full suite of centralised medical services for clients and patients.
"As a company, Pacific Radiology has committed itself to continually upgrading and modernising its equipment as international research and development brings now products and services to the global market – enabling continually improving levels of patient care."
Constructed in 2010 with a concrete block basement and linea board exterior, the premises at 35 Pembroke Street contains a high quality fit out delivering a new build standards ratting of 100 percent.
The property has parting for eight staff and client vehicles – either at the front of the premises or underneath the building, which is accessed by a gently sloping sealed driveway. Additional parking is also available immediately outside the clinic on Pembroke Street.
Internally, the Pembroke Street property consists of a bright and airy street-facing reception/waiting room amenity with semi-reflective floor to ceiling windows allowing a high level of natural light to flow inside. Multiple clinical rooms are then interspersed throughout the remainder of the floor, which also has bathroom amenities.
Rent reviews on the property are undertaken annually, and are linked to the Consumer Price Index, with a broader market rent review on renewal of the lease terms scheduled for 2026, 2032 and 2038. Minimal vegetation and shrubbery around the property means landscaping maintenance is kept to a minimum.
Pacific Radiology's Pembroke Street site is zoned Commercial under Hamilton City Council's plan – allowing activities which support and complement the city centre and surrounding suburban areas. The clinic is located within walking distance of Hamilton's central business district.