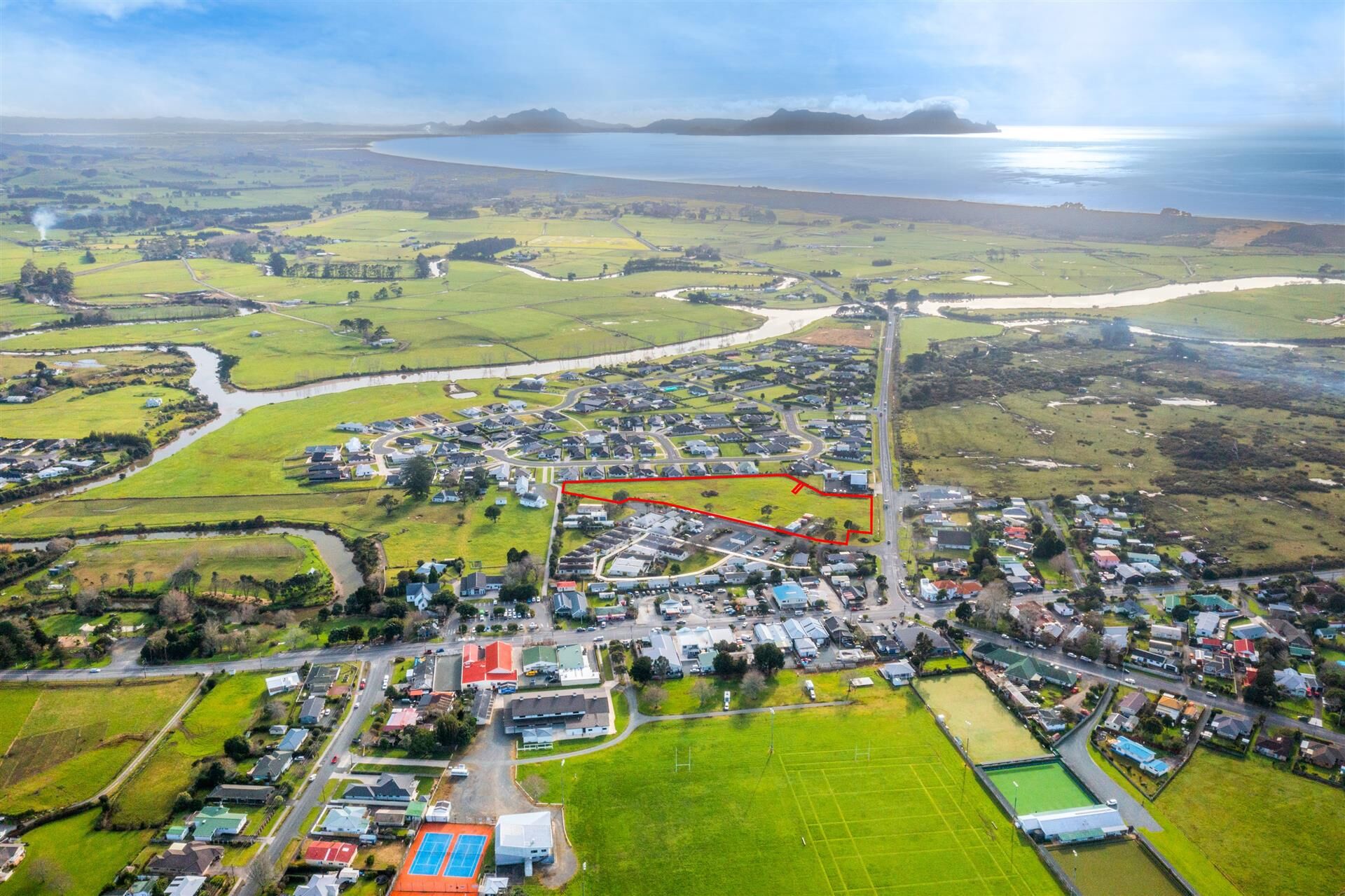 The last remaining commercial development site in the Lower Northland town of Waipu is offered for sale by Bayleys Whangarei with resource consent for a 5,105sqm retail shopping centre and cool store facility.
The flat, freehold site on one title at 17 Nova Scotia Drive in the Lower Northland town is being marketed for sale by Blair Chandler of Bayleys Whangarei.
"The difficult preparatory work for a successful commercial development is complete with plans approved for a 5,105sqm retail shopping centre across six buildings," Chandler says.
"Substantial infrastructure works have been carried out by the vendor, including the construction of a new, high-capacity stormwater connection, Geotech survey and all-but finished civil works design."
Resource consent for a substantial retail shopping centre to include Waipu's first large format supermarket, a hardware store, and office accommodation was extended to December 2026.
A separate resource consent issued in November 2021 is for a cool store at the rear of the site.
The site borders the Ranburn Rest Home and Village, the local Fire Station and a residential subdivision with prime frontage to Nova Scotia Drive - the main arterial route linking Waipu and Whangarei.
The property is offered for sale by tender closing at 2pm on Thursday September 22, unless sold earlier.
The Commercial 8C and Rural Village Centre Sub Zone provide for a range of commercial activities including mixed-use development.
Chandler says the vendor has decided not to proceed with the project given commitments elsewhere and notes it is an outstanding opportunity for another developer to maximise the value of the site's location within the town centre and proximity to a growing residential catchment.
Large tracts of land surrounding the property have been converted to housing in recent years, with a substantial number of high-quality homes in residential subdivisions attracting a growing population to the Waipu township.
"Retirees from Auckland are moving north, while families with local employment or in nearby Whangarei are increasingly looking to the area for its comparable affordability and lifestyle opportunities," Chandler says.
"This local growth proposition underpins the site's value with completed planned works set to attract quality operators that recognise advantage in the high growth location."
"Additional flexible use options for the site subject to acquiring necessary consents include the construction of a retirement village or a commercial subdivision," he adds.
Chandler says engagement results from the Waipu Placemaking Plan undertaken by the Whangarei District Council illustrate demand for more commercial amenities in the area. Feedback from the community indicated strong demand for shopping facilities and amenities with rapid town growth supporting demand for regional commercial developments.
"Waipu has been identified as a 'hotspot for growth' in the Whangarei District Growth Model 2021 to 2051 and has seen some of the highest population increases over the last five years," he adds.
The coastal community is an attractive lifestyle destination with a population projected to double by 2048.
Some 2,000 new dwellings are forecast to be built locally over the next 30 years, underpinning future demand for amenities and services in the area.
The region will also benefit from improved accessibility via the Northern Motorway Extension, which is scheduled to open in 2023 and will reduce travel times between Auckland and Waipu by up to 30 minutes.