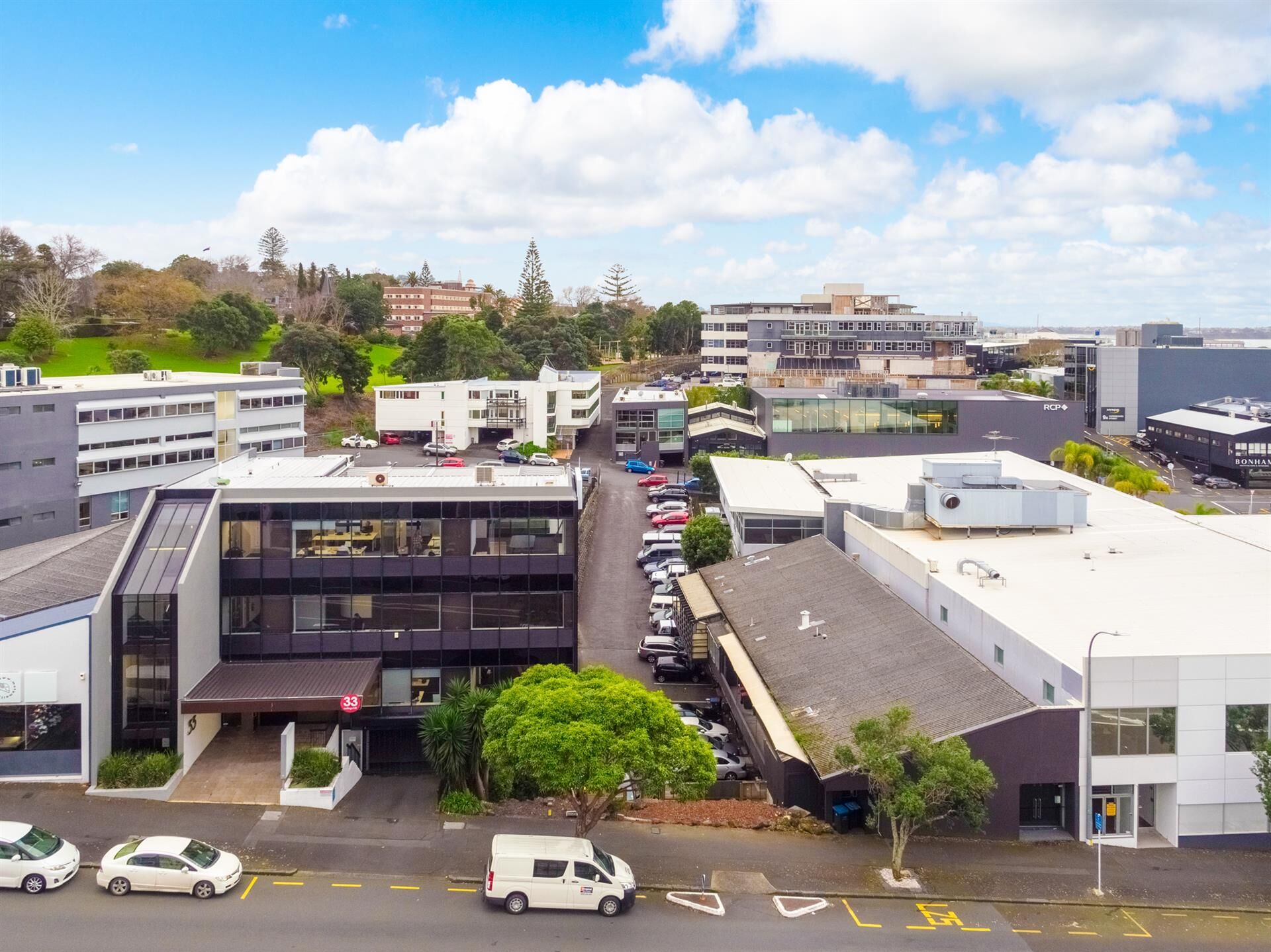 Currently subject to short term tenancy arrangements, the fully occupied standalone properties at 27 and 33 College Hill are both significantly under-rented in today's leasing market, with the vendor having to date preserved flexibility, after initially considering redevelopment across a wider landholding.
The adjoining properties with favourable seismic ratings will be sold individually or together by tender with Bayleys, closing 25th August, unless sold prior.
Agents say while the two assets differ on many counts and are likely to appeal to two different buyers, they're not excluding the possibility that a single purchaser may see the opportunity to acquire both strategically-located properties with a view to future redevelopment in part or total.
James Were, along with Cameron Melhuish and Brad Ross from Bayleys Auckland Central are marketing the Business-Mixed Use zoned properties and say the College Hill location speaks volumes in an office market looking to attract and retain staff.
Situated at the gateway of Ponsonby and Herne Bay to the west and Auckland's CBD to the east, with optimal motorway and arterial access, College Hill opportunities are coveted – by both occupiers and landlords, said Were.
"The location and high level of amenity in the broader area underscores the value-proposition, as evidenced by demand for space.
"There's minimal vacancy anywhere in the area and given the value-add upside these two properties offer, there are significant rental gains to be unlocked.
"Equally, an astute owner-occupier will recognise the inherent benefits of purchasing property here, as College Hill is the segue between the CBD and the desirable in-demand city fringe suburbs and has always held its value."
The building at 33 College Hill is a professionally-presented and fully-occupied office property, with expansive views of Auckland's cityscape from the upper levels.
Set over five levels, the recently refurbished building offers good natural light, versatile floor plates, several deck areas, generous carparking and a unique high stud lower ground level that provides for a diverse range of potential uses.
With a total 1,631sqm of net lettable area excluding decks, this building sits on a proposed circa-855sqm landholding.
The upper three levels provide office accommodation and amenities above a lower ground level of covered secure carparking for 22 vehicles and a high stud warehouse area.
There is currently holding income of $379,744 per annum plus GST and outgoings from the short term leases in place, and an estimated net market rental of $894,000 per annum plus GST and outgoings.
It is occupied by film production company GFC Films, creative consultants Bastion Shine Limited and private equity firm, ForthCo.
Melhuish said investors could look to lift rentals for a more attractive return through leveraging the strong occupier demand for quality city fringe accommodation, while other buyers may wish to occupy or redevelop – either as office and warehouse premises or residential accommodation.
"These short term leases provide opportunities for owner-occupiers to take over part or all of the building, while developers could consider conversion opportunities provided for by the underlying zoning.
"The subject properties are within walking distance to Auckland CBD which aligns with the government's National Policy Statement on Urban Development 2020 around greater intensification in areas that have good access to existing services, public transport networks and infrastructure.
"Equally, there could be potential for medical use with the healthcare sector clearly in demand and the proximity to Mercy Hospice."
On circa-589sqm of land, 27 College Hill comprises circa-355sqm of floor area with character high stud commercial space at its upper level with two office/warehouse tenancies below providing exceptionally rare warehouse accommodation within this popular locality.
Fully-leased, there's current holding income of $104,278 per annum plus GST and outgoings from tenants EBO Electric Bikes Limited, Ironclad Pan Limited and Hancock Industrial Limited.
Significantly under-rented against current market levels, the property has an estimated net market rental of $257,400 per annum plus GST and outgoings.
"Again, there's inherent flexibility and opportunity to add value to this versatile building and like the adjoining property at number 33, the underlying zoning allows for broad use," said Ross.
College Hill is a main link into the Auckland CBD from neighbouring city fringe suburbs and the area is very well-served by public transport, along with having north and southbound motorway on and off ramps approximately 500 metres away.
"College Hill is one of Auckland's fastest developing and progressive precincts with a number of residential and commercial developments undertaken in recent years and many high-profile occupiers like New Zealand Police and Mediaworks moving into the area," said Were.
"We'd expect the favourable Mixed Use zoning to facilitate considerable further development, particularly as higher density residential accommodation is well-accepted around the CBD fringe."