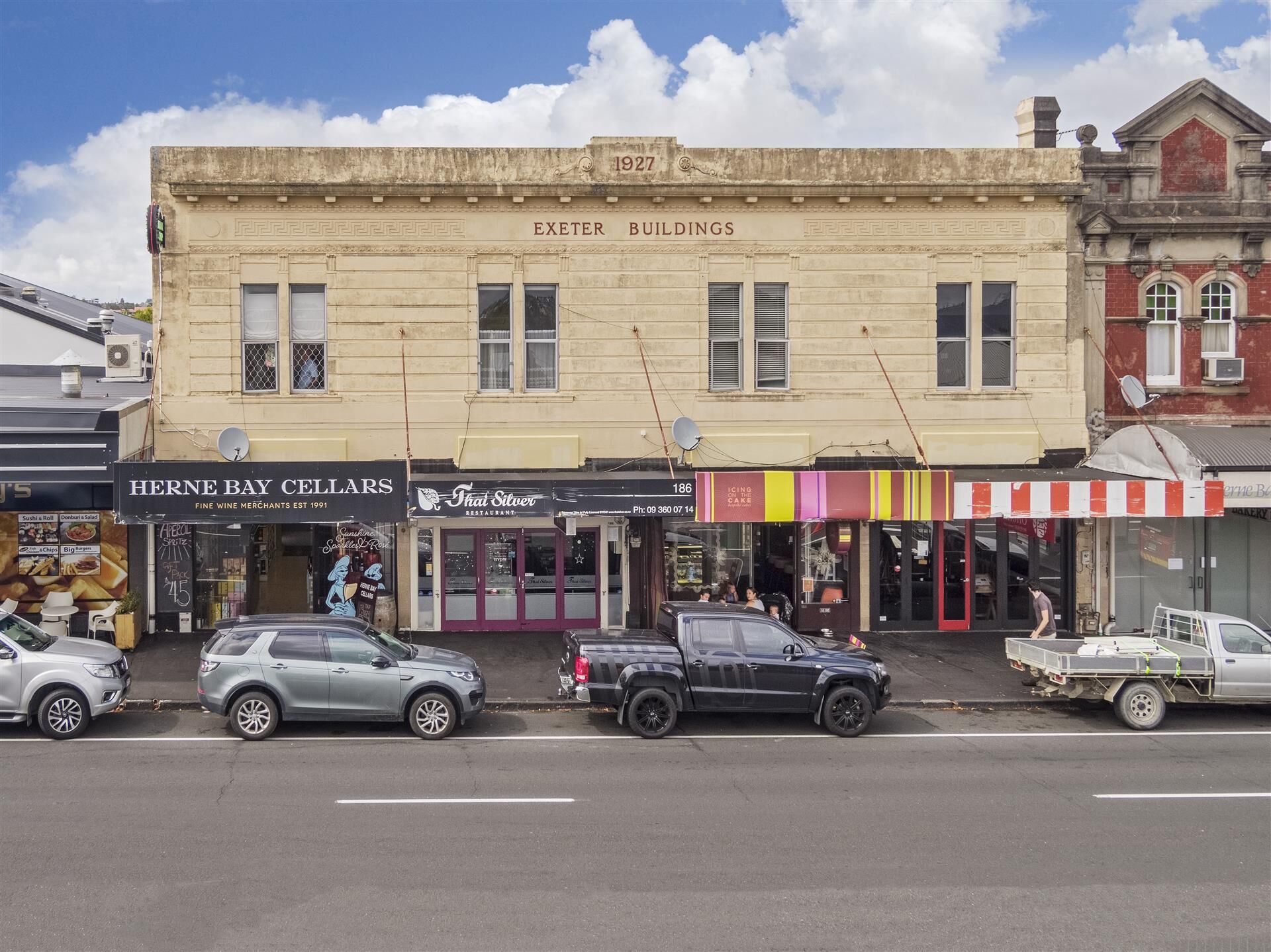 The 502 sq m commercial premises, known as the Exeter Buildings, dates back to the late 1920s and is located on a 690 sq m rectangular site at 184-190 Jervois Rd. It is occupied by four retail and hospitality tenancies which are producing total net annual rental income of $155,288 plus GST.
Featured in Bayleys' latest Total Property portfolio, the property is for sale by tender, closing at 4pm March 12, unless sold prior. It is being marketed by Mike Adams and Jean-Paul Smit of Bayleys Auckland City & Fringe division.
'City fringe property investments of this calibre rarely come onto the market," says Adams. "It's a multi-tenanted offering with established occupants and a favourably zoned underlying land holding. So there's an opportunity to enjoy the cash flow, evenly spread across four tenancies, while exploring the future add value potential that this property and its high profile location offers."
Adams says it is one of the more recognised buildings in the area and has approximately 18.3 metres of frontage to Jervois Rd. It is situated directly opposite Sentinel Rd.
Currently, the two-level building comprises four separate tenancies with total floor areas of between 124 and 127 sq m. All of the tenancies have retail space on the ground floor with storage/amenities to the rear, while the upper levels provide for office, storage and/or residential use. There is also largely underutilised ground level outdoor space to the rear of each unit.
The building is currently occupied by the Herne Bay Cellars wine shop, a cake shop and two restaurants providing Thai and Japanese cuisine. There are varying lease terms and rights of renewal in place. Final lease expiries range from 2021, with some having renovation clauses.
Built around 1927, the current family owners' association with the property dates back over 80 years. Suresh Chimanlal says his grandfather began renting one of the four shops for his green grocery business in the late 1930s, living in the upstairs flat.
"My father and uncle took over the business and then bought the entire property in the mid-1950s. They also continued to live on site until the arrival of the next generation meant there wasn't enough room for us all and they bought houses elsewhere. They sold their fruit and vege business in 1976 although the family retained ownership of the property.
"Jervois Rd has always been a sought-after location for tenants and I can't recall our property having a significant vacancy at any stage. However, its tenancy mix has changed over the years as has the surrounding residential area. When we were growing up, tenants included a barber and chemist as well as our family business. Now there is a far greater dominance of hospitality businesses along the Jervois Rd strip including restaurants, cafés and other food and beverage outlets.
"We have looked at options for rejuvenating the building and increasing its income. However, with ownership now spread over a larger number of family members, a decision has been made to put the property up for sale and pass on the opportunity to add further value to someone else."
The property is zoned Business – Local Centre which applies to small centres throughout Auckland, generally located in areas of good public transport.
This zone primarily provides for the local convenience needs of surrounding residential areas, including retail, commercial services, offices, food and beverage and superettes. Buildings up to 13 metres high are permitted incorporating residential on upper levels.
A Historic Heritage and Special Character overlay applies to the property which has been identified as a site with a character defining building. Adams says this means any redevelopment work would have to be in keeping with the character of the area and retain the building's façade.
Adams says a Detailed Seismic Assessment Report on the building was completed by EQ Struc in July 2018 and would be made available for interested parties along with some initial concept plans for possible redevelopment options which were completed about the same time.