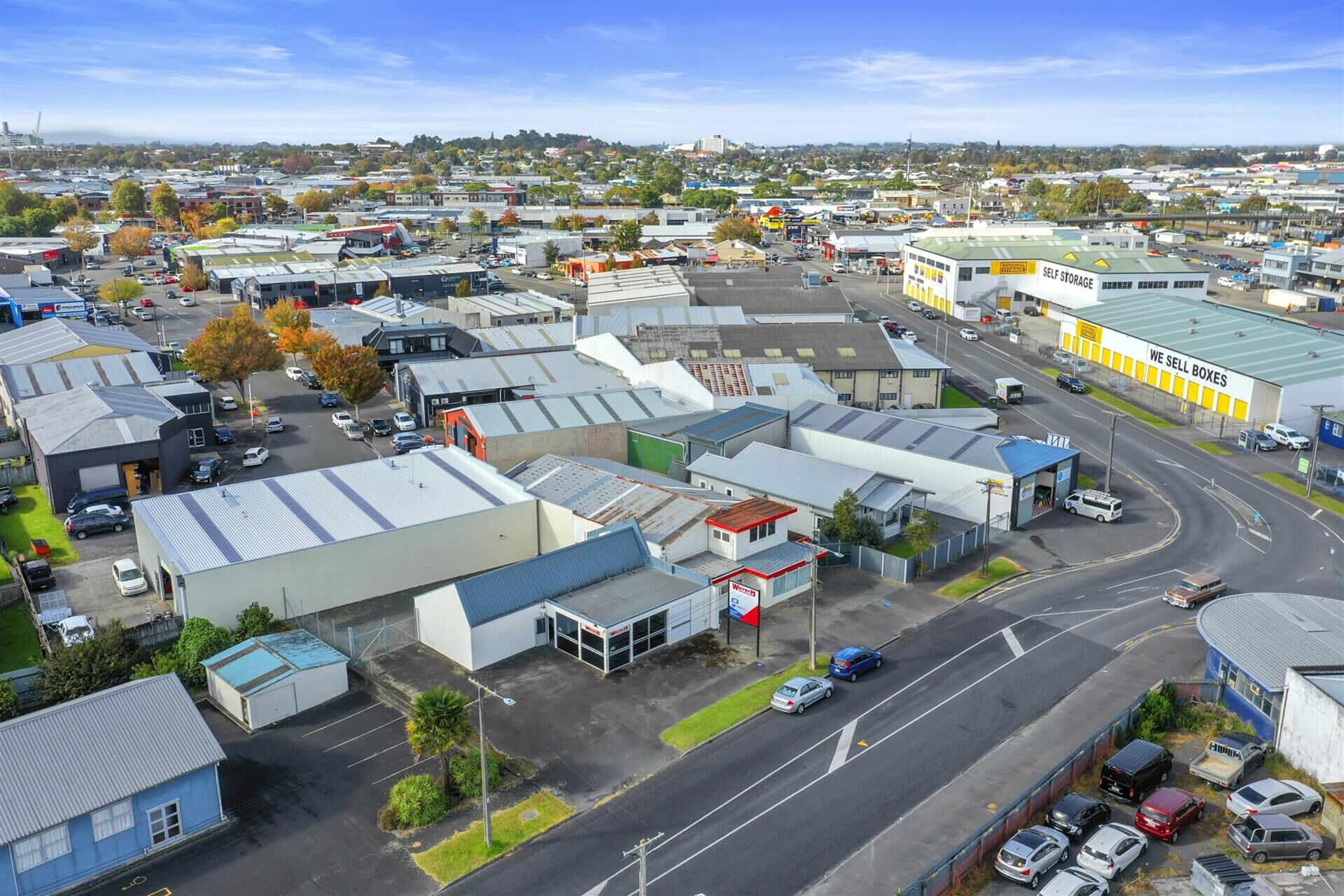 The 503-square metre property in the Hamilton central city-fringe locale of Frankton features a predominantly single-level 150-square metre building containing showroom space, warehousing/factory space, offices, staff amenities, and a secure storage yard.
Neighbouring businesses around the address are predominantly operating in the automotive repairs and parts field, construction and building tradie supply activities, and engineering and manufacturing sectors.
The freehold land and building at 5 Jolly Street in Hamilton are being marketed for sale by auction on 16th June through Bayleys Hamilton. Salespeople Alex ten Hove and Luke ten Hove said the industrial-zoned property would perfectly suit a small business looking for an entry-level commercial and industrial premises in Frankton.
Frankton and Te Rapa are Hamilton's two leading industrial suburbs – with Frankton tending to be occupied by small to mid-sized locally owned and operated businesses, with Te Rapa generally occupied by corporate and national brands in large warehouse premises.
"The Jolly Street site will appeal to both investors intending to tenant the property, and to owner-occupiers looking to get a foothold in the commercial property market while simultaneously growing their business from a convenient location," said Alex ten Hove.
"The street-facing front of the Jolly Street premises houses a small open-plan showroom with floor to ceiling windows on two sides, and two offices. Behind this portion is a third office beside a high-stud concrete-floored warehouse and factory area. Upstairs there is a mezzanine loft space with plumbed in kitchen and lunchroom amenities."
"The addition of insulation and interior framing could see this area converted into a comfortable lounge-style space."
"To the rear of the property outside – accessed through lockable barbed-wire topped security gates - is a metalled storage and vehicle parking yard, with roller door access to the warehouse/factory area."
"It is ideal for accommodating the likes of a small plumbing, electrical, audio-visual, drainage, property maintenance and landscaping, home cleaning, or construction business. It is easy to envisage that the bank of 'mum and dad' could purchase the site as an investment and tenant it with a son or daughter growing their business activities in these sectors."
Sitting under a cathedral roof, the warehousing area of the building has plenty of wall space for affixing shelving units.
"Alternatively, the ample storage space and office amenities within this building could also sustain a burgeoning online retailer for whom a high street presence and high foot traffic volumes are not important to the success of their operations. Dual heat pumps ensure a good degree of temperature control in the office spaces."
Constructed in the 1970s, the Jolly Street property is zoned industrial under the Hamilton City Council plan. The industrial land use classification ensures that land in the precinct continues to be occupied by premises whose tenancies are of an industrial nature – rather than being located in a business or commercial zoned destination elsewhere in the city.
Luke ten Hove said the positioning of the building in the middle of the site allowed for customer vehicle parking at the front, and staff vehicle parking at the rear.
"The floorplate of the warehouse portion of the property, in addition to the secure nature of the yard, would also be suitable as a covered storage and workshop facility to sustain a collection of automotive vehicles or recreational craft," said Luke ten Hove.
"Under this dynamic, the current staff lunchroom amenities on the mezzanine floor would make an ideal recreational space, with a bathroom downstairs."
Click here for more information on the listing.