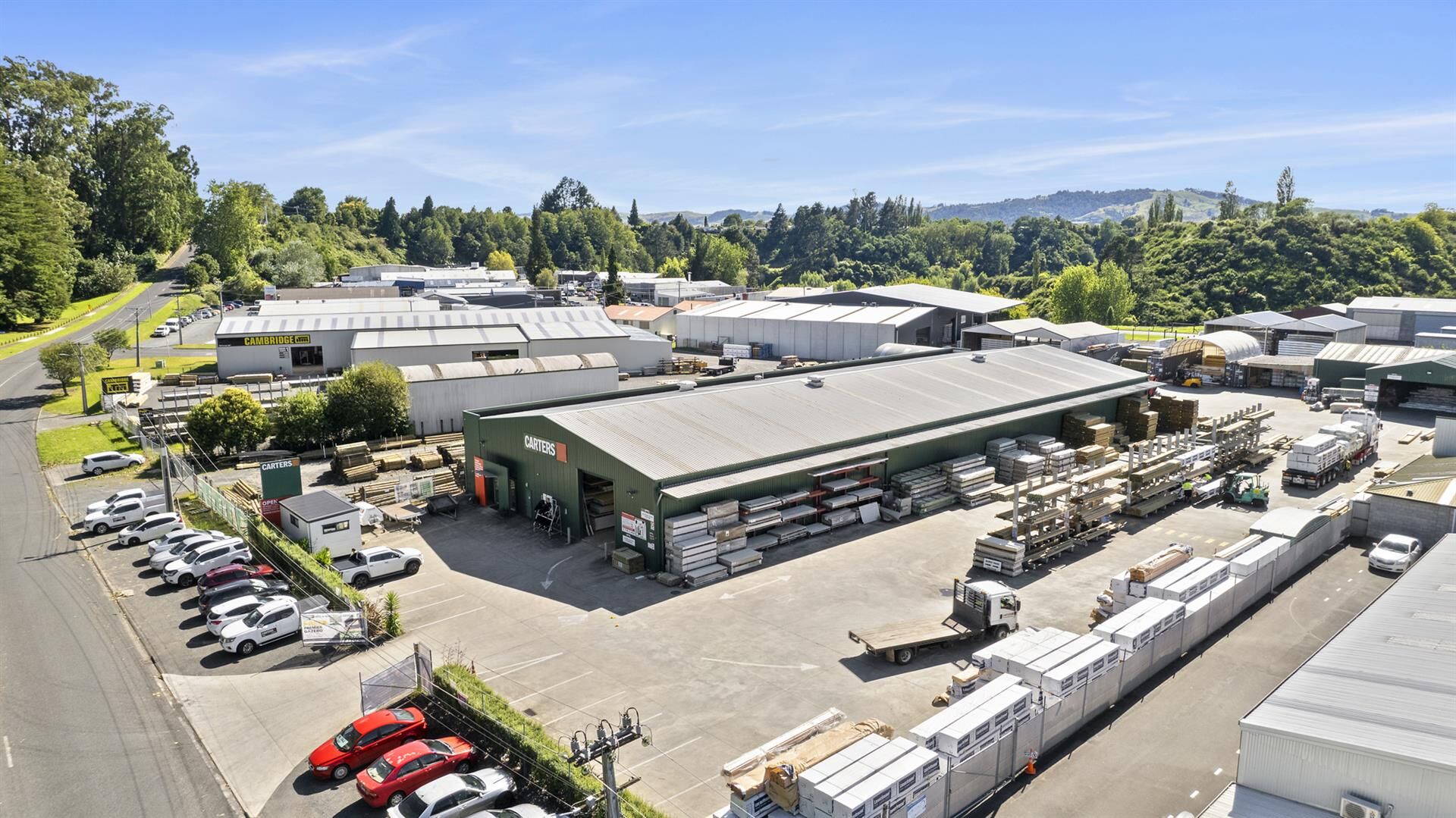 The modern warehouse on 6,069sq m (more or less) of freehold land at 41 Albert Street is in a prime position to benefit from approved zoning changes that will provide greater amenity within the Carter's Flat industrial environment.
Bayleys Hamilton Commercial Sales and Leasing Broker Willem Brown says the property is offered to the market at a time of high demand from occupiers for large-format premises, as well-positioned operators focus on achieving growth objectives.
"Big box retailers have reaped the rewards of stable consumer spend. Despite economic headwinds, these operators continue to seek sizeable accommodation in accessible locations underpinned by future growth opportunities.
"Strong demand has led to a low vacancy for commercial opportunities, and occupiers are finding it more difficult to find suitable sites.
"Ongoing challenges within the economic environment are having a flow-on effect for the development sector, which means we are unlikely to see new commercial projects, past those currently underway, come online until firms gain clarity around broader fiscal drivers.
"Added to this, higher construction costs inevitably mean higher rents are required and in a tighter economic climate that is pushing more occupiers into the existing market, placing greater pressure on existing supply," he says.
Mr Brown is marketing the Albert Street property for lease, available from 1st December 2023.
The premises features a net lettable area of 2,068sq m comprising 251sqm of retail showroom plus 109sq m (more or less) of office accommodation.
In addition, there is a dispatch/inwards goods store, mezzanine store, canopy plus lean-to and large storage warehouse to the rear.
National timber merchant and building supplies retailer Carters has occupied the premises since it was built in 2007.
Mr Brown says the premises occupies a prominent position well-suited for heavy haulage deliveries from 20m-long B train trucks, which typically comprise two trailers.
"With ample staff and customer car parking, and a seismic assessment of 80 percent of New Building Standard, the property presents well, offering excellent operational functionality and a wide range of features to suit the needs of diverse occupiers seeking to optimise their business trading outcomes.
"Buildings of this magnitude are tough to come by in prime locations such as this, where major arterials and key infrastructure are so close. Central Cambridge and its town centre are just one minute away by vehicle.
"Presently, Albert Street is a key commercial and industrial precinct adjacent to State Highway 1, featuring excellent connectivity to town infrastructure. However, proposed zoning changes will elevate 20ha of land to allow greater commercial and large-format retail amenities, in addition to medium-density residential above the ground floor."
Mr Brown points to the rapid growth of Cambridge, which in the Waipa 2050 strategy says an extra 27ha of commercial amenity, including 5ha of retail, will be required to service the anticipated population growth of 30,300 people by 2050.
"Effectively, zoning changes attract more goods and services providers, contributing to a greater level of economic activity locally and patronage from customers across the region.
"The location is second to none and positioned to benefit from the economic connectivity of the Golden Triangle, with large occupiers seeking a foothold in urban adjacent provincial areas, due to a shortage of commercial space and rising rental rates in Auckland.
"Cambridge is the fastest-growing town in Waipa, and significant development in the residential and commercial property sectors continues to deliver employment opportunities.
"Additionally, zoning changes across the Carter's Flat area will see it become a high amenity environment through the development of mixed-use premises and attractive public spaces, enhancing connection and raising the profile for businesses already established in the area," he says.