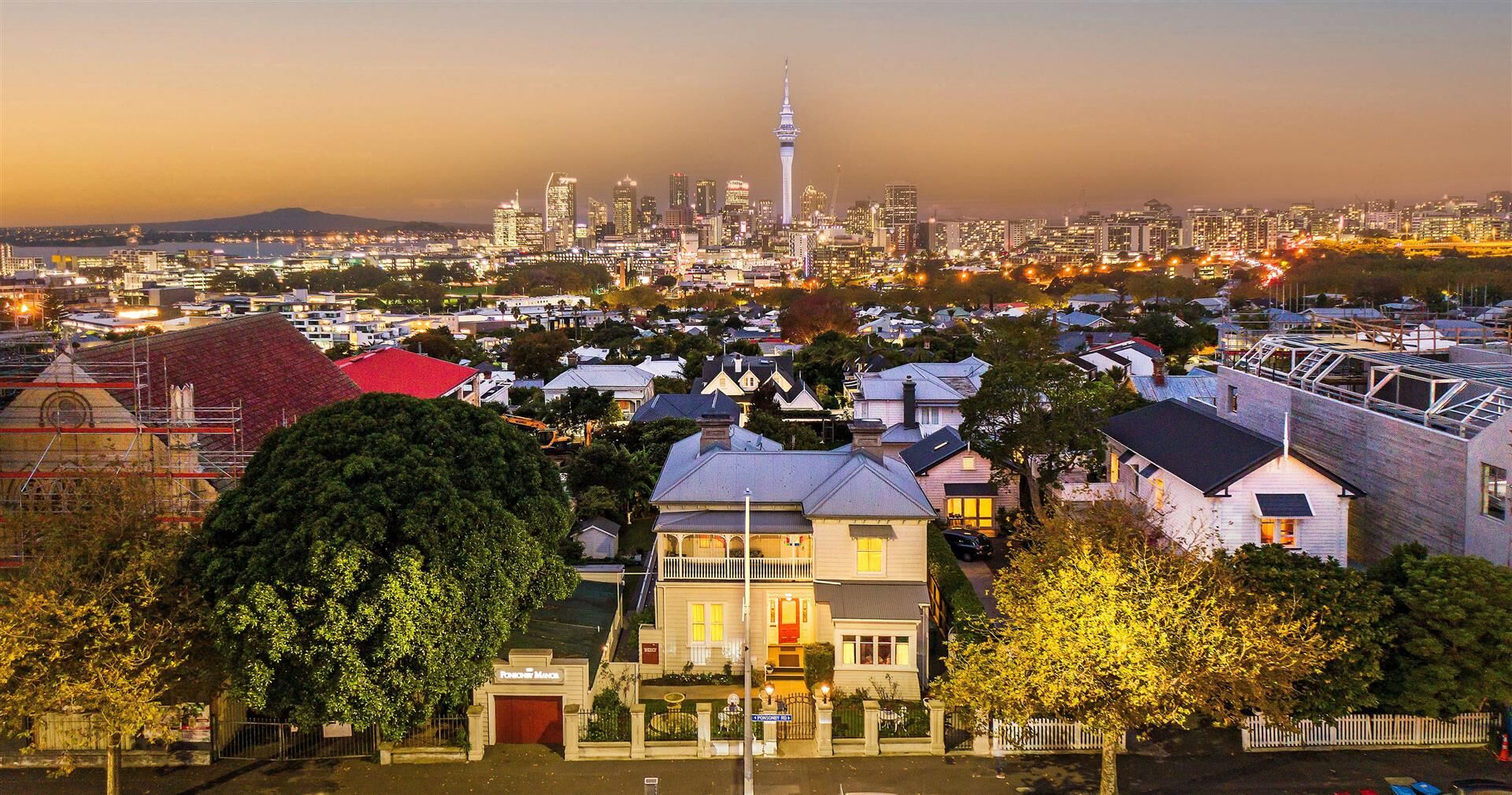 Having had various incarnations for almost 150 years, the property was totally refurbished by its current owners, and now operates as a successful commercial accommodation offering, catering to a range of international and domestic travellers.
There are 14 private suites of varying sizes each with their own bathrooms, large common areas including a fully equipped kitchen, laundry facilities and well-planted gardens. Rooms on the upper level enjoy balconies with views of the Auckland city skyline and Rangitoto Island.
The north-facing property has picture-book street appeal and occupies a prime 569sqm Business-Town Centre zoned site on the Ponsonby Road ridge, in the heart of Ponsonby's retail and hospitality strip. Ponsonby Manor provides a turn-key opportunity to step into an established and proven accommodation business, or to explore alternative uses to suit individual requirements.
Ponsonby Manor has received numerous awards and accolades from accommodation industry specialists over the past decade. It is currently the highest-ranked guest house in Auckland Central based on guest ratings at Tripadvisor.com
Ponsonby Manor is being marketed by Damien Bullick, Alan Haydock, and Wayne Keene of Bayleys Auckland Central, and is being sold by tender closing Thursday 9th June, unless sold prior.
With normality and pent-up demand returning to the visitor accommodation market, Bullick said the hotel is well-positioned to leverage further off domestic travellers, business executives and international guests. "The hotel has been very resilient and has already returned to very high occupancy levels, due to its loyal domestic customer base" he said.
"It's a very successful and accessible accommodation option and has found favour particularly with business travellers who return time and again.
"It offers a homely atmosphere, with an intimate feel, great character and quality furnishings, so it hits the right note for those guests looking for a unique – yet affordable – place to stay."
"Additionally, while the property is immaculately presented, a new owner could stamp their own mark on the property."
"There's clear demand from the market for boutique accommodation – a trend that well-known major accommodation providers in the country are also embracing, as big is not always better."
"There is also a sense that travellers like to 'live like locals' when they visit a city and so Ponsonby Manor fits that bill being right in the heart of this sought-after suburb," said Haydock.
Ponsonby continues to excel as a destination with its vibrant retail and hospitality offerings and remains sought-after by property buyers across the residential and commercial segments of the market.
"Next door to Ponsonby Manor, the landmark St. John's Church was sold by Bullick and Haydock two years ago and is undergoing restoration, which will only add to the charm of this location," said Bullick.
While Ponsonby Manor has been upgraded throughout with modern conveniences and tasteful décor, its Victorian remains with the original staircase and fireplaces restored reflecting the property's long heritage.
Following the subdivision of the land between Franklin Road to Three Lamps in 1863, the plot of land where Ponsonby Manor now sits was formed.
In 1876, the property, which was then known as Wentworth House, was purchased by Jane Augusta Hill, a school teacher who utilised the property as a girls' boarding school, which continued until 1898.
In 1903, Wentworth House began accepting international travellers, who occupied part of the property with a doctor and dental surgery upstairs. By 1911, Wentworth House was fully occupied by boarders and travellers and in 1920, after a comprehensive renovation, the property reopened as Roma House accepting "refined businessmen" and travellers.
From 1941, the property operated as a boarding house before being purchased by its current owners in 2011 and undergoing a complete revitalisation to bring it into line with current fire safety codes and including disability access.
"Guests comment on the convenience of the location with the broad amenities of Ponsonby Road on your doorstep, along with being within walking distance for active relaxers – or a short Uber ride – to the CBD," said Haydock.
Click here for more information on the listing.