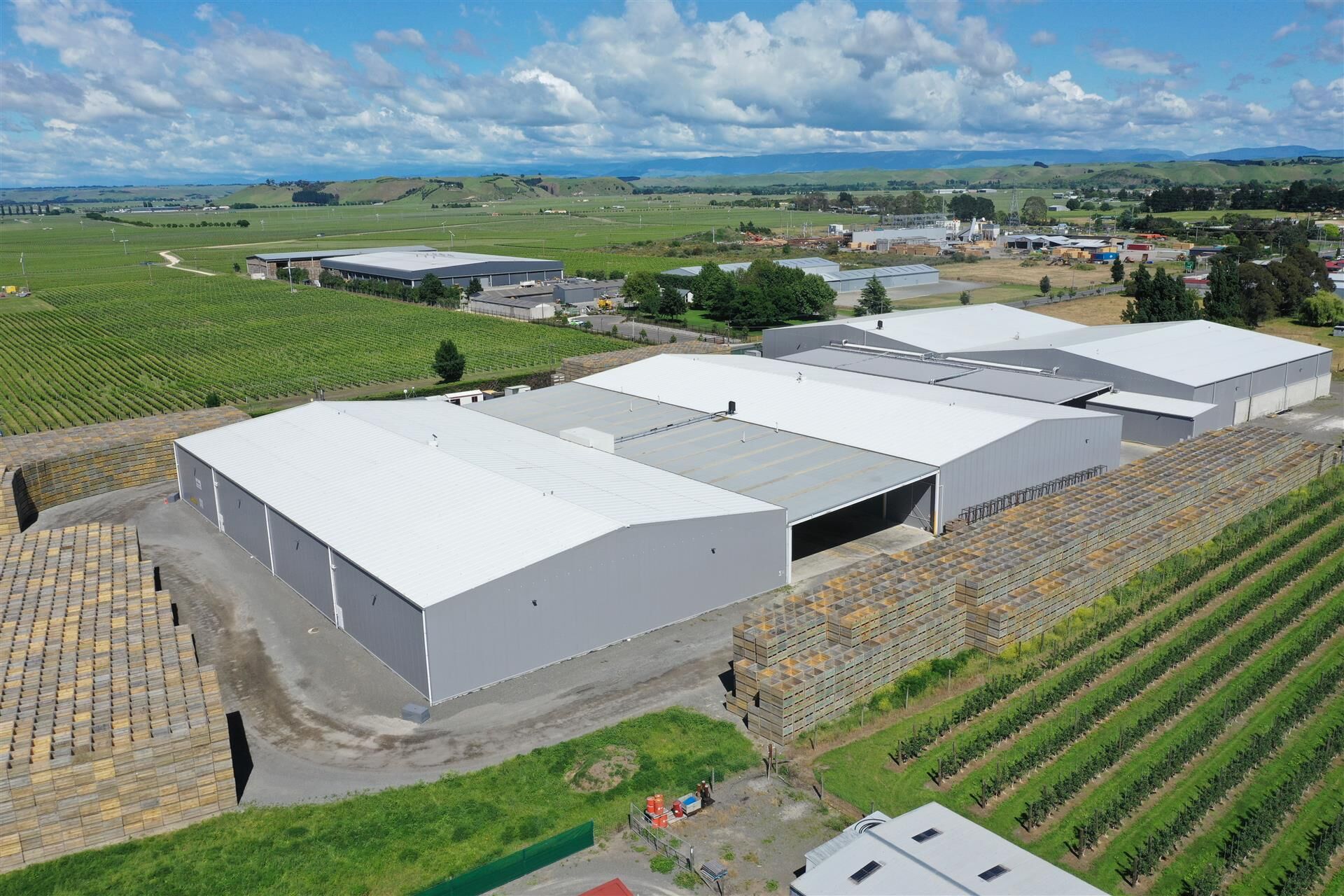 5 Hill Road, Twyford
The offering comprises the land and buildings of two substantial properties on the outskirts of Hastings containing a total of nine coolstore buildings and associated infrastructure.
One, located at 5 Hill Road, Twyford, is occupied by Mr Apple NZ, New Zealand's largest apple producer and exporter which is owned by NZX listed Scales Corporation. The other, at 120 Henderson Road, has a long-term lease to Bostock NZ, one of the Southern Hemisphere's largest producers of organically grown apples.
The two properties, currently generating total net annual rental income of approximately $2.81 million plus GST, are being offered for sale through Bayleys Real Estate by tender, closing on December 9, unless sold prior.
Bayleys Hawke's Bay director Kerry Geange says the properties can be tendered for as one portfolio or individually. He is marketing the offering with Bayleys' national commercial director Ryan Johnson and national industrial director Scott Campbell.
"These are two of the Hawke's Bay best-in-class coolstore facilities located on the boundary of Hastings industrial precinct and the fertile Heretaunga Plains, one of New Zealand's premier produce growing areas," says Geange.
Ryan Johnson says they represent a genuinely rare opportunity for larger scale investors to gain exposure to a niche sector of the property market where there is limited supply but growing demand for high quality premises.
"Mr Apple and Bostock are widely recognised as innovators and exceptional, world-class operators in the apple industry. They offer an outstanding long term blue chip tenant covenant."
Scott Campbell says both properties comprise modern purpose-built industrial assets and incorporate technology highly sought after by food producers. This includes industry leading glycol refrigeration cooling systems, controlled atmosphere storage, where temperature, oxygen, carbon dioxide and humidity levels are adjusted to enable apples to be stored for long periods, Smartfresh storage capability which halts the natural ripening process to prolong freshness plus fumigation facilities.
"The tenants have maintenance obligations in their leases but also obviously have a vested interest in ensuring their plant is in optimum working order to ensure the longevity of their produce," says Campbell.
Over nine years remains on the current Henderson Road lease and an extension of the Hill Road lease until 2035 is under negotiation, Campbell says. "Both leases have fixed annual rental increases based on the increase in the Consumer Price Index which ensures that the properties' income keeps pace with inflation which is currently running at its highest level in many years."
The two properties are:
**5 Hill Road, Twyford: **
Built in stages with from 2013, this complex encompasses 11,966sqm of coolstore capacity across six purpose-built, full height stores serviced by modern Glycol refrigeration systems, high-capacity plant and a drive-through canopy loading area to allow all-weather operation. Encompassing 2.9276ha of land, the property also includes 2,150sqm of bin storage.
"This expansive asset is regarded as one of the best export-rated controlled atmosphere facilities in New Zealand," says Kerry Geange. "It is exceptionally well located in the heart of the globally recognised apple growing mecca of the Heretaunga Plains, close to producers and transport networks and has been specifically designed for fast processing and efficient distribution to global consumers."
This property is currently producing net annual rental income of $1,514,010 plus GST. There is a 10-year lease to Mr Apple NZ Limited until March 2025 plus two five-year rights of renewal. Discussions are underway with the tenant to confirm both renewals.
**120 Henderson Road, Omahu: **
Built in 2015, this property offers 9,020sqm of coolstore facilities across three stores incorporating state-of-the art technology. These are located on 2.61ha of land which includes a 1,200sqm concrete yard and 3,500sqm metal yard.
"This facility was designed to world-leading specifications to allow Bostock NZ to despatch their apples to world markets in A-Grade condition," says Geange. "It is located close to Bostock's other extensive facilities and infrastructure, allowing integrated processing."
The company has been growing organic apples since 1996. All its orchards are located in Hawke's Bay and encompass more than 700 hectares of BioGro certified land. Bostock also produces organically farmed onions, squash, wine and free-range chickens as well as non organic produce.
Bostock has a 15-year lease until March 2031, plus two five-year rights of renewal, which is currently generating net annual rental income of $1,296,207 plus GST.
Geange says an extension of this lease to 2041 is also under discussion. This in combination with an extension of the Hill Road lease would provide a blended Weighted Average Lease Term (WALT) of 16.5 years from settlement for an investor acquiring both properties.
He says the two properties are significant assets for an apple industry which is rapidly expanding but where coolstores are limited in supply and increasingly cost prohibitive for growers to build.
A survey in 2017 found that approximately 4,800ha of land in Hawke's Bay were planted in apples and pears. "Whilst there is no formal record of current plantings, the industry estimates there are now in excess of 7,000ha planted in apples and pears," Geange says.
"In combination with modern planting methods which are significantly increasing yields, the amount of fruit requiring coolstore storage is forecast to increase significantly over the next few years
"Large scale producers are also prioritising land purchase and new plantings and the supply of coolstore buildings in Hawke's Bay is simply not sufficient to meet increasing demand."
Geange says Covid-19 has impacted material supply chains which along with labour shortages and regulatory compliance changes has increased construction costs to $1,600 - $1,800sqm, reducing the provision of new coolstores and replacement of older coolstore stock.
"This means that existing large-scale, leading edge coolstore facilities will be in very high demand for the foreseeable future and producers are more likely to have to commit to longer lease terms to secure limited space."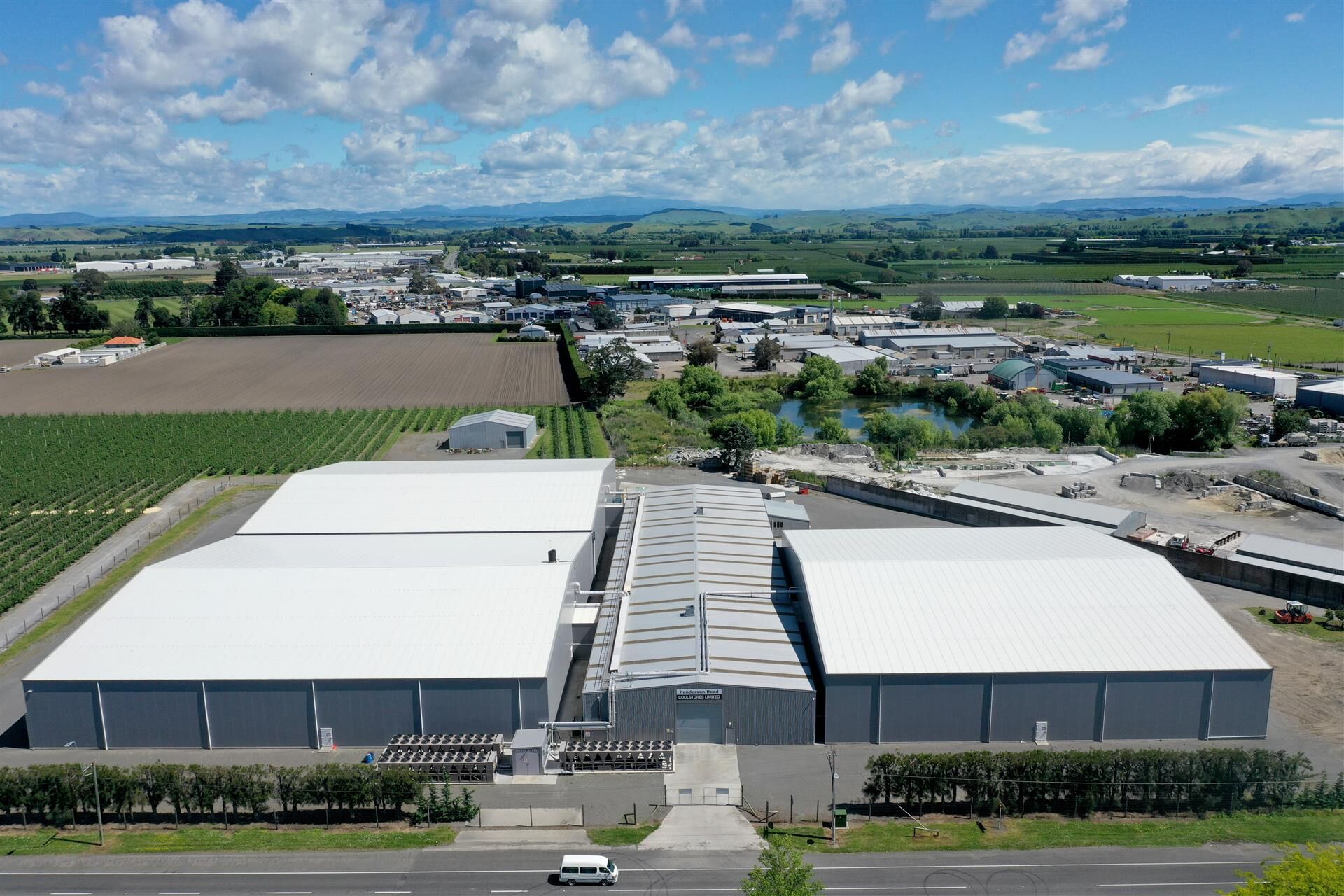 120 Henderson Road, Omahu