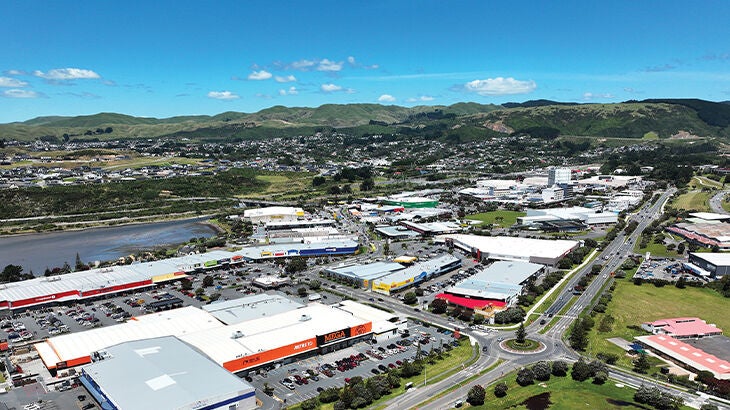 With industry data showing that in the year to March 2021 large format retail was the top-returning commercial and industrial asset class in New Zealand, it's no surprise that leasing opportunities for big box space are thin on the ground.
Large format retail narrowly outpaced industrial property returns during that time period and while that's good for landlords, it also shows that consumer spending in this retail sector has been resilient throughout the height of the pandemic meaning occupiers have traded well, with Wellington no exception.
Johnny Curtis, retail sales and leasing broker with Bayleys Wellington says the three main big box hubs in the region – the Airport Retail Park, Porirua Mega Centre, and Petone precinct – have no vacancy, and the wider region's geographical constraints means there's very little land for additional growth in the sector.
"There's potentially some capacity in Johnsonville, although property group Stride has signalled it would like to progress a mixed-use development for the Johnsonville Mall which it owns," says Curtis.
"The Warehouse has moved out of the Mall and that space will be absorbed by Chemist Warehouse and another large format retailer.
"We'll need to be creative to optimise the usage of the precincts that are already established as they're not making any more land!"
Curtis says most of the established big players are well-entrenched in their desired locations now, with some corporates consolidating footprints – like The Warehouse Group's (TWG) reshuffle of space in Petone.
"Warehouse Stationery has moved just across the road to take up space within the existing The Warehouse tenancy, while Torpedo 7 has taken over the Warehouse Stationery spot creating efficiencies for TWG.
"Some big brand retailers are actively looking for suitable space Wellington-wide, such as relative-newcomer Chemist Warehouse and stalwarts like pet supplies' retailer Animates, and department store Farmers.
"Meanwhile, Spotlight is redeveloping some of its large format sites in the region, as consumer demand surges for craft and homeware-related goods."
There's a squeeze on big box space at every compass point – including south-east Wellington.
Any expansion to the existing Airport Retail Park in Rongotai has been quashed by the airport's intention to relocate its terminals as part of a development programme catering to the projected doubling of passenger numbers by 2040 – albeit, these plans were formulated pre-pandemic.
When you consider that the wider Wellington Airport precinct comprises just 110 hectares of land currently, compared to Auckland Airport's landholding of nearly 1,600 hectares, core aviation activities will no doubt need to be prioritised over retail development outside of the airport itself.
The closest available development land to the Airport Retail Park is in Onepu Road, Kilbirnie where Prime Property Group has acquired the former Infratil-owned bus barn site.
However, early indications are that a more-intensified mixed-use development will be undertaken here around the heritage buildings in-situ.
Curtis says that leaves any potential future big box development in the Kapiti Coast's lap – or some expansion of Upper Hutt's current offering, although most of the larger national brands already have a presence there.
Pandemic conditions have forced more people to work from home, and Curtis says this has benefitted the large format retail centres in the suburbs.
"Retailers tell us that turnover figures are strong, with an increase in pedestrian foot counts as the 'shop local' mantra takes hold and people opt to spend in the suburban retail hubs," he says.
"Spending figures suggest that the Lambton Quay retail strip and the adjacent quarters have traded better at the weekends for almost two years now, as the city was effectively emptied-out of office workers."
As life goes on in a COVID-19 adjusted retail landscape, large format centres have some health and safety – and convenience – benefits, says Curtis.
Up and out
Thompson Property Group (TPG) is one of New Zealand's largest privately-owned property investment and management companies, owning a large portfolio and specialising in commercial and bulk retail leasing options nationwide.
TPG owns Outlet City (formerly Dress Smart) in Tawa, and a sizeable part of the Porirua Mega Centre.
Gaire Thompson, owner of TPG says tenant demand for space at the Mega Centre and Outlet City continues, and he's looking at ways to accommodate these occupiers.
"We have some additional land between The Warehouse and Mitre 10 at the Mega Centre that could potentially be developed, and it would be a good position for some new tenancies," says Thompson.
"There is also the possibility of expansion upwards at the Mega Centre which could enable us to put a café on the upper level offering views in several directions.
Thompson says there is building work planned for Outlet City in Tawa, however, COVID-19 related material delays are slowing things down.
"We will be starting our new carwash shortly, but are experiencing some delays with materials for our new 613-square metre standalone building where 400 square metres is already leased," says Thompson.
"Potential future development at Outlet City also includes a low-rise office or residential tower block overlooking the reserve."
Thompson says a lack of flat land in the region is constraining the development of any new large format footprint, however, there have been some regulatory changes that make life a bit easier for the sites TPG already owns.
"Parking ratio requirements are no longer a development bugbear and that's streamlined things somewhat, however, we do need to balance out any growth with enough parking for shoppers."
At Tawa, Thompson says while the numbers of customers through the centre's doors is tracking much the same as pre-pandemic, sales volumes are up.
"Those that are visiting the centre are spending – and spending well."